Next James River CATT is June 25th at Osbourne!
2022 James River Point Winners Receive Free Entry Into All 2023 James River Qualifiers Excluding the Final!
2nd In the James River Points $500
3rd In the James River Points $250
4th In the James River Points $150
5th In the James River Points $100
CATT GOLD – $120 Entry $130 at Ramp
Final – $160 Entry $170 at Ramp
Optional Sidepot – $50
James River Membership – $35 Per Person
Blastoff Position is Determined By Order Of Payment
Must fish 3 of 7 Qualifiers to Fish Final
Fishing solo once & with sub once counts toward teams Qualification
You may fish solo and you can Qualify solo for the James River Final
ATTTENTION – Make up date for the postponed March 12th Qualifier will be July 9th at Osbourne!
We had a great crowd with 65 teams entering! Check out the top 4 money paying places! Entry fee is ONLY $120 per team!
Remember you can scroll down to the bottom of each results sheet and view the money recap! NO OTHER TRAIL DOES THIS! We hold back a portion of the entry fees at each James River qualifier….usually around 5% which goes towards the James River Final Purse. $100 of each tourney is deducted from the entry fees for—$50 for the CATT Championship and $50 for the James River Points! The James River Trail pays $1,000 total in point money so we add membership money to the point fund. Thanks for fishing  with us!
Luke Carson & Darrin Zollar took home $2,000.00 with 5 bass weighing up at 22.56 lbs topping the 65 boat field!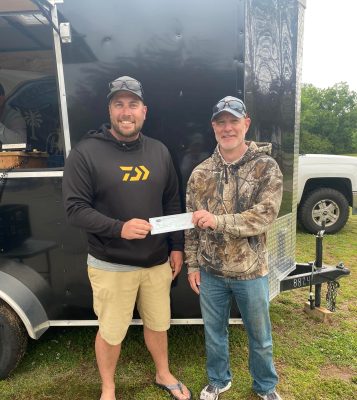 Tristen Korne weighed the 2nd BF at 6.07 lbs!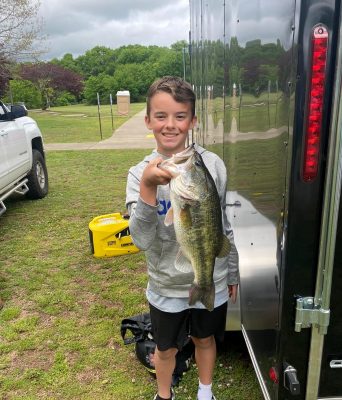 Greg Fernandez with a 6 pounder!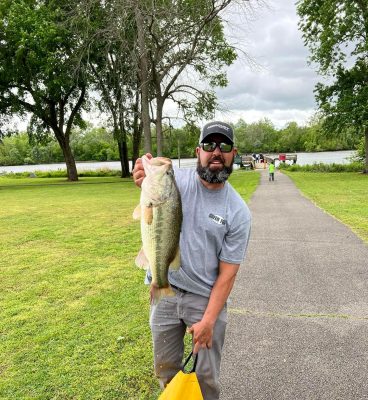 CATT Championship is May 21-22 at Kerr! If you've entered 2 CATT events since June 2021 you're eligible! Tap on Divisions for more info!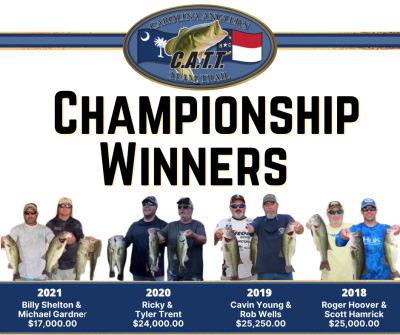 | | | | | |
| --- | --- | --- | --- | --- |
| Team | BF | Weight | Winnings | Points |
| Luke Carson – Darrin Zollar | 5.79 | 22.56 | $2,000.00 | 110 |
| Jeff Hamilton – Jason Bishop | 4.68 | 20.49 | $1,000.00 | 109 |
| Ray Hogge- Donnie Daniels | 0.00 | 20.32 | $1,070.00 | 108 |
| Robby Harris – Austin Minto | 6.42 | 20.31 | $1,048.00 | 107 |
| Jared Bass – Luke Nickert | 5.71 | 19.86 | $450.00 | 106 |
| Jay Griffin – Charles Kline | 4.93 | 18.09 | $350.00 | 105 |
| Greg Cooper – Clay Lewis | 0.00 | 18.08 | $550.00 | 104 |
| Marshall Johnson – Ryan Lachinet | 0.00 | 17.63 | $250.00 | 103 |
| Tripp & Brent Mistr | 4.79 | 17.39 | $215.00 | 102 |
| Kelly Robinette – David Barlow | 0.00 | 17.38 | $175.00 | 101 |
| Greg Fernandez – Steven Tate | 6.04 | 17.18 | $150.00 | 100 |
| Mickey Anderson – Bo Boltz | 0.00 | 17.00 | $140.00 | 99 |
| Trey Goodman- Tim Chaffin | 5.96 | 16.38 | $120.00 | 98 |
| Curtis & CJ Combs | 5.60 | 16.19 | | 97 |
| Landon Tucker – Ronnie Slaughter | 0.00 | 16.15 | | 96 |
| Joey Cooke – Justin Hall | 0.00 | 16.05 | | 95 |
| John Koren- Tristan Koren | 6.07 | 15.94 | $192.00 | 94 |
| Jeff Sutton – Nick Passlalcqua | 0.00 | 15.84 | | 93 |
| Charles James- John Conway | 0.00 | 15.28 | | 92 |
| Renee & Roger Walters | 0.00 | 15.16 | | 91 |
| Aaron Lucy – Reed Clay | 0.00 | 14.69 | | 90 |
| Rick Rodrigurez- chuck Racklety | 0.00 | 14.50 | | 89 |
| Nate Kilgore – Chaz Carrington | 0.00 | 14.35 | | 88 |
| Richard Mistr – Tom Ownes | 0.00 | 14.29 | | 87 |
| Clyde Baldwin – Jeff Davis | 0.00 | 14.25 | | 86 |
| Christopher & Benny Wingfield | 0.00 | 13.82 | | 85 |
| James Tilley – Andy Walker | 0.00 | 13.67 | | 84 |
| Howard & Mark Austin | 0.00 | 13.57 | | 83 |
| Walter & William Woodall | 3.66 | 13.55 | | 82 |
| Brian Brooks – Donnie Meade | 0.00 | 13.46 | | 81 |
| Dave Carney – John Dunn | 0.00 | 13.24 | | 80 |
| Charkes Ramer – Ernest Revels | 0.00 | 13.17 | | 79 |
| Cory Dunnavent – Kennon Ball | 0.00 | 13.05 | | 78 |
| Jeff Valentine – Daryl Moody | 0.00 | 12.97 | | 77 |
| Wayne & Ryan Drewery | 0.00 | 12.81 | | 76 |
| Jay Tisley- P jones | 0.00 | 12.67 | | 75 |
| Jason Bishop – Stan Bishop | 0.00 | 12.54 | | 74 |
| Paul & Francis Martin | 4.84 | 12.45 | | 73 |
| Jordan Hineman | 0.00 | 12.17 | | 72 |
| Brian Snipes – Chris Cockrell | 0.00 | 12.02 | | 71 |
| Jake & Jesse Kidd | 0.00 | 11.80 | | 70 |
| Cody Lucy- Chris Bowen | 0.00 | 11.78 | | 69 |
| Jeff Banko | 0.00 | 11.59 | | 68 |
| Rusty Alley – Dan Robison | 0.00 | 11.27 | | 67 |
| Jeff Ludlow – Billy Edwards | 0.00 | 11.07 | | 66 |
| Neal & Rodeny Allen | 0.00 | 10.98 | | 52 |
| Stacey Vasser – Johnathon Ceaser | 0.00 | 10.90 | | 65 |
| Audy Murphey- Chris Droman | 0.00 | 10.59 | | 64 |
| Joey & Chris DeLuke | 0.00 | 9.82 | | 63 |
| James McDowell | 0.00 | 9.67 | | 62 |
| James & Jimmy Condrey | 0.00 | 9.54 | | 61 |
| Melissa & Kevin Davis | 0.00 | 9.42 | | 60 |
| William Allen – Mike Martiniz | 0.00 | 8.63 | | 59 |
| Jamie Nealy – Greg Ball | 0.00 | 8.44 | | 58 |
| Billy Hicks | 0.00 | 8.03 | | 57 |
| Wayne Tyler – Ed Jordan | 0.00 | 6.87 | | 56 |
| Bryan Kean – Evan Anderson | 0.00 | 5.88 | | 55 |
| Harvey Reese – Anthony Weithers | 0.00 | 0.00 | | 45 |
| Linwood Shores | 0.00 | 0.00 | | 45 |
| John Woodward – Ryan Stilner | 0.00 | 0.00 | | 45 |
| Tommy Little – Robert Bruguiere | 0.00 | 0.00 | | 45 |
| Chuck Comer – Don Warren | 0.00 | 0.00 | | 45 |
| Chris Mcdaniel- Matt Kite | 0.00 | 0.00 | | 45 |
| Scott Rodgers- Colin Rodgers | 0.00 | 0.00 | | 45 |
| Casey Logan – Skeet Dalton | 0.00 | 0.00 | | 45 |
| Total Entrys | | | $7,680.00 | |
| BONUS $ | | | $600.00 | |
| Total Paid At Ramp | | | $7,710.00 | |
| 2022 James River Spring Final Fund | | | $470.00 | |
| 2022 CATT Championship Fund | | | $50.00 | |
| 2022 James River Spring Final Fund Total | | | $950.00 | |