This coming Saturday at Southmont!
2022 CATT MEMBERSHIP REQUIRED! If you paid at the 2022 Yadkin Spring Trail you're covered!
If you do pay a membership at the Phantom it can be applied to any CATT Trail afterwards this Fall!
NO OFF LIMITS!
Normal CATT Rules Apply!
Pre Pay on Line or at Ramp Morning of!
$5,000 1st Place based on 50 teams entering!
Entry Fee: $200 per team $210 at Ramp
Enter 1 or more side pots or none! Optional!
Platinum BONUS $100 (Paying 3 Places)
Gold BONUS $50 (Paying up to 3 Places)
Silver BONUS $25 (Paying up to 2 Places)
Blastoff # Determined by Order of Payment!
Safe light – 3 PM weigh in.
Paying 2 Big Fish Places and 1 Place for Every 7 Teams Entered!
Enter 1 2022 Phantom Invitationals & Qualify to fish the Phantom Outdoor Classics!
Lake Norman Dec 2-3, 2022
We had a huge Yadkin 2022 Spring Trail! The total payback was over $23,000.00 which was a 25% increase over 2021! Thanks for fishing guys and we will have the 2022 FALL Schedule out soon! Thanks to Michael Smith and his crew! They served the participants hot dogs after the Final which was much appreciated we're sure!
Well, we wrapped up the spring trail today in somewhat of a summer fashion. It was a hot one on High Rock lake today at the final. 33 boats / 60 anglers graced us with their presence today all in hopes of taking home some extra cash and for some it paid off. We had another great and successful season and today was no different in my eyes. I hope everyone had a good time today and enjoyed the refreshments at the weigh in. Special thanks are in order to the kitchen crew,

Kari Murphy

and

Carissa Smith

braving the heat to fill some bellies. Huge thanks to

Erik Myers

helping out all season and there's no doubt I couldn't have done it without him.

Joey Musgrave

, the legend himself, came to spectate but as soon as he saw where he could help he jumped right in and I appreciate him for that. Again thanks to all the anglers from near and far for making the 2022 spring trail a success.

Shawn Knight & Ron Wolfarth took 1st Place with 5 bass weighing 18.28 lbs and earned $3,480.00!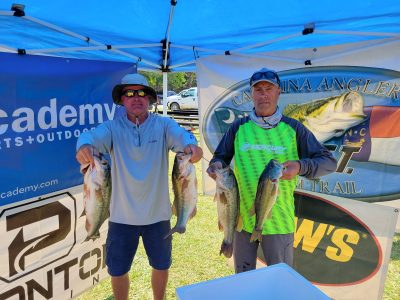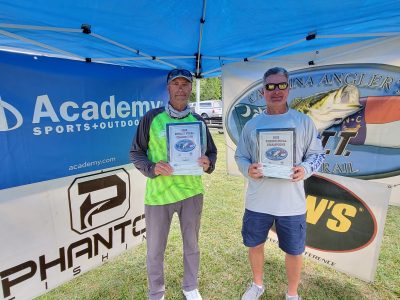 Harrison & Barry McCall 2nd with 17.73 lbs worth $1,500.00!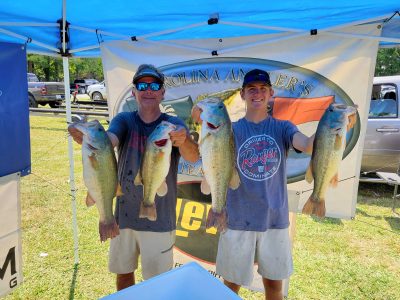 Hunter & Scott Harwood 3rd with 17.66 lbs! They took home $1,304.00!

Orlando Giles & Carl Myers 4th! 16.53 lbs!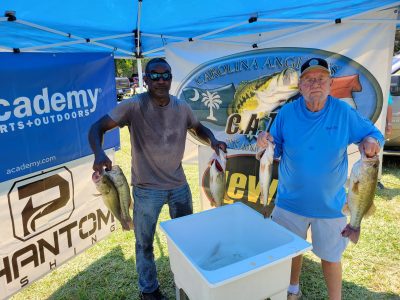 Matt Stanley 5th 16.42 lbs!
Bud Ratliff & Dustin Horne 2022 Yadkin Point Champs! $500.00!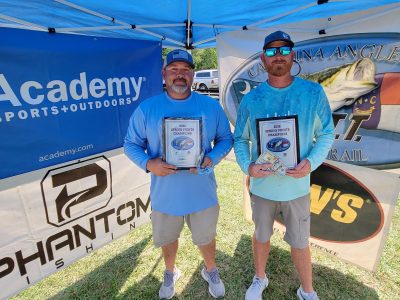 John Kistler holding his 2022 overall spring big fish trophy made by Nick Bashford at Untratech Tool and Machine. On March 20th John caught a 9.49lb bass!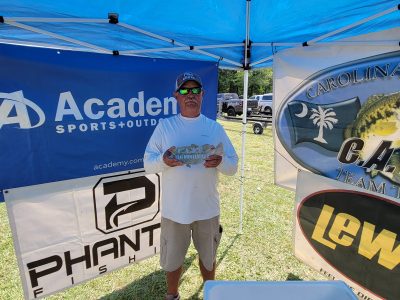 Jeffrey Furr and Todd Buttler with their Lews/Strike King gift card for the big fish of the Final. They weighed in a 5.46lber!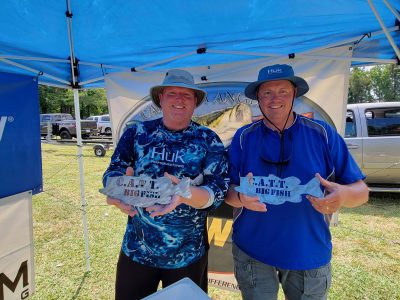 | | | | |
| --- | --- | --- | --- |
| Team | BF | Weight | Winnings |
| Shawn Knight – Ron Wolfarth | 0.00 | 18.28 | $3,480.00 |
| Harrison McCall – Barry McCall | 4.80 | 17.73 | $1,500.00 |
| Hunter Harwood – Scott Harwood | 5.14 | 17.66 | $1,304.00 |
| Orlando Giles – Carl Myers | 4.73 | 16.53 | $640.00 |
| Matt Stanley | 4.91 | 16.42 | $300.00 |
| Jacob Bridges – Brady Weisner | 4.38 | 15.69 | $150.00 |
| Jason Riggs – Steve Sink | 4.15 | 15.63 | |
| TJ Drew – Randal Drew | 3.93 | 15.32 | |
| Jason Barnes – Chad Poteat | 4.55 | 15.12 | |
| Todd Butler – Jeffrey Furr | 5.46 | 15.01 | $231.00 |
| Mack Lowe – Robert Walser | 0.00 | 14.28 | |
| George Lambeth – Herby Young | 0.00 | 14.18 | |
| John Kistler – Rusty Melton | 0.00 | 14.04 | |
| Austin Garland | 0.00 | 13.65 | |
| Bud Ratcliff – Dustin Horn | 4.04 | 12.78 | |
| Dillon Kiger – Shane Vaught | 0.00 | 12.43 | |
| Scott Henley – Johnny Heaton | 0.00 | 11.74 | |
| Thomas Furr – Mike Allen | 4.55 | 10.96 | |
| Michael Swaringen – CJ Johnston | 0.00 | 10.60 | |
| Ladd Whicker – Landon Whicker | 0.00 | 10.07 | |
| Josh Griffin – Daniel Griffin | 0.00 | 8.72 | |
| Marty Smith – Mitchell Fredrick | 3.79 | 7.07 | |
| Zach Schelsi – Marshall Schelsi | 2.43 | 3.93 | |
| Lance Isenhour | 0.00 | 2.89 | |
| Zac Gooch – Greg Gooch | 0.00 | 0.00 | |
| Mark Cannon – Frank Brinegar | 0.00 | 0.00 | |
| Butch Drew – Ryan Drew | 0.00 | 0.00 | |
| Robert Mixon – Robert Lambert | 4.56 | 0.00 | |
| Tom File – Thomas Ludwick | 0.00 | 0.00 | |
| Allen Griffin | 0.00 | 0.00 | |
| Nick Bashford | 0.00 | 0.00 | |
| Robert Branson | 0.00 | 0.00 | |
| Duke Dension – Bobby Cline | 0.00 | 0.00 | |
| Total Entrys | | | $3,840.00 |
| BONUS $ | | | $1,400.00 |
| Yadkin Spring Final Fund | | | $2,195.00 |
| Total Paid At Ramp | | | $7,605.00 |
| Total Paid Spring 2022 Yadkin | | | $23,545.00 |