Next Lake Wateree CATT Spring Qualifier is this coming Saturday Feb 25th at Clearwater Cove Marina! $80 entry of $90 at the ramp $35 Per Person Membership!
The 2023 Phantom Outdoors Open on Lake Wateree is April 8th! $5,000 1st Place with 50 teams entered! Tap on the link to view info!
2023 Phantom Outdoors Open Series – Carolina Anglers Team Trail (cattteamtrail.com)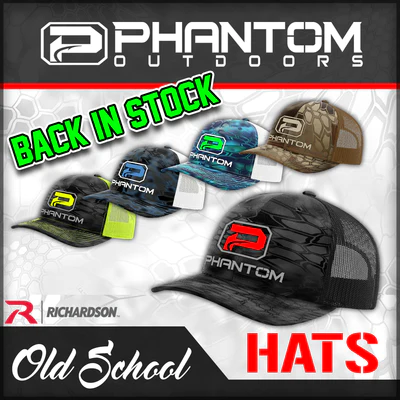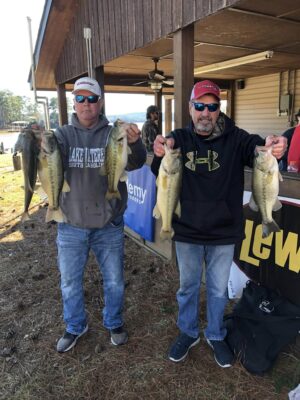 Butch Williams & Sonny Beam win Lake Wateree with 5 bass weighing 18.04 lbs worth $900.00!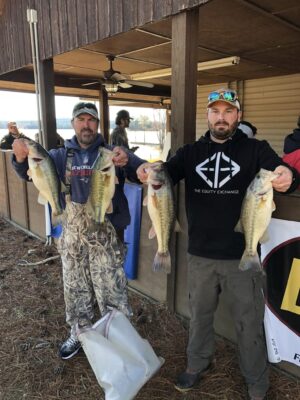 Craig Haven & Paul Wells 2nd with 18.023 lbs!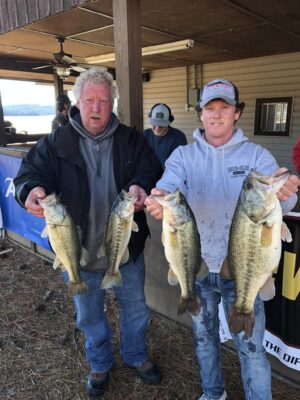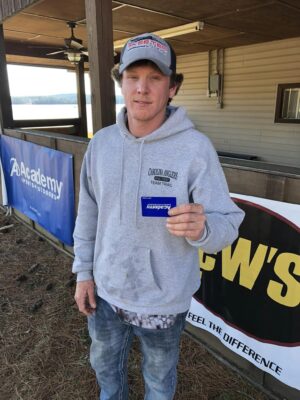 Alan Fletcher & Tanner Fletcher 3rd with a limit weighing 17.31 lbs and the Academy BF at 7.07 lbs!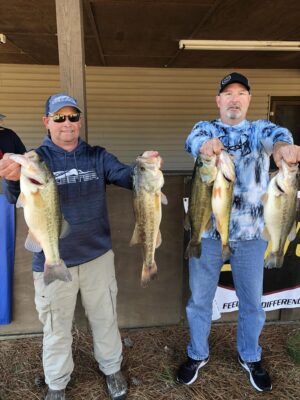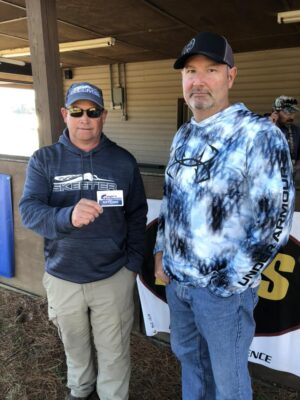 Chad Gainey & Mack Kitchens 4th place with 17.27 lbs. They received a $40 Anglers Headquarters Gift Card!
| | | | | |
| --- | --- | --- | --- | --- |
| Team | BF | Weight | Winnings | Points |
| Butch Williams & Sonny Beam | 4.13 | 18.04 | $900.00 | 110 |
| Paul Wells & Craig Haven | 4.90 | 18.03 | $332.00 | 109 |
| Alan Fletcher & Tanner Fletcher | 7.07 | 17.31 | $258.00 | 108 |
| Chad Gainey & Mack Kitchens | 4.52 | 17.27 | | 107 |
| Dean Benfield & Donnie Maiers | 4.39 | 16.25 | | 106 |
| Jarrod Upchurch & Jacob Upchurch | 3.97 | 15.39 | | 105 |
| Ray Dowey & Channon Dowey | 4.17 | 15.10 | | 104 |
| Donald Hinson & Shannon Hinson | 3.38 | 14.69 | | 103 |
| Shane Cantley & Michael Richardson | 4.24 | 14.30 | | 102 |
| Dearal Rodgers & Trent McLaughlin | 3.08 | 12.54 | | 101 |
| Jim Davis & Zack Davis | 3.04 | 12.22 | | 100 |
| Jeff Norris & Jacob Norris | 3.35 | 10.22 | | 99 |
| Robert Jackson | 3.30 | 9.22 | | 98 |
| Darrell Fenton | 2.66 | 8.80 | | 97 |
| Lucas Murphy & Will Alewine | 3.93 | 7.99 | | 96 |
| Jason Tannenbaum & Jason Colon | 2.50 | 2.50 | | 95 |
| Phillip Carson & Scott Bolin | 0.00 | 0.00 | | 85 |
| Anthony Medlin | 0.00 | 0.00 | | 85 |
| Hand Wactor | 0.00 | 0.00 | | 85 |
| Total Entrys | | | $1,520.00 | |
| BONUS $ | | | $400.00 | |
| Total Paid At Ramp | | | $1,490.00 | |
| 2023 Wateree Spring Final Fund | | | $330.00 | |
| CATT | | | $50.00 | |
| 2023 CATT Championship | | | $50.00 | |
| 2023 Wateree Spring Fund Total | | | $330.00 | |