Next & last Cooper River 2023 Spring Qualifier is April 1st!
This coming Saturday at Cypress Gardens! The 2023 Phantom Outdoors Open on the Cooper River! NO MEMBERSHIP FOR THIS ONE!
Tap on the link to view info! We're looking for a crowd!
2023 Phantom Outdoors Open Series – Carolina Anglers Team Trail (cattteamtrail.com)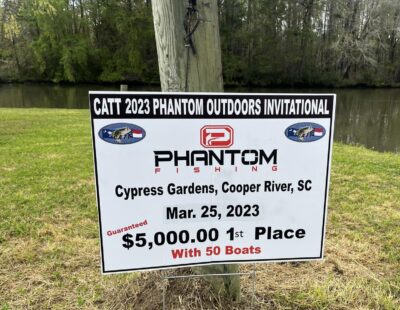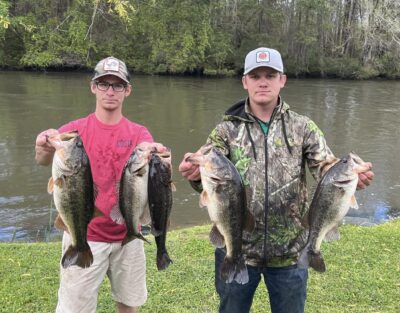 Shawn & Logan Benton win the Cooper River CATT with 5 bass weighing 18.82 lbs! They collected $1,025.00!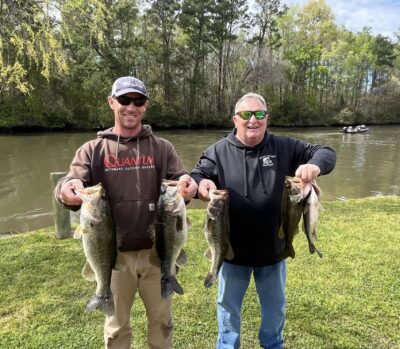 Andrew & Charlie Baker 2nd Place with 16.41 lbs!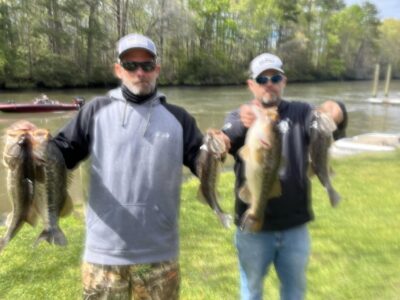 Brian Surowiec & Walter Cumber 3rd with 16.22 lbs!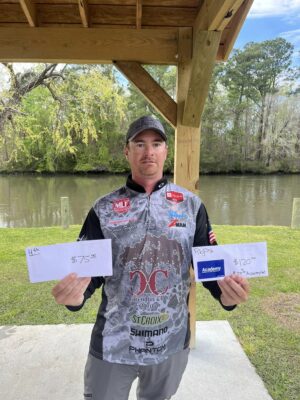 James Fender & Kyle Welch weighed in 14.71 lbs good enough for 4th and they weighed in the Academy BF at 5.90 lbs!
| | | | | |
| --- | --- | --- | --- | --- |
| Team | BF | Weight | Winnings | Points |
| Shawn Benton – Logan Benton | 5.52 | 18.82 | $1,025.00 | 110 |
| Andrew Baker – Charlie Baker | 4.46 | 16.41 | $235.00 | 109 |
| Brian Surowiec – Walter Cumber | 5.28 | 16.22 | $125.00 | 108 |
| James Fender – Kyle Welch | 5.90 | 14.71 | $195.00 | 107 |
| Billy Fanning – Zack Wagner | 4.65 | 14.01 | | 106 |
| Justin Craven | 0.00 | 13.94 | | 105 |
| David Kelly – Brad Mathews | 3.25 | 13.20 | | 104 |
| Michael Ard – Jeff Parsons | 4.94 | 12.79 | | 103 |
| Grant Powell – Travis Gatlin | 3.99 | 11.62 | | 102 |
| Jimmy Bihlear – TJ Bancroft | 5.12 | 11.47 | | 101 |
| Winkey Watford – Scottie Mixon | 0.00 | 10.03 | | 100 |
| CJ Carrington – Koby Harvey | 2.93 | 8.94 | | 99 |
| James Skelton – Jeff Skelton | 0.00 | 8.56 | | 98 |
| Willie Weatherford – Wyatt Weatherford | 0.00 | 8.11 | | 97 |
| Jonathan Brindle – Justin Harvey | 0.00 | 7.44 | | 96 |
| Randy Gibson Jr – Randy Gibson Sr | 0.00 | 7.05 | | 95 |
| Bubba Dennis – Kevin Brock | 4.54 | 5.96 | | 94 |
| David Driggers | 0.00 | 5.90 | | 93 |
| Stephen Flook Jr – Casey Brown | 2.69 | 2.69 | | 92 |
| Johnny Brinson – Jay Ayers | 0.00 | 0.00 | | 82 |
| Edward Punchak – Michael Dibelo | 0.00 | 0.00 | | 82 |
| Scott Perrine | 0.00 | 0.00 | | 82 |
| Glenn Varner – Vic Varner | 0.00 | 0.00 | | 82 |
| Ryan Baylis | 0.00 | 0.00 | | 82 |
| Total Entrys | | | $1,200.00 | |
| BONUS $ | | | $525.00 | |
| Total Paid At Ramp | | | $1,590.00 | |
| Cooper River 2023 Spring Final Fund | | | $120.00 | |
| 2023 CATT Championship Fund | | | $25.00 | |
| Cooper River 2023 Spring Final Fund Total | | | $525.00 | |