We wrapped up the 2023 Phantom Outdoors Open on Santee Cooper this past weekend with 72 teams entered! We will schedule the 2024 Phantom Outdoors Open at Santee Cooper either in April or March! Stay tuned! Tap on the Phantom Outdoors Logo and start shopping!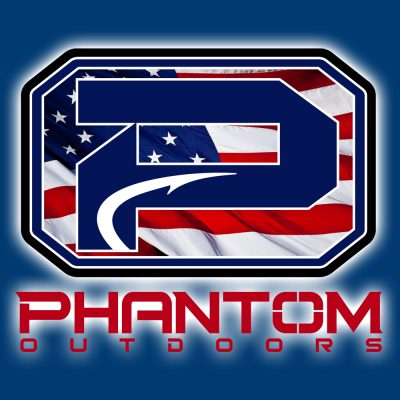 We had a great crowd at the weigh in as we always do at Santee Cooper!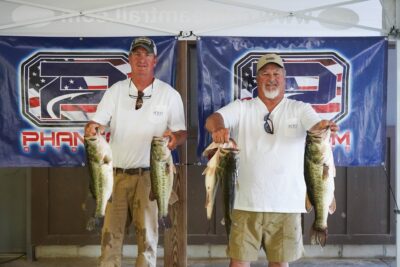 Nathan Burgess & Brent Riley took Top Honors with 5 bass weighing 26.46 lbs! Nathan & Brent left John C Land with $13,200.00!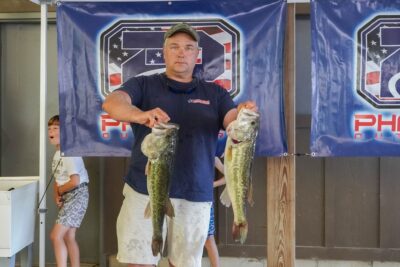 Craig McFadden & Mike Watson earned 2nd Place with 5 bass weighing 26.43 lbs! They collected $4.050.00!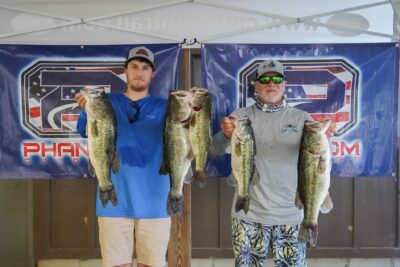 Casey Stevens & Ronnie McCoy 3rd Place with 25.08 lbs! $ 2,100.00!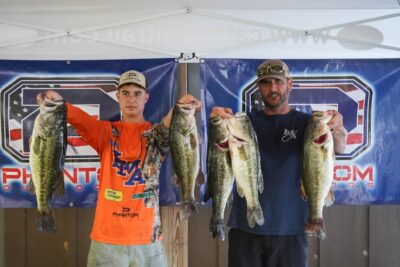 Brent Henderson & Hayward McLeod took 4th Place with 24.52 lbs and weighed the 2nd BF at 7.73 lbs! Total earnings $1,825.00!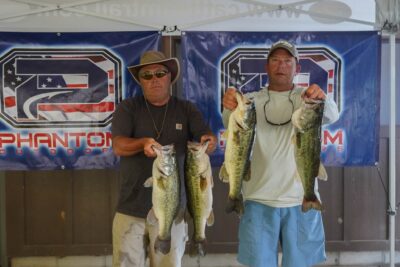 Steve Harmon & Bryan Cook 5th Place with 24.04 lbs! $700.00!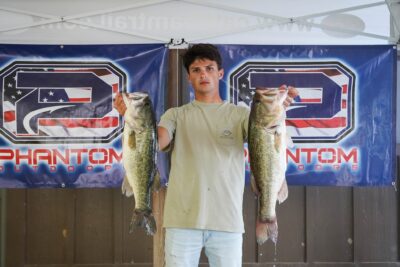 Bennett Lawshe – Jeremy Hewitt 6th Place 22.41 lbs! Total earnings $500.00!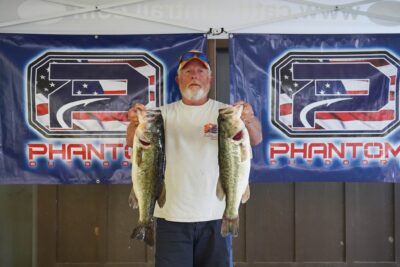 7th Place Billy Willis & Glenn Porter 22.28 lbs! Total earnings $400.00!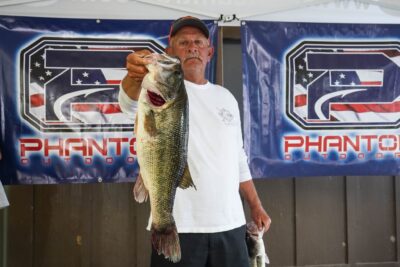 Dean Benfield & Donnie Maiers weighed 22.18 lbs good enough for 8th and weighed the 1st Academy BF at 8.28 lbs! Total earnings $825.00!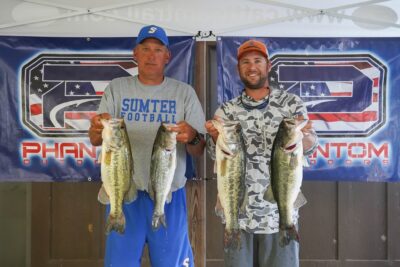 Mark Barnes & Justin Cromer 9th Place 22.11 lbs! Total earnings $250.00!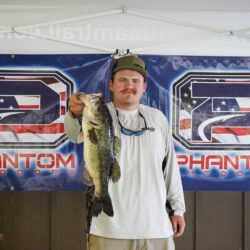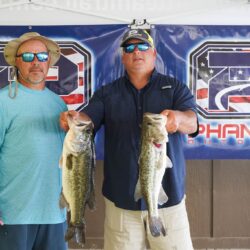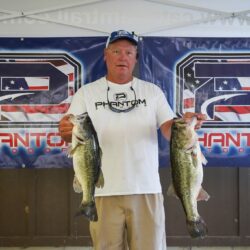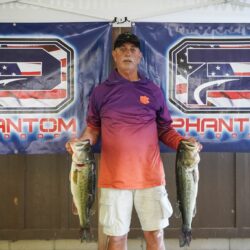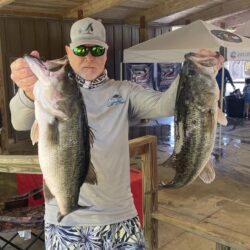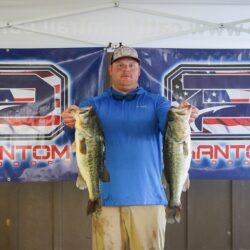 | | | | |
| --- | --- | --- | --- |
| Team | BF | Weight | Winnings |
| Brent Riley – Nathan Burgess | 6.07 | 26.46 | $13,200.00 |
| Craig McFadden – Mike Watson | 0.00 | 26.43 | $4,050.00 |
| Ronnie McCoy – Casey Stevens | 7.15 | 25.08 | $2,100.00 |
| Heyward McLeod – Brent Henderson | 7.73 | 24.52 | $1,825.00 |
| Bryan Cook – Steve Harmon | 0.00 | 24.04 | $700.00 |
| Bennett Lawshe – Jeremy Hewitt | 7.30 | 22.41 | $500.00 |
| Billy Willis – Glen Porter | 6.25 | 22.28 | $400.00 |
| Dean Benfield – Donnie Maiers | 8.28 | 22.18 | $825.00 |
| Justin Cromer – Mark Barnes | 0.00 | 22.11 | $250.00 |
| Perry Holloway – Danny Lowery | 0.00 | 20.25 | $200.00 |
| Sean Skey – Jeff Fralick | 7.23 | 20.15 | |
| Don Pendarvis – Bobby Gibbs | 5.77 | 20.04 | |
| Robbie Richbourg – Ed Paul | 0.00 | 19.41 | |
| Horace Lee Scott Jr – Horace Scott Sr | 0.00 | 18.69 | |
| Chad Ardis – Bud Bowman | 6.67 | 18.20 | |
| Fredddie Gibbs – Clark Gibbs | 0.00 | 17.95 | |
| Micheal Craven – Randy Gibson | 6.06 | 17.91 | |
| Micah Bennett – Jason Gordon | 0.00 | 16.91 | |
| Mason Miles – Andrew McLeod | 0.00 | 16.37 | |
| Keith Brown – Todd Brown | 0.00 | 16.15 | |
| Nathan Griffith – Jared Griffith | 0.00 | 16.10 | |
| Todd Smith – Ace Rhodus | 0.00 | 15.41 | |
| Jason Miles – Jason Barrett | 0.00 | 15.21 | |
| Dwayne Reine | 6.47 | 15.15 | |
| Brent Waynick – Emmett McCauley | 0.00 | 14.98 | |
| Mack Altman – Randall Miller | 6.02 | 14.72 | |
| Tory McCallum – Creighton McCallum | 0.00 | 14.57 | |
| David Murdaugh – Dave Murdock | 0.00 | 13.94 | |
| Devyn Stinson – Colton Fitzpatrick | 0.00 | 13.94 | |
| Kevin Hardee – Justin Lifsey | 0.00 | 12.97 | |
| Mark Hutson – Michael Hutson | 7.38 | 12.81 | |
| Max Terry – Jamie Glascock | 0.00 | 12.73 | |
| Patrick cook – Nick Gant | 0.00 | 12.37 | |
| Steven Walker – Walter Capps | 6.96 | 12.28 | |
| Steve Thomas – Donovan Strong | 0.00 | 12.00 | |
| Bunn Tyson – Thad Driggers | 5.18 | 11.89 | |
| Zachary Clayton – Chad Parker | 5.33 | 9.45 | |
| David Quandt – Mike Phipps | 0.00 | 9.42 | |
| Dan Darby – Cody Russell | 0.00 | 9.04 | |
| Gabe Hopkins – Cal Jordan | 0.00 | 7.35 | |
| Kenneth Clark – Mark Morris | 6.19 | 6.19 | |
| Steven Felder – Justin Taylor | 0.00 | 5.60 | |
| William Griffith – Bill Foxworth | 5.47 | 5.47 | |
| Brian Scott – Brad Beatson | 3.99 | 3.99 | |
| Jason Smith – Shane Thomas | 0.00 | 3.20 | |
| Jim Weldon – Reid Weldon | 0.00 | 1.85 | |
| Brett Mitchell – Jerry Montjoy | 0.00 | 0.00 | |
| Tony Floyd – Marty Youmans | 0.00 | 0.00 | |
| Dale Player – Johnny Player | 0.00 | 0.00 | |
| Calvin Marchant – BJ Revell | 0.00 | 0.00 | |
| Rusty Bullard | 0.00 | 0.00 | |
| Keith Britt – Chad Crosby | 0.00 | 0.00 | |
| Will Timmons – Bugzy Terry | 0.00 | 0.00 | |
| Trez Wienges – Traywick Birchmore | 0.00 | 0.00 | |
| Tristen Snell – Adam Smith | 0.00 | 0.00 | |
| Wayne Crosby | 0.00 | 0.00 | |
| Trey Locklair – Donnie Levister | 0.00 | 0.00 | |
| Scott Spittle – Brandon Spittle | 0.00 | 0.00 | |
| Michael Fitzpatrick – Chris Davis | 0.00 | 0.00 | |
| Shawn Benton – Wyatt Pope | 0.00 | 0.00 | |
| Trey Dotson | 0.00 | 0.00 | |
| David Goshorn | 0.00 | 0.00 | |
| Wyatt Simms – Landon Powell | 0.00 | 0.00 | |
| Greg Sigmon | 0.00 | 0.00 | |
| Hunter Hoffmeyer | 0.00 | 0.00 | |
| Wayne Frierson – Ken Ellis | 0.00 | 0.00 | |
| Jared Thompson – Wayne Gainey | 0.00 | 0.00 | |
| John Johnston – David Malin | 0.00 | 0.00 | |
| Trye Cribb – Dylan McCall | 0.00 | 0.00 | |
| Wade Grooms | 0.00 | 0.00 | |
| Victor Moore – Bucky Clarke | 0.00 | 0.00 | |
| Bucky DeBerry | 0.00 | 0.00 | |