Next up for the Old North CATT Trail is May 13th at Jordan Lake launching from Farrington Point!
We are a few weeks away from the 2023 CATT Academy Championship on Kerr Lake May 20-21! $10,000 GUARANTEED to 1st Place but your winnings can be a lot more! 2020 Winners took home $24,000.00! 2021 Winners took home $17,00.00! 2022 Winners took home $29,000.00! Tap on the link to view details!
2023 CATT Academy Championship – Carolina Anglers Team Trail (cattteamtrail.com)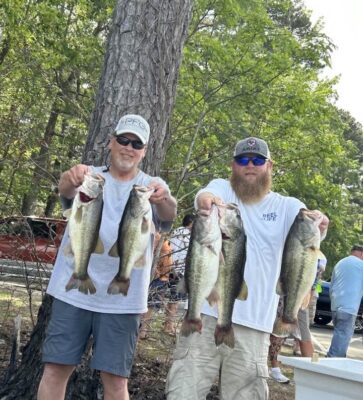 Bud Whitt & Spencer Moody took 1st Place at Falls Lake with 5 bass weighing 24.02 lbs! They collected $2,895.00!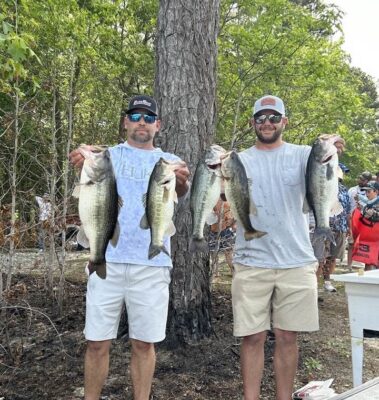 Steven Lasher & Chad Fara 2nd with 22.30 lbs! $1,635.00!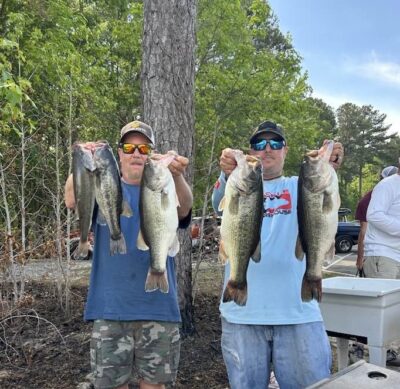 Kevin Cheatham & Johnny Wilder 3rd with 22.20 lbs! $750.00!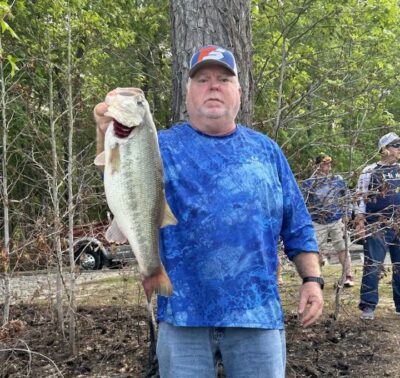 Billy Bledsoe & Brian McDonald 4th with 20.20 amd the 1st Academy BF at 7.364 lbs! $715.00!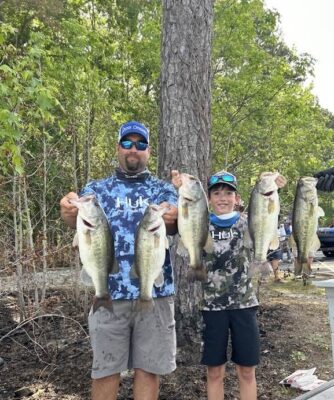 Jesse Wise & Jon Russell Wise with 19.20 lbs 5th Place!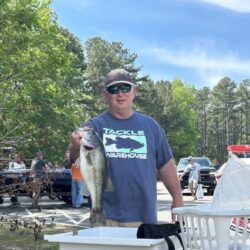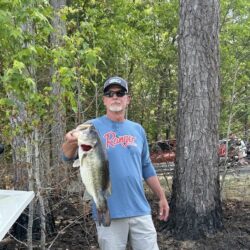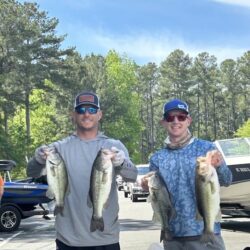 | | | | | |
| --- | --- | --- | --- | --- |
| Team | BF | Weight | Winnings | Points |
| Bud Whitt – Spencer Moody | 5.71 | 24.02 | $2,895.00 | 110 |
| Chad Fara – Steven Lasher | 7.50 | 22.30 | $1,635.00 | 109 |
| Kevin Cheatham – Johnny Wilder | 6.23 | 22.20 | $750.00 | 108 |
| Billy Bledsoe – Brian McDonald | 7.64 | 20.20 | $715.00 | 107 |
| Jesse Wise – Jon Russell | 4.79 | 19.20 | $300.00 | 106 |
| Dennis Reedy – Scott Smith | 6.21 | 19.16 | $225.00 | 105 |
| Doug Stallings – Seth Ellis | 6.06 | 19.10 | $200.00 | 104 |
| Jerry Marshburn – Chuck Byrd | 7.06 | 17.83 | $160.00 | 103 |
| Craig Leff – Thomas Sheffer | 4.82 | 17.20 | $140.00 | 102 |
| Bo Adams – Todd Massey | 4.32 | 16.98 | | 101 |
| Will Howard – Matthew Goheen | 4.92 | 16.77 | | 100 |
| Dane Butler – Derrick Wright | 4.72 | 16.01 | | 99 |
| Randy Robson – Brian Robson | 0.00 | 15.23 | | 98 |
| Dennis Allen – Keith Allen | 0.00 | 14.23 | | 97 |
| Billy West – Curtis Vaughn | 0.00 | 14.16 | | 96 |
| Joe Osbourne – John Piltcher | 4.74 | 13.87 | | 95 |
| Mike Marchant – Bradley McLaurin | 0.00 | 13.56 | | 94 |
| Preston Jacobs – Adam Bessette | 0.00 | 13.40 | | 93 |
| Chris McDuffie – Greg Creech | 0.00 | 13.25 | | 92 |
| Todd Sumner – Rich Z | 4.31 | 13.20 | | 91 |
| Eric Schell – Todd Smith | 5.83 | 13.13 | | 90 |
| Scott Canady – Jeremie Moore | 0.00 | 13.08 | | 89 |
| Mike & Jonathan Rhew | 3.73 | 13.07 | | 88 |
| Bryan Postma – Todd Postma | 0.00 | 12.31 | | 87 |
| Timmy Ferrell – Howard Bohannon | 0.00 | 12.23 | | 86 |
| Jeff Beasley – Park Beasley | 4.10 | 12.20 | | 85 |
| Tim Goad – Vince Nettles | 0.00 | 12.15 | | 84 |
| Clay Ausely- Ken McNeil | 0.00 | 11.56 | | 83 |
| David Farmer – Matt Deese | 0.00 | 11.56 | | 82 |
| Lucas Lobaugh – Jeremy Moody | 4.89 | 11.22 | | 81 |
| Justin Rhew – Roger Clary | 6.23 | 10.69 | | 80 |
| Tony Stanley – Chase Stanley | 0.00 | 10.49 | | 79 |
| Mike Salquero – Dale Delaney | 0.00 | 9.45 | | 78 |
| Eric Christian – Matt Harrison | 0.00 | 8.46 | | 77 |
| Shannon Stewart – Travis Watson | 0.00 | 8.20 | | 76 |
| Jerry Dean – Robert Dean | 0.00 | 7.76 | | 75 |
| David Hall – Chris Wagner | 0.00 | 6.91 | | 74 |
| Roby Wyatt – Mike Prytula | 0.00 | 5.59 | | 73 |
| Don Sheets – Kevin Stowell | 0.00 | 1.98 | | 72 |
| John McClelland – Larry Godfrey | 0.00 | 0.00 | | 62 |
| Scott Woodson – Todd Staker | 0.00 | 0.00 | | 62 |
| James Wall – Michael Alverson | 0.00 | 0.00 | | 62 |
| Mike Harris | 0.00 | 0.00 | | 62 |
| Chad Craven – Ben Cannon | 0.00 | 0.00 | | 62 |
| Jonathan Holloway – Britton O'quin | 0.00 | 0.00 | | 62 |
| Mark Herndon – Bobby Houser | 0.00 | 0.00 | | 62 |
| Total Entrys | | | $6,300.00 | |
| BONUS $ | | | $1,600.00 | |
| Total Paid At Ramp | | | $7,020.00 | |
| Old North 2023 Spring Final Fund | | | $780.00 | |
| CATT | | | $50.00 | |
| 2023 CATT Championship Fund | | | $50.00 | |
| 2023 Old North Spring Final Fund Total | | | $3,950.00 | |