Next Lake Wateree Summer Qualifier is June 3rd at Clearwater Cove Marina!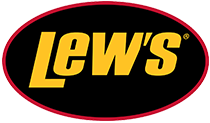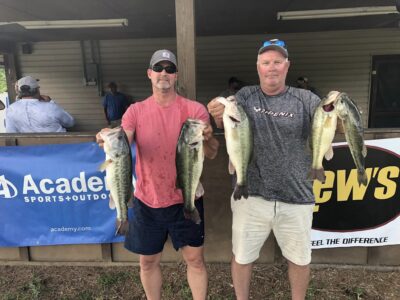 Max Price & Butch Williams win Wateree with 5 bass weighing 18.66 lbs!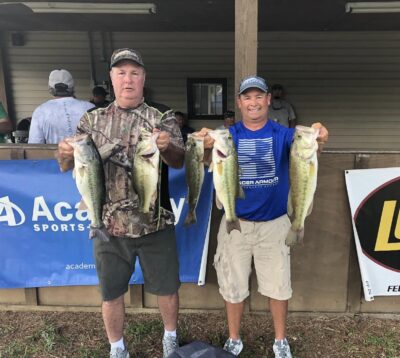 William & Chad Gainey 2nd with 15.79 lbs!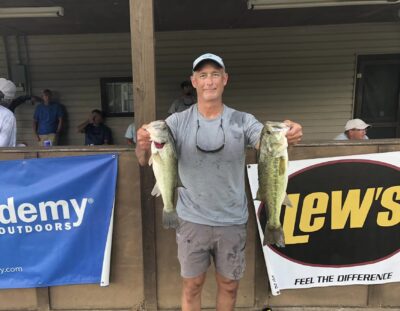 Jesse & Claire Williams 3rd with 15.12 lbs!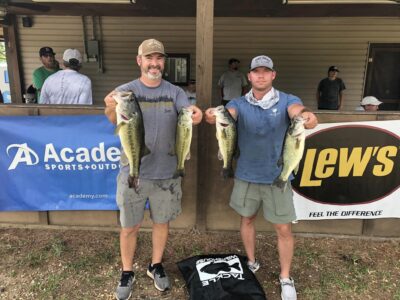 Matt Nettles & RB Blackmon 4th Place 15.03 lbs! They also weighed the 1st Academy BF at 5.05 lbs and received a $25 Academy Gift Card!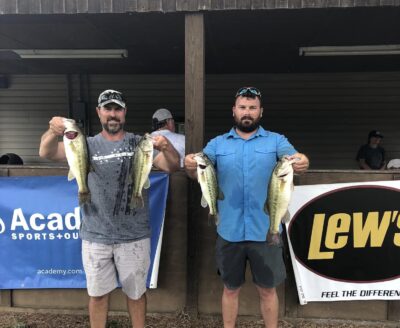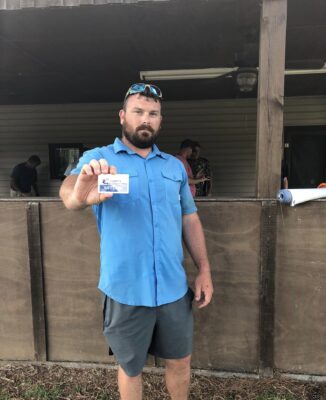 5th Place Paul Wells & Craig Haven 13.89 lbs! Plus a $40 Anglers Headquarters Gift Card!
| | | | | |
| --- | --- | --- | --- | --- |
| Team | BF | Weight | Winnings | Points |
| Butch Williams & Max Price | 4.66 | 18.66 | $985.00 | 110 |
| Chad Gainey & William Gainey | 4.17 | 15.79 | $275.00 | 109 |
| Jess Williams & Claire Williams | 3.89 | 15.12 | $125.00 | 108 |
| Matt Nettles & R.B. Blackmon | 5.05 | 15.03 | $240.00 | 107 |
| Paul Wells & Craig Haven | 3.94 | 13.89 | | 106 |
| David Catoe & Zack Mullins | 3.92 | 13.49 | | 105 |
| Bubba Baker & Colden Baker | 3.84 | 13.22 | | 104 |
| Chad Rabon & Walt Almond | 3.26 | 13.03 | | 103 |
| Mark Healon & Ella Healon | 3.87 | 12.96 | | 102 |
| Alex Griffin & Cameron Deese | 3.29 | 12.84 | | 101 |
| Darrell Fenton | 3.45 | 12.33 | | 100 |
| Kenneth McFarlan & Landon Jordan | 2.56 | 11.60 | | 99 |
| Justin Barfield & Gracen Shoffner | 2.99 | 10.27 | | 98 |
| Brian Cox & Bryan Wilson | 2.26 | 7.61 | | 97 |
| Steve Phillips | 0.00 | 0.00 | | 87 |
| Chase Wallace & Haven Owens | 0.00 | 0.00 | | 87 |
| Scott Floyd | 0.00 | 0.00 | | 87 |
| Ray Dowey & Channon Dowey | 0.00 | 0.00 | | 87 |
| Luke Shrader & Ryan Ray | 0.00 | 0.00 | | 87 |
| Robert Jackson | 0.00 | 0.00 | | 87 |
| Total Entrys | | | $1,600.00 | |
| BONUS $ | | | $425.00 | |
| Total Paid At Ramp | | | $1,625.00 | |
| CATT | | | $50.00 | |
| 2023 Wateree Summer Final Fund | | | $300.00 | |
| 2023 CATT Championship Fund | | | $50.00 | |
| 2023 Wateree Summer Fund Total | | | $300.00 | |