Next Chatuge Lake CATT is Sept 26 at Ledford Chapel!
Aaron Jones & Wesley Pope claimed 1st Place this past weekend on Chatuge Lake with 5 bass weighing 15.98 lbs! They weighed in the 1st BF at 5.18 lbs and collected $747.00!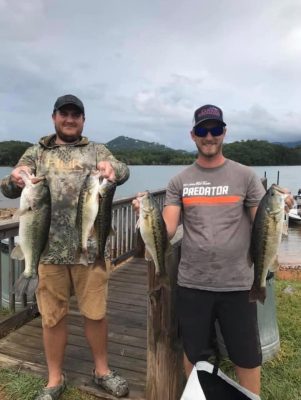 Mitchell & Brandon Grimsley finished 2nd with 15.14 lbs!
Michael Bradley & Robert Cope took 3rd with 13.654 lbs!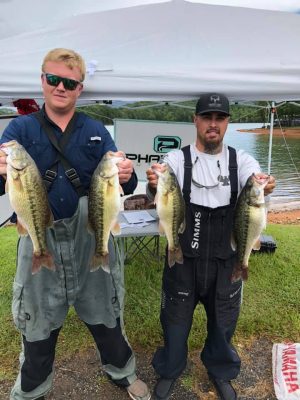 | | | | | |
| --- | --- | --- | --- | --- |
| | BF | Weight | Winnings | Points |
| Aaron Jones – Wesley Pope | 5.18 | 15.98 | $747.00 | 110 |
| Mitchell Grimsley – Brandon Grimsley | 0.00 | 15.14 | $210.00 | 109 |
| Michael Bradley – Robert Cope | 0.00 | 13.54 | $90.00 | 108 |
| Robbie Cook – Michael West | 4.58 | 11.96 | $48.00 | 107 |
| Robert Rogers – Earl Lovingood | 0.00 | 11.77 | | 106 |
| Kyle Dillon – Jesse Mull | 0.00 | 10.83 | | 105 |
| Travis Hooper – Dusty Williams | 0.00 | 9.74 | | 104 |
| Mark & Grayson Cook | 3.61 | 9.62 | | 103 |
| Caz Anderson – Luke Berrett | 3.10 | 9.42 | | 102 |
| Riley Haney – Jaxon Pace | 0.00 | 7.66 | | 101 |
| Richard Case – Matthew Case | 0.00 | 3.30 | | 100 |
| Tracy Dulaney – Zach Thompson | 0.00 | 1.56 | | 99 |
| Andy Parker – Larry Parker | 0.00 | 0.00 | | 98 |
| Bryan Merritt – Merritt Keykedall | 0.00 | 0.00 | | 98 |
| Kevin Gibson – Austin Worley | 0.00 | 0.00 | | 98 |
| Andrew Curry – Keith Curry | 0.00 | 0.00 | | 98 |
| Total Entrys | | | $1,280.00 | |
| BONUS $ | | | $150.00 | |
| Total Paid At Ramp | | | $1,095.00 | |
| 2020 Chatuge Lake Fall Final Fund | | | $285.00 | |
| 2020 CATT Championship/Phantom Fund | | | $0.00 | |
| 2020 Chatuge Lake Final Fund Total | | | $570.00 | |
| 2020 CATT Championship/Phantom Fund Total | | | $4,520.00 | |