Tournament Results Kerr Dec 1, 2018 Orr & Parsons Come out on Top on a Tough Day!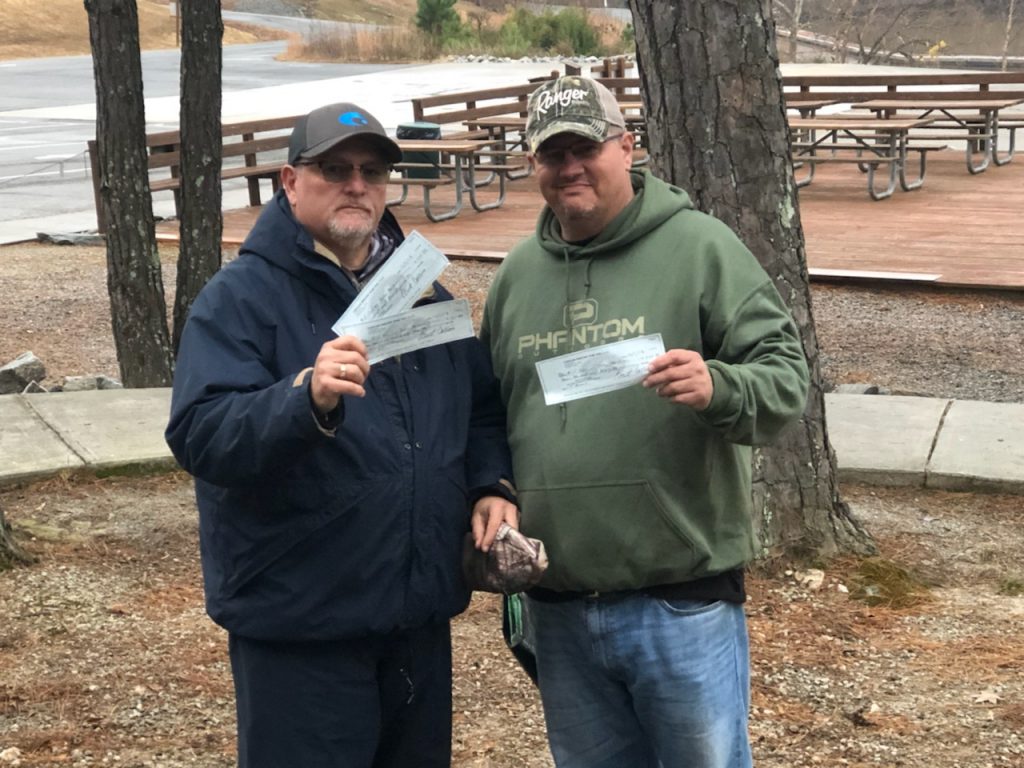 Bill Orr & John Parsons win the last Kerr Fall Qualifier with 13.47 lbs!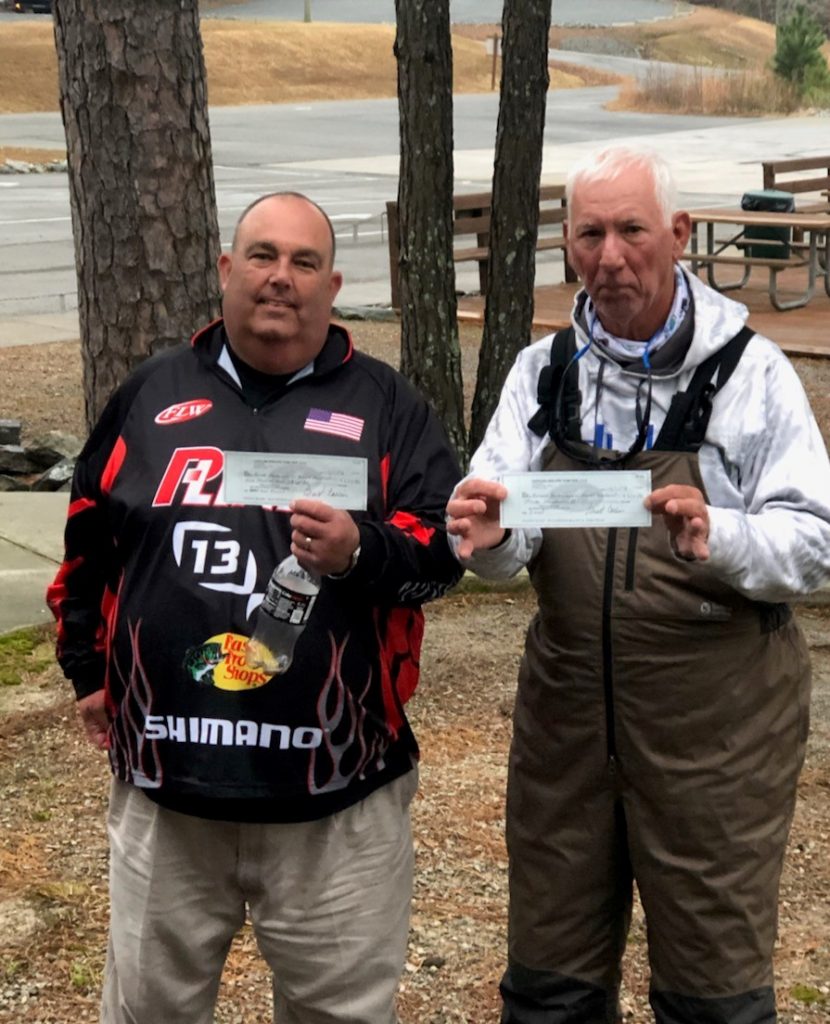 2nd Place Donald Yarborough & Donald Sanford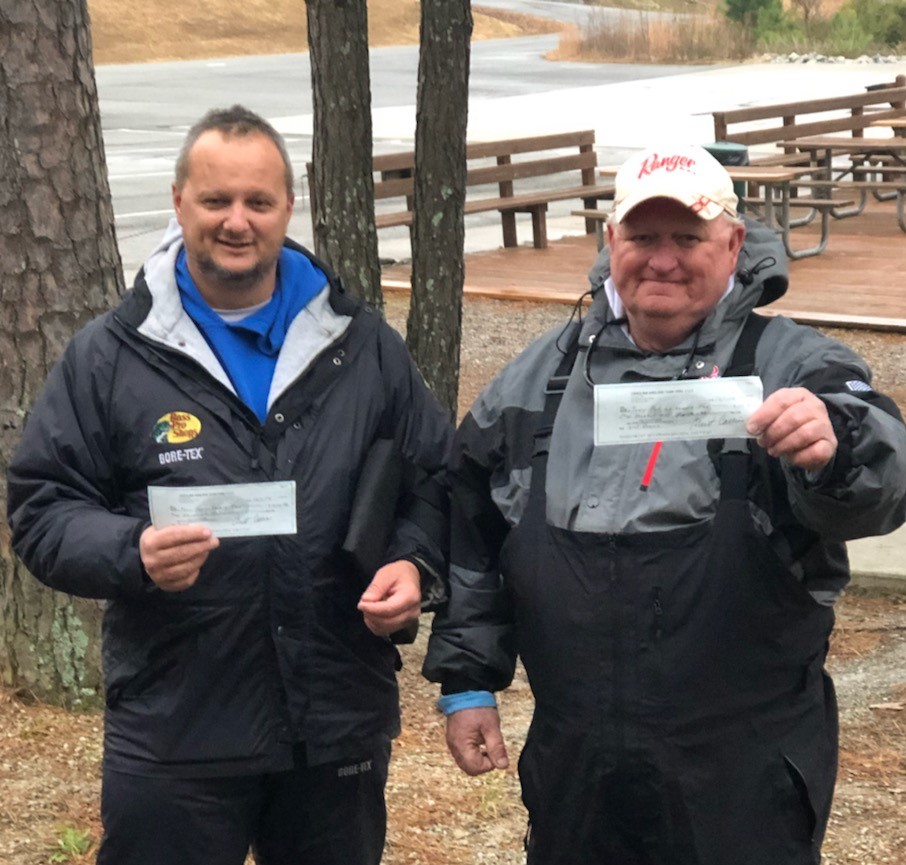 3rd Tony Fox & Lonnie Fox 3rd
David Ford & Brian Howard win the points and will fish the Kerr Final Free!
23
Big
Total
Total
Teams
Fish
Weight
Winnings
Points
Bill Orr – John Parson
3.62
13.47
$1,126.00
220
Donald Yarborough – Donald Sanford
2.85
12.82
$600.00
218
Tony Fox – Lonnie Fox
3.04
11.80
$310.00
216
KC Chousakul – Tim Pinhollow
3.44
10.84
$120.00
214
Mark Inman – Larry Inman
2.38
8.34
$0.00
212
David Ford – Brian Howard
0.00
7.79
$0.00
210
Joe Smith – Raeford Faircloth
3.07
6.76
$0.00
208
Derrick Bowden
0.00
6.69
$0.00
206
Jay Fogleman – Tate Fogleman
3.57
6.65
$69.00
204
Bryan Cottrell – Ellis Jones
0.00
4.78
$0.00
202
Clay Ausley – Ken McNeil
0.00
4.24
$0.00
200
Donnie Avant – Randy Waterman
0.00
3.43
$0.00
198
Mike Knapp – Aydin Knapp
0.00
3.42
$0.00
196
Tom Brown – Nikki Brown
0.00
2.09
$0.00
194
Gene Williams – Edward Townsen
0.00
1.92
$0.00
192
Ben Knapp
0.00
1.42
$0.00
190
Jake Osborne – Josh Mosger
0.00
0.00
$0.00
188
Brian Galloway – William Hubbard
0.00
0.00
$0.00
188
Bryson Peed – Josh Fletcher
0.00
0.00
$0.00
188
Ryan Roller – Gary Colwell
0.00
0.00
$0.00
188
James Sutton
0.00
0.00
$0.00
188
Tony Tombs – David Jones
0.00
0.00
$0.00
188
Lee Williams – Scott Smith
0.00
0.00
$0.00
188
Total Entrys
0.00
0.00
$1,840.00
0
BONUS $
0.00
0.00
$850.00
0
Total Paid At Ramp
0.00
0.00
$2,225.00
0
Kerr 2018 Fall Final Fund
0.00
0.00
$415.00
0
2018 CATT Championship Fund
0.00
0.00
$50.00
0
2018 Kerr Fall Final Fund Total
0.00
0.00
$1,640.00
0
2018 CATT Championship Fund Total
0.00
0.00
$2,315.00
0