Next Lake Murray CATT Qualifier is April 10th at Dreher Island State Park!

Mark your calendar! March 28th is the Lake Murray Phantom Outdoors Invitational on Lake Murray launching from Dreher Island State Park! This event is open to all and you do not have to be a CATT member! Tap on the link to view more info!
Bradley & Chris Dorlan weighed in a good bag of Lake Murray bass ay 23.33 lbs taking 1st place and $944.00!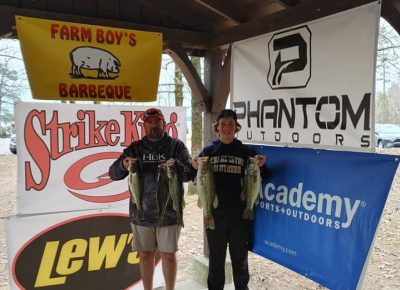 2nd Place went to Jason Ries & Roger McKee with a limit weighing 17.54 lbs!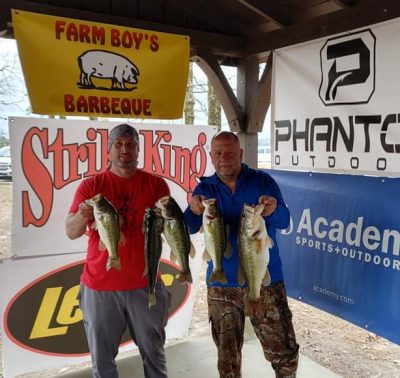 Lucas Murphy & Frankie Scioscia took 3d with 16.57 lbs!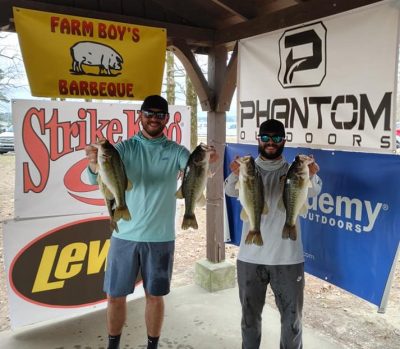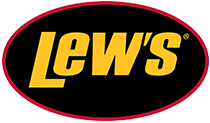 | | | | | |
| --- | --- | --- | --- | --- |
| Team | BF | Weight | Winnings | Points |
| Bradey Rhodes – Chris Dorlan | 0.00 | 23.33 | $944.00 | 110 |
| Jason Ries – Roger McKee | 5.92 | 17.54 | $461.00 | 109 |
| Frankie Scioscia – Lucas Murphy | 3.63 | 16.57 | $200.00 | 108 |
| Andy Wicker – Steve Wicker | 3.95 | 16.28 | $120.00 | 107 |
| Tim Harmon | 0.00 | 15.52 | | 106 |
| Carl Smith – Josh Rennebaum | 3.81 | 15.23 | | 105 |
| Phillip Anderson | 3.71 | 14.05 | | 104 |
| Wil Alewine – Paul Ham | 3.05 | 13.37 | | 103 |
| Justin McGrady – AJ Dipetero | 0.00 | 11.39 | | 102 |
| Chris Sullivan | 0.00 | 11.06 | | 101 |
| Dylan Sills – Weston Thomas | 0.00 | 7.63 | | 100 |
| Mark Collins | 0.00 | 7.46 | | 99 |
| Mattheew Benge | 3.75 | 0.00 | | 89 |
| Andy Sease – Beau Dixon | 4.11 | 0.00 | | 89 |
| Mark & Rhett Richardson | 3.01 | 0.00 | | 89 |
| Mark Krengel – Ron Wood | 5.79 | 0.00 | | 89 |
| Josh Kirby – Tim Kirby | 0.00 | 0.00 | | 89 |
| Baylen Moore | 0.00 | 0.00 | | 89 |
| Justin Tingen – Carter | 0.00 | 0.00 | | 89 |
| Michael Stribble – Dean Stribble | 0.00 | 0.00 | | 89 |
| Peyton Frick – Cody Page | 0.00 | 0.00 | | 89 |
| Hampton Anderson – Tyson Alveras | 0.00 | 0.00 | | 89 |
| Joe Lindler – Monkey | 0.00 | 0.00 | | 89 |
| Total Entrys | | | $1,840.00 | |
| BONUS $$ | | | $350.00 | |
| Total Paid At Ramp | | | $1,700.00 | |
| 2021 Murray Spring Final Fund | | | $365.00 | |
| 2021 CATT Championship Fund | | | $50.00 | |
| 2021 Murray Spring Final Fund | | | $1,625.00 | |
| 2021  CATT /Phantom Championships | | | $1,840.00 | |