Next up on the Cooper River is April 17th and will be the last 2021 Cooper River Spring Qualifier. If you want to get in the May 1st Final and have not fished yet you must enter the April 17th Qualifier!
Charlie & Andrew Baker took 1st Place with 21.61 lbs! They also weighed in the BF at 7.71 lbs and took home $1,145.00!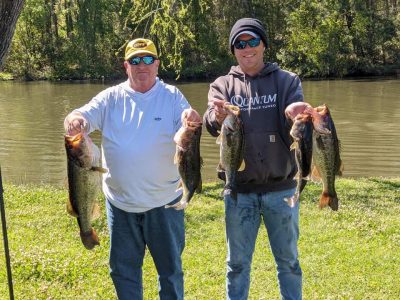 2nd Place went to James Fender & Kyle Welch with 17.40 lbs!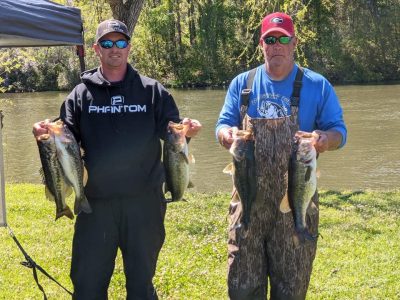 3rd with 15.04 lbs James Roy Jr Robison & William Gregory!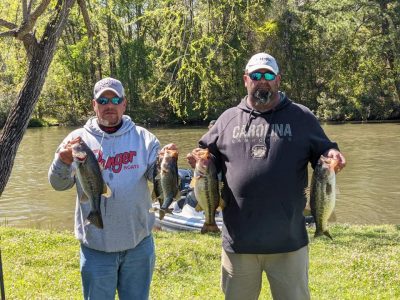 4th Travis Gatlin & Grant Powell 14.36 lbs!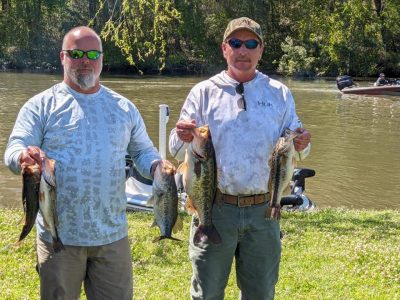 | | | | | |
| --- | --- | --- | --- | --- |
| 24 Teams | BF | Weight | Winnings | Points |
| Matt Baker Andrew Baker sub was Charlie Baker | 7.71 | 21.61 | $1,145.00 | 110 |
| Kyle Welch James Fender | 0.00 | 17.40 | $235.00 | 109 |
| James Roy Jr Robison William Gregory | 0.00 | 15.04 | $125.00 | 108 |
| Travis Gatlin Grant Powell | 0.00 | 14.36 | $75.00 | 107 |
| Jimmy Mccants Kevin Lambert | 0.00 | 13.60 | | 106 |
| Brian Surowiec | 0.00 | 13.33 | | 105 |
| Randall Drew TJ Drew | 0.00 | 12.89 | | 104 |
| Gavin Miles | 0.00 | 12.63 | | 103 |
| Shawn Logan Benton | 0.00 | 12.50 | | 102 |
| Shawn Hanna Dale Hanna | 0.00 | 11.68 | | 101 |
| Michael Dibelo Edward Punchak | 0.00 | 11.48 | | 100 |
| Dylan Mcconnell Dave McConnell | 0.00 | 10.93 | | 99 |
| Tyler Peterson Jeff Shelton | 0.00 | 10.87 | | 98 |
| Jeffrey Peralta Clay Kolb | 0.00 | 9.07 | | 97 |
| Randy Gibson Jeremey Hernandez | 0.00 | 8.90 | | 96 |
| Hunter Hackworth Bronn Shueler | 0.00 | 8.50 | | 95 |
| James Skelton | 0.00 | 8.22 | | 94 |
| Jonathan Singletary Jonathan Singletary | 0.00 | 4.88 | | 93 |
| John Campbell Grace Campbell | 0.00 | 4.01 | | 92 |
| Johnny Brinson | 0.00 | 0.00 | | 82 |
| Bubble Dennis | 0.00 | 0.00 | | 82 |
| Justin Harvey Jonathan Brindle | 0.00 | 0.00 | | 82 |
| Justin Sebit Dalton Hewitt | 0.00 | 0.00 | | 82 |
| Jimmy Bihlear | 0.00 | 0.00 | | 82 |
| Total Entrys | | | $1,200.00 | |
| BONUS $ | | | $525.00 | |
| Total Paid At Ramp | | | $1,580.00 | |
| Cooper River 2021 Spring Final Fund | | | $135.00 | |
| 2021 CATT Championship Fund | | | $10.00 | |
| Cooper River 2021 Spring Final Fund Total | | | $465.00 | |
| 2021 CATT Championship Fund | | | $2,345.00 | |