Next Lake Murray Fall CATT is Dec 4th and is a GOLD! $1,000 1st Place with 20 Boats entered!
Chis Epting & Johnny Mayer win Murray with 5 bass weighing 18.41 lbs! They collected $1,450.00!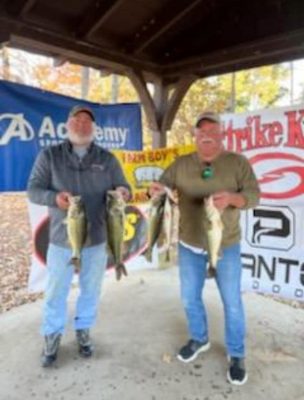 Jody Wright & Jay Wright claimed 2nd with 17.75 lbs!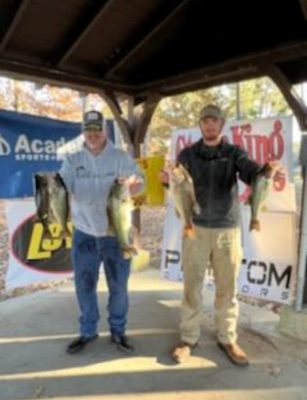 Brad Rutherford & Kevin Malone took 3rd with 17.45 lbs!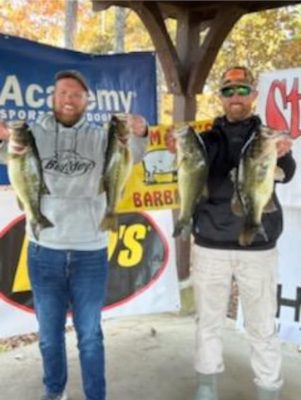 Dalton Dowdy & Joey Sabbagha weighed in the BF at 6.70 lbs!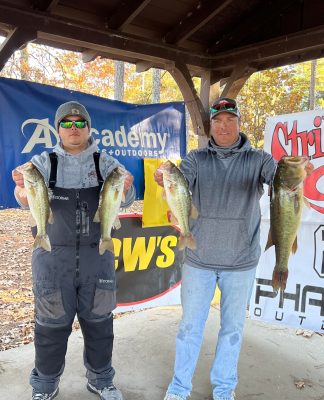 Donald Miller with some good bass!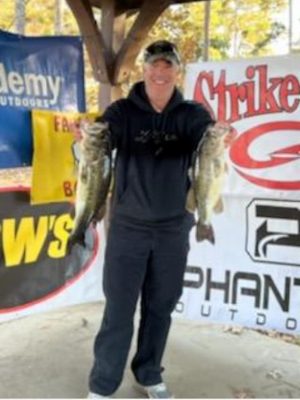 Team
BF
Weight
Winnings
Points
Johnny Mayer – Chris Epting
5.59
18.41
$1,450.00
110
Jody Wright – Jay Wright
6.04
17.75
$538.00
109
Brad Rutherford – Kevin Malone
4.66
17.45
$200.00
108
Andy Lake – Phillip Anderson
5.76
16.93
$140.00
107
Eric Enlow – Hunter Enlow
4.13
15.34
106
Neil Huffstetler – Tim Huffstetler
0.00
14.89
105
Joey Sabbagha – Dalton Dowdy
6.70
14.66
$147.00
104
Scott Farmer – CJ Freeman
3.50
14.10
103
Donald Miller
4.65
14.00
102
Jason Ries – Roger Mckee
4.30
13.06
101
Joe Quinn
3.93
11.90
100
Will Allewine – Edgar Allewine
0.00
9.84
99
Chad Powell – Donnie Powell
3.59
8.68
98
Darryl Starkey – Garrett Starkey
3.71
8.16
97
Greg Oliver – Justin McGrady
0.00
6.65
96
Hunter Delasandro
0.00
6.06
95
Luke Bramhill – Tom Bramhill
0.00
0.00
85
Martin Spaulding – Ben Lee
0.00
0.00
85
John Jeffcoat – Gaige Starnes
0.00
0.00
85
Hampton Anderson – Tyson Alvanos
0.00
0.00
85
Josh Renebaum – Jake Wright
0.00
0.00
85
Total Entrys
$2,520.00
BONUS $$
$400.00
Total Paid At Ramp
$2,475.00
2021 Murray Fall Final Fund
$330.00
2021 CATT Championship Fund
$50.00
2021 Murray Fall Final Fund
$805.00