Tournament Results Lake Norman, NC July 27, 2019 Chris Baumgardner & Jimmy Leschock  Weigh in 14.25 lbs to Take the Win! Next & Last Lake Norman Qualifier is Aug 31st at Pinnacle!
Jimmy Leschock  & Chris Baumgardner weighed in 5 bass at 14.25 lbs and took home the win worth $750.00!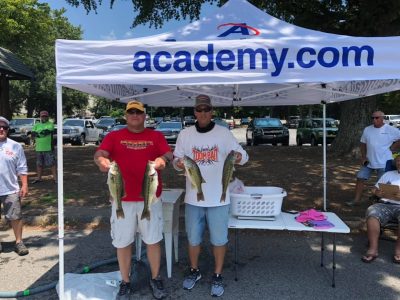 2nd went to Jake Monti & Maurice Freeze with 12.83 lbs!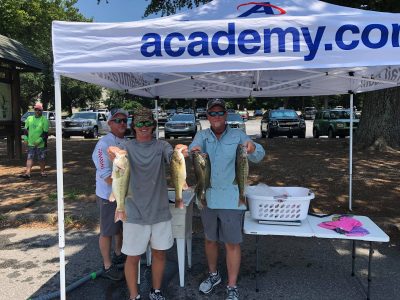 Boo Whitaker / John Miller took 3rd with 12.25 lbs!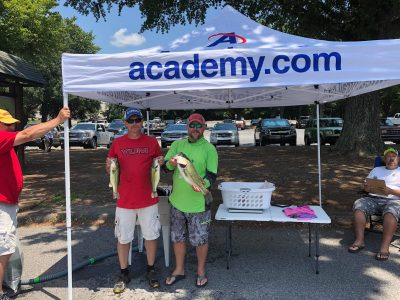 Luke Helms / Jordan Baker  4th with 11.75 lbs!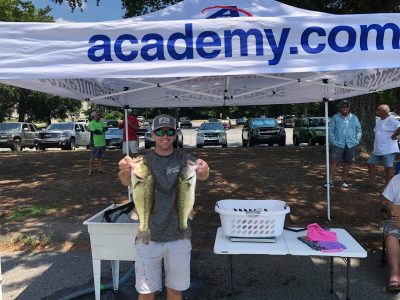 | | | | | |
| --- | --- | --- | --- | --- |
| 15 Teams | BF | Weight | Winnings | Points |
| Chris Baumgardner / Jimmy Leschock | 3.36 | 14.25 | $750.00 | 110 |
| Maurice Freeze / Jake Monti | 3.07 | 12.83 | $200.00 | 109 |
| Boo Whitaker / John Miller | 4.72 | 12.25 | $185.00 | 108 |
| Luke Helms / Jordan Baker | 3.50 | 11.75 | | 107 |
| Will Mitchell / Wendell Ireland | 3.46 | 11.42 | | 106 |
| Scott & Dwight Beattie | 2.70 | 10.22 | | 105 |
| Steve Adington | 3.65 | 3.65 | $45.00 | 104 |
| Keith Westrick / Terry Pittman | 2.03 | 3.33 | | 103 |
| Josh Lancaster | 0.00 | 0.00 | | 102 |
| Nathan & Kristina McGeathy | 0.00 | 0.00 | | 102 |
| Keith Speece | 0.00 | 0.00 | | 102 |
| Mike Seawright | 0.00 | 0.00 | | 102 |
| Dale Phillips | 0.00 | 0.00 | | 102 |
| Walker Leslie / Cason Causey | 0.00 | 0.00 | | 102 |
| Josh & Gene Hall | 0.00 | 0.00 | | 102 |
| Total Entrys | | | $1,200.00 | |
| BONUS $ | | | $300.00 | |
| Total Paid At Ramp | | | $1,180.00 | |
| Norman Spring 2019 Final Fund | | | $260.00 | |
| 2019 CATT Championship Fund | | | $0.00 | |
| 2019 Norman Spring Final Fund Total | | | $1,580.00 | |
| 2019  CATT Championship Fund Total | | | $0.00 | |