We finished up the 2021 Spring CATT Tidewater championship on the Perquimans River today. It certainly didn't feel like spring at weigh in as anglers dealt with hot temperatures. In the end the fishing ended up being pretty warm itself as most of the teams brought five fish limits to the scales. The team of  David Buchanan and Brian Richardson defended last years season ending championship by bringing in 19.49 lbs to take the win and a $3,600 payday!  Mike Evans and Brian Cooper made a run at the win with a 18.58 lb bag to take home $1,500 for second place. Rounding out the top three was the team of Mark Moretz and Ray Cobb with 18.29 lbs.
We know that you have options when picking a trail to fish and we appreciate each and every team that came out to fish with us this spring! The CATT Tidewater Spring Trail paid back $33,o95.00! Thanks to Matt & Dawn Jennings for making this trail better and better each year!
Mark your calendar! The 2021 Phantom Outdoor Invitational is June 26th at the Chowan River, NC Bayside Marina in Edenton! $5,000 1st place with a minimum of 50 boats entered! Tap on the link for more entry fee and more info!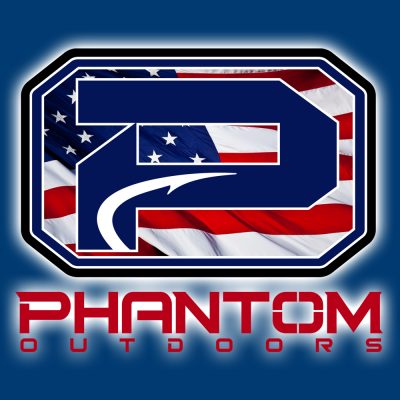 David Buchanan and Brian Richardson with their 1st Place Plaques!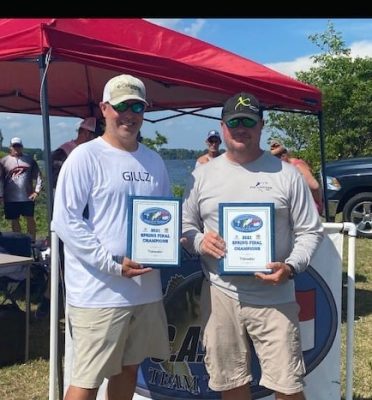 Billy Saunders & Brian Jackson with a nice bag!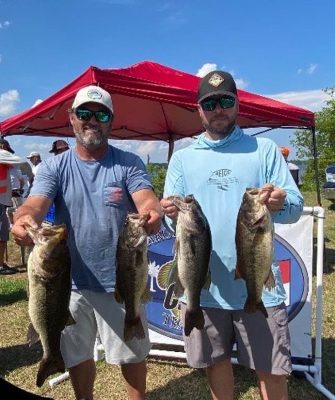 Tidewater Point winners Gerald & Spencer Murray!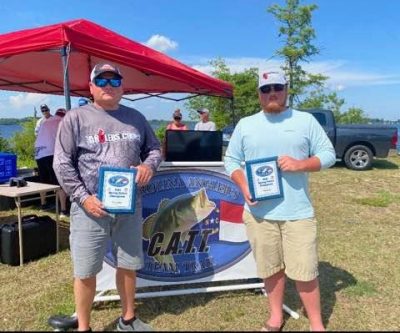 | | | | |
| --- | --- | --- | --- |
| 44 Teams | BF | Weight | Winnings |
| David Buchanan – Brian Richardson | 5.17 | 19.49 | $3,600.00 |
| Mike Evans – Brian Cooper | 0.00 | 18.58 | $1,500.00 |
| Mike Moretz- Ray Cobb | 0.00 | 18.29 | $800.00 |
| John Lane-Russell Gammon | | 17.51 | $500.00 |
| Billy Saunders – Brian Jackson | 0.00 | 17.39 | $400.00 |
| Kenneth Moore | 5.61 | 17.02 | $250.00 |
| Rick Plemons –  Chris Pike | | 15.83 | $500.00 |
| Jobie Walker-Chris Napier | 6.08 | 14.67 | $280.00 |
| Bob Gomez – Eddie Tipton | 4.98 | 14.09 | |
| David Gardner – Tom Foster | 0.00 | 13.57 | |
| Jeremy Gatewood- Ian VanDyke | 0.00 | 13.44 | |
| Chris Turner | 0.00 | 13.42 | |
| Jeff Hayden – Benny Cannon | | 13.20 | |
| Ben Knapp – Mike Knapp | 4.23 | 12.90 | |
| Ronnie Ketchum – Benny Hendricks | 0.00 | 12.89 | |
| David Shaffer – Scott Shaffer | 5.15 | 12.46 | |
| Keith Jennings – Jerry Murray | 0.00 | 12.06 | |
| Jason Law – Terry Lovell | 0.00 | 11.92 | |
| Vernon Townsend – David Ward | 0.00 | 11.91 | |
| Michael Evans | | 11.85 | |
| Eugene Foushee -Franky Jordan | 0.00 | 11.83 | |
| JP Scott – Mike Scott | 0.00 | 11.82 | |
| Nick Meek-Kyle Verkuilen | 0.00 | 11.53 | |
| Spencer Murray- Gerald Murray | 0.00 | 11.21 | |
| Matt Jennings- Mark London | 6.01 | 10.91 | |
| Ricky Mize – Quinton Chappell | 0.00 | 10.77 | |
| Tony Baker – Chris Wynne | 0.00 | 10.71 | |
| Brad Higginbotham | 0.00 | 10.25 | |
| Jimmie Ritter – Zach Boslau | | 9.16 | |
| James Williams – Steve Brickhouse | 0.00 | 8.83 | |
| Jim Dick – Greg Dick | 0.00 | 4.91 | |
| Scott Rock – Jaden Rock | 0.00 | 0.00 | |
| Charles Doss – David Hickman | 0.00 | 0.00 | |
| Travis Badgett | 0.00 | 0.00 | |
| Charlie Reed | 0.00 | 0.00 | |
| Richard Griswold | 0.00 | 0.00 | |
| Gary Debrito | 0.00 | 0.00 | |
| Josh Powell – Eric Roundtree | 0.00 | 0.00 | |
| William Heighter | 0.00 | 0.00 | |
| Joe Glazebrook- Christopher Carmell | 0.00 | 0.00 | |
| Gil Burk – Matt Burk | 0.00 | 0.00 | |
| Ricky West | 0.00 | 0.00 | |
| Larry Barefoot-Robinson | 0.00 | 0.00 | |
| Nate Kilgore | 0.00 | 0.00 | |
| Total Entrys | | | $5,160.00 |
| BONUS $ | | | $600.00 |
| Tidewater Spring Final Fund | | | $2,045.00 |
| Total Paid At Ramp | | | $7,830.00 |
| Grand Total Paid Spring 2021 Tidewater | | | $33,095.00 |