We had 21 teams enter the SENC event on Lake Sutton! Great bags weighed in!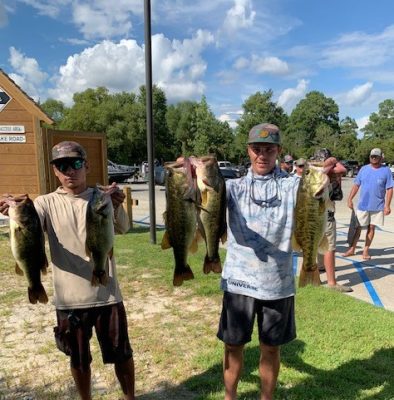 Dusty Jackson & Mikey Racca took 1st Place worth $1,338.00 with 5 bass weighing 23.96 lbs!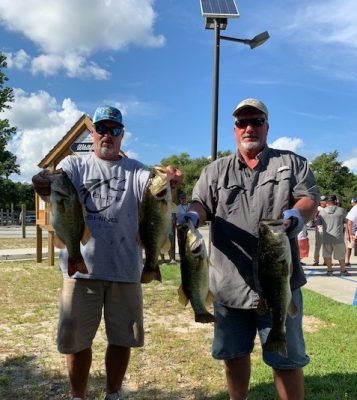 2nd Place Mitch Garner & Ralph McLean 20.34 lbs!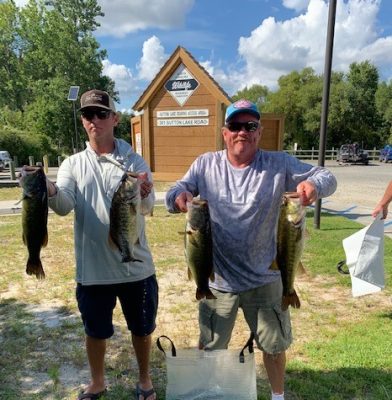 3rd Place David Jones & Chris Rabon 19.59 lbs!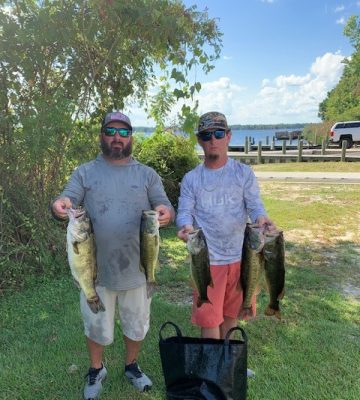 Preston & Ronald Watts 4th with 19.06 lbs!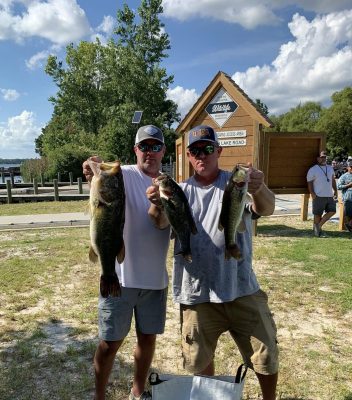 BF at 7.90 lbs weighed in by Tom Elliott & Jason Dew!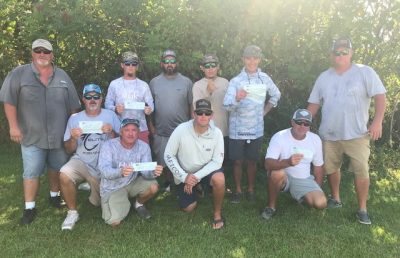 Team
BF
Weight
Winnings
Points
Dusty Jackson – Mikey Racca
5.82
23.96
$1,338.00
110
Mitch Garner – Ralph McLean
0.00
20.34
$425.00
109
David Jones – Chris Rabon
0.00
19.59
$225.00
108
Preston Watts – Ronald Watts
5.33
19.06
$110.00
107
Jason Dew – Tom Elliott
7.90
16.25
$147.00
106
Chris Savage – Chandler Sawyer
4.42
15.65
105
Chandler Merritt – Randall Soles
0.00
15.35
104
Shawn Hicken
0.00
13.89
103
Jeremy Byrd – Chris Hall
3.32
13.84
102
Mickey Bullard – Gary Cox Jr
0.00
13.43
101
Wayne Mishue – Tommy Mishue
0.00
11.91
100
Justin Mizell – Walker Mishue
0.00
11.89
99
Seth Smith – Chris Prosser
0.00
11.58
98
Bowman Gray – David Blanton
0.00
6.88
97
David Sasser-John Martin
0.00
4.93
96
Donovan Barnes – Chris Walton
0.00
4.57
95
Dwayne Foy – Dakota Foy
0.00
4.06
94
Travis Priest – Matt Gause
0.00
0.00
84
Mark Fairfax
0.00
0.00
84
Micheal Britt Jr
0.00
0.00
84
Shawn Corbett
0.00
0.00
84
Total Entrys
$2,100.00
BONUS $
$425.00
Total Paid At Ramp
$2,245.00
SENC 2022 Fall Final Fund
$205.00
2023 CATT Championship Fund
$50.00
SENC Point Champs
$25.00
2022 SENC River Fall Final Fund
$205.00