We have a great Spring on the Cooper River! Once the Spring Final was wrapped up we the CATT Cooper River Spring Trail had paid back $13,390.00! Big shout out to Ferris Jennings for putting on the show!
Edward Punchak – Michael Dibelo weighed in a limit at 14.71 lbs and also brought the BF of the Final to the scales at 7.02 lbs! They took home $2,325.00!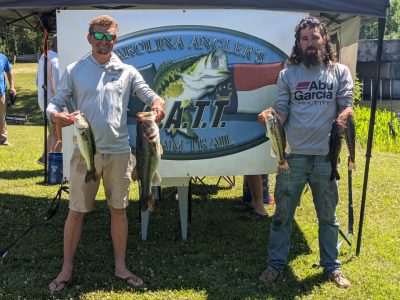 Johnny Brinson claimed 2nd Place with another limit weighing 14.45 lbs!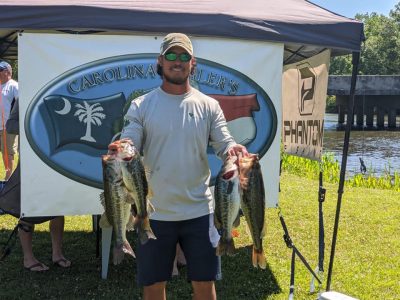 Bob Letizi &Derrick Nixon  finished 3rd with 13.76 lbs!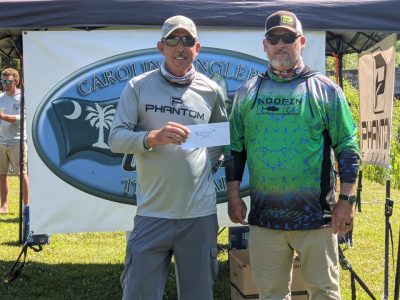 Cody Wilson & James Skelton took 4th with 12.91 lbs!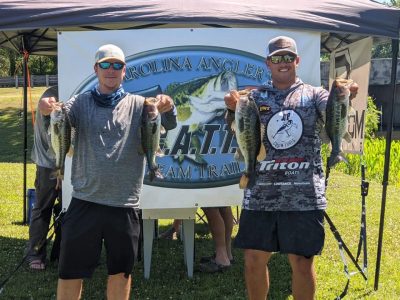 Andy Rutledge took the last money spot with 12.78 lbs!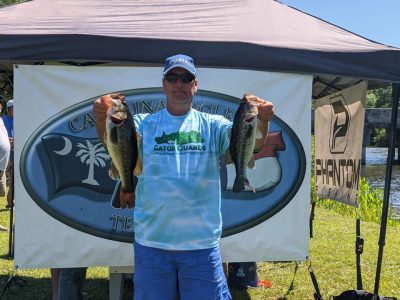 Matt & Andrew Baker were our Cooper River Spring Point Winners!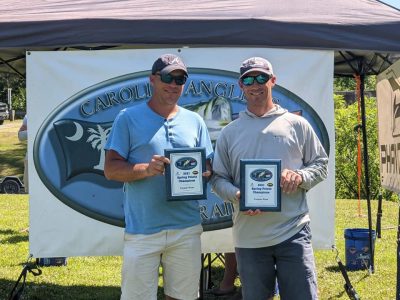 Thanks for fishing!
| | | | |
| --- | --- | --- | --- |
| Team | BF | Weight | Winnings |
| Edward Punchak – Michael Dibelo | 7.02 | 14.71 | $2,325.00 |
| Johnny Brinson | 4.35 | 14.45 | $1,075.00 |
| Derrick Nixon Bob Letizi | 0.00 | 13.76 | $500.00 |
| Cody Wilson James Skelton | 0.00 | 12.91 | $200.00 |
| Andy Rutledge | 0.00 | 12.78 | $150.00 |
| James Fender Kyle Welch | 0.00 | 12.17 | |
| Tyler Peters Jeff Shelton | 0.00 | 11.14 | |
| Travis Gatlin Grant Powell | 0.00 | 11.10 | |
| Matt Baker Andrew Baker | 0.00 | 10.61 | |
| Brian Surowiec Walt Cumbie | 0.00 | 10.08 | |
| Corey Casey Danny Snider | 0.00 | 9.95 | |
| Clay Kolb Jeffrey Peralta | 0.00 | 9.50 | |
| Dale Hanna Shawn Hanna | 0.00 | 8.92 | |
| Jonathan Brindle Justin Harvey | 0.00 | 8.58 | |
| Jonathan Singletary Jonathan Singletary | 0.00 | 8.29 | |
| John Campbell Grace Campbell | 0.00 | 8.23 | |
| Dave McConnell Dylan Mcconnell | 0.00 | 0.00 | |
| James Roy Jr Robison William Gregory | 0.00 | 0.00 | |
| Bubba Dennis | 0.00 | 0.00 | |
| Shawn Logan Benton | 0.00 | 0.00 | |
| Winkey Watford | 0.00 | 0.00 | |
| Will Thompson | 0.00 | 0.00 | |
| John Ford John Ford | 0.00 | 0.00 | |
| Bucky Clarke Tim Hilton | 0.00 | 0.00 | |
| Jimmy Mccants | 0.00 | 0.00 | |
| Gabriel Hornet Pearson | 0.00 | 0.00 | |
| Total Entrys | | | $3,000.00 |
| BONUS $ | | | $550.00 |
| Cooper River Spring Final Fund | | | $640.00 |
| Total Paid At Ramp | | | $4,250.00 |
| Grand Total Paid Spring 2021 Cooper River | | | $13,390.00 |