Next up is the 2021 Tidewater Spring Final on the Perquimans River – New Wildlife Ramp June 6th! We have over $2,000.00 in the Tidewater Spring Final Fund so expect some major cash to be awarded to the teams in the money!
Spencer & Gerald Murray win the tidewater Points and will fish the Tidewater Final Free plus blast off #1
Our last regular tournament of the season went off on the Chowan river today out of Shoups landing. 40 boats blasted off with hopes of big fish and a big payday. Calm winds and cool temps made for ideal running conditions. Numerous teams reported catching a lot of fish all day on different techniques. Those hopes became reality for the team of Greg and Jim Dick in the form of two big bass. There five fish limit was anchored by first and second big fish weighing 8.88lbs and 8.66 lbs! Total weight of 22.33 lbs took home 1st place and $2750!! Bringing in a solid limit weighing 20.66 lbs for a second place finish was the team of Ricky Mize and Quinton Chappel. Jason Tripp and Adam Baldwin rounded out the top three with a limit weighing 19.17 lbs.
This finishes out our regular season of tournaments. Any team that competed in any of our regular tournaments is eligible to fish the division championship June 6th on the Perquimans river.
Greg & Jim Dick Winners!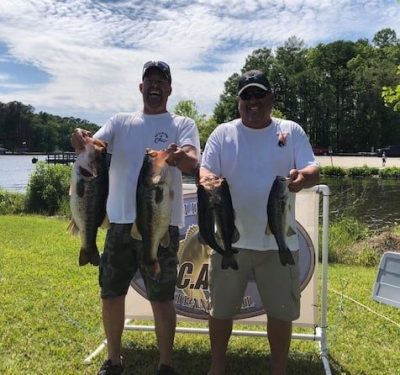 Ricky Mize & Quinton Chappell 2nd place!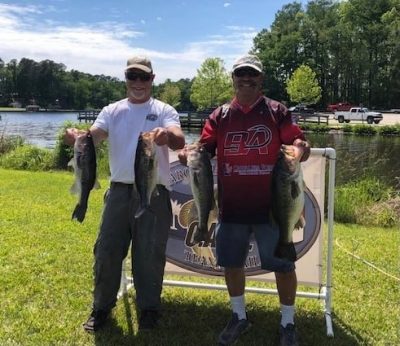 Jason Tripp & Alex Baldwin 3rd Place!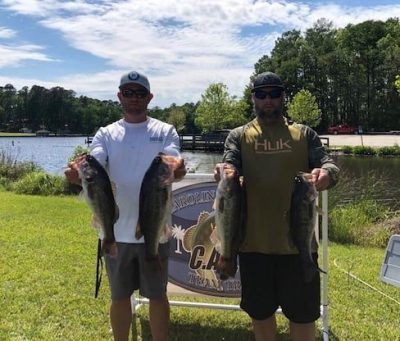 Houston Cash & Clement Dutoit 4th!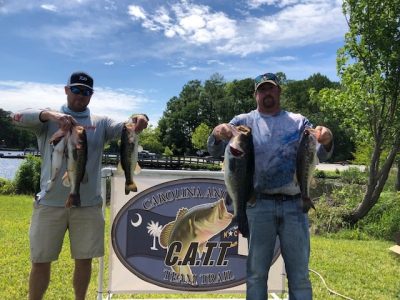 Team
BF
Weight
Winnings
Points
Greg Dick/ Jim Dick SP
8.88/8.66
22.33
$2,750.00
110
Ricky Mize/Quinton Chappell
6.34
20.66
$750.00
109
Jason Tripp/Alex Baldwin
0.00
19.17
$465.00
108
Houston Cash/ Clement Dutoit
6.18
18.50
$340.00
107
JP Scott/Mike Scott
7.07
18.41
$275.00
106
Charlie Reed/ Kirk Wall
6.66
17.85
$200.00
105
Eric Roundtree/ Josh Powell
7.34
17.43
$150.00
104
Mike Evans /Heath Parker
0.00
16.68
$120.00
103
Jimmie Ritter/ Zach Boslau
5.25
16.20
102
Nathaniel Kilgore
5.97
15.78
101
Eugene Foushee/ Brandon Johnson
6.02
15.70
100
Bill Saunders/Brian Jackson
5.50
14.14
99
Jeff Hayden/ Don Carter
6.12
13.79
98
David Shaffer/ Scott Shaffer
5.07
13.75
97
Spencer Murray/ Gerald Murray
0.00
13.69
96
Jobie Walker/ Chris Napier
13.11
95
Nick Meek/ Kyle Verkuilen
0.00
12.80
94
Mark London/ Matt Jennings
0.00
12.45
93
Ricky West
0.00
12.29
92
 Brad Webb/Matt Holt
0.00
12.19
91
Jason Law /Terry Lovell
0.00
12.13
90
Tom Foster/ David Gardner
0.00
11.96
89
Rick Plemmons/Chris Pike
0.00
11.94
88
Gary Debrito/ Derek Goodman
0.00
11.70
87
Derek Hayden/ Paul-Newsomes
10.77
86
Doug Larson/ Susan Griffin
0.00
10.63
85
Brad Higginbotham/ Nate Barber
0.00
10.17
84
Luke Nickert Andrew Bass
0.00
9.88
83
Travis Badgett
0.00
9.70
82
Mark Moritz/ Ray Cobb
0.00
9.20
81
Ronnie Ketchum/ Bennie Hendrix
0.00
9.16
80
Mike Knapp/ Ben Knapp
0.00
7.15
79
Bob Gomez/ Eddie Tipton
0.00
4.30
78
Richard Griswold
0.00
0.00
68
Tony Baker
0.00
0.00
68
Brandon Vaughn/Eric Polk
0.00
0.00
68
Dave Watkins/William Heighter
0.00
0.00
68
Larry Barefoot/Johnny Robertson
0.00
0.00
68
Russell Gannon/John Lane
0.00
0.00
68
Joe Glazebrook /Chris Carmel
0.00
0.00
68
Total Entrys
$4,800.00
BONUS $
Total Paid At Ramp
$5,050.00
2021 Tidewater Final Fund
$400.00
2021 CATT Championship Fund
$50.00
2021 Tidewater Final Fund Total
$2,045.00
2021 CATT Championship Fund Total
$2,270.00