Next and last Kerr Spring Qualifier is April 18th at Longwood Grassy Creek!
2021 CATT Academy Championship May 22-23, 2021 $10,000 1st Place
2018, 2019, & 2020 CATT Championship winners took home $25,000.00!
Tap on the link for more info!
Fishing was tough on a tough day! Windy conditions surely kept some of the teams from running to their best spots! Hopefully the weather will start to calm down!
Jimmy Wall & Stephen Griggs bested the 39 boat field with 5 bass weighing 16.79 lbs! They took home $2,220.00!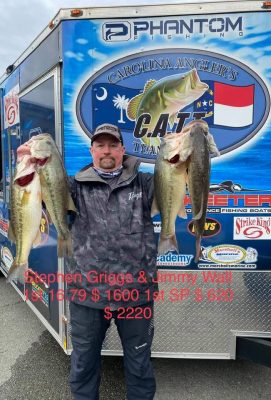 Cavin Young & Ralph Taylor took 2nd with 14.98 lbs! $1,230.00!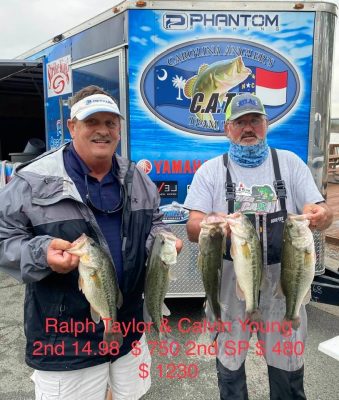 Brandon Gray & Brian Clark 3rd 14.62 lbs!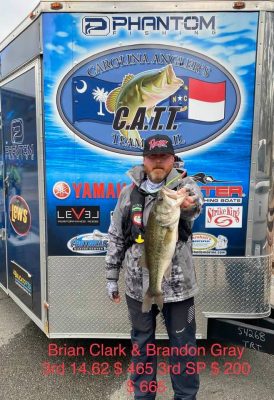 4th Jason & Danny Houchin with 14.61 lbs!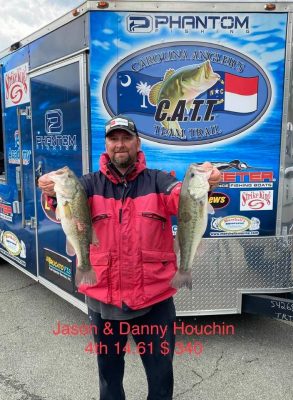 Matt Harmon & Ryan Clark 5th 13.83 lbs!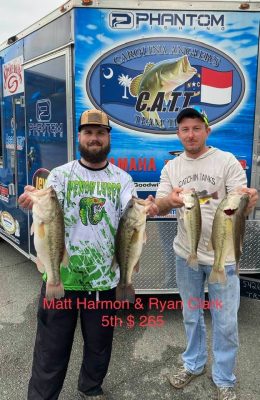 Donald Coleman & Darnell Small 6th 13.82 lbs!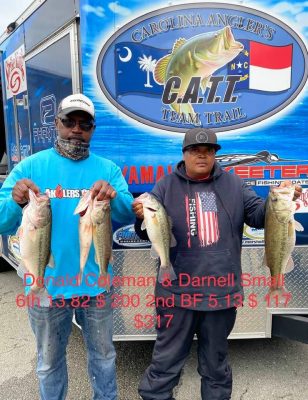 Tyler Trent & Jacob Lloyd 7th 12.99 lbs!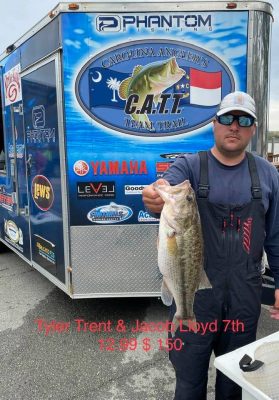 Chuck Morton & Mike Riggs with the Academy BF at 5.45 lbs!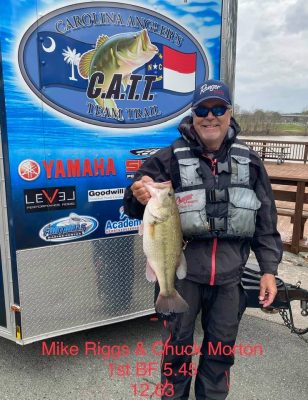 \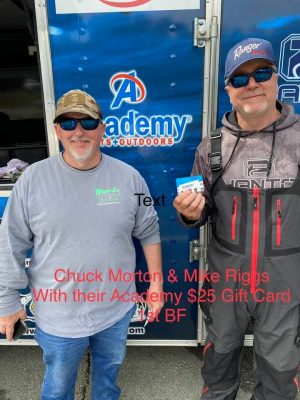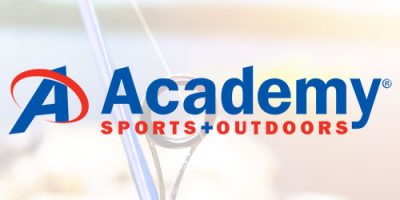 | | | | | |
| --- | --- | --- | --- | --- |
| 39 Teams | BF | Weight | Winnings | Points |
| Jimmy Wall / Stephen Griggs | 4.30 | 16.79 | $2,220.00 | 110 |
| Cavin Young / Ralpf Taylor | 0.00 | 14.98 | $1,230.00 | 109 |
| Brandon Gray / Brian Clark | 3.88 | 14.62 | $665.00 | 108 |
| Jason & Danny Houchin | 3.71 | 14.61 | $340.00 | 107 |
| Matt Harmon / Ryan Clark | 3.91 | 13.83 | $265.00 | 106 |
| Donald Coleman / Darnell Small | 5.13 | 13.82 | $317.00 | 105 |
| Tyler Trent / Jacob Lloyd (sub) | 4.13 | 12.99 | $150.00 | 104 |
| Chuck Morton / Mike Riggs | 5.45 | 12.63 | $273.00 | 103 |
| Greg & Jackson Lahr | 0.00 | 12.49 | | 102 |
| Billy Shelton / Mike Garner | 3.19 | 12.39 | | 101 |
| Monte Aleman / Steven Edmonds (sub) | 0.00 | 12.29 | | 100 |
| Marty Williams / Jerry Bono | 2.51 | 11.76 | | 99 |
| Jeff Shelton / Matt Childress | 0.00 | 11.69 | | 98 |
| Jerry Davis / Steve Summer | 0.00 | 11.66 | | 97 |
| Donnie Avant / Randy Waterman | 3.81 | 11.41 | | 96 |
| Jacob Lee / Sam Terry | 0.00 | 11.19 | | 95 |
| Paull Rigsbee / Corey Leonard | 3.30 | 10.49 | | 94 |
| Kevin Cheatham / Johnny Wilder | 0.00 | 10.34 | | 93 |
| Emmitt Whitby / Justin Dalton | 0.00 | 9.90 | | 92 |
| Mark & Hunter Jackson | 0.00 | 9.86 | | 91 |
| Michael Stewart / Buck Clark | 0.00 | 9.83 | | 90 |
| Jeff Salmon / Wendy Moore | 0.00 | 9.83 | | 89 |
| Jeff Taylor / Mike Connelly | 0.00 | 9.05 | | 88 |
| Mike Maull | 0.00 | 7.98 | | 87 |
| Aaron McQuain / Brandon Moore | 0.00 | 7.50 | | 86 |
| Kevin Brown / Chris Wimbish | 0.00 | 7.34 | | 85 |
| Jeremy Kent / Brendan Kent | 4.11 | 7.20 | | 84 |
| Howard Midkiff | 0.00 | 6.06 | | 83 |
| Derek Bowden / Matt Little | 0.00 | 5.80 | | 82 |
| Michael Dikun / Jenny Li | 0.00 | 3.10 | | 81 |
| Sam & Jimmy Porter | 0.00 | 0.00 | | 71 |
| Charlie & Kiel Gunter | 0.00 | 0.00 | | 71 |
| Cullen Ports / Justin Bobbit | 0.00 | 0.00 | | 71 |
| Paul Smith / Jason Lloyd | 0.00 | 0.00 | | 71 |
| Kenny & Ryan Reynolds | 0.00 | 0.00 | | 71 |
| Kent Pearson / Bubba Barksdale | 0.00 | 0.00 | | 71 |
| Jonathan Rhew / Roger Clary | 0.00 | 0.00 | | 71 |
| Jimmy & Cody Condrey | 0.00 | 0.00 | | 71 |
| Terry Easter / Dave Farrington | 0.00 | 0.00 | | 71 |
| Total Entrys | | | $4,680.00 | |
| BONUS $ | | | $1,300.00 | |
| Total Paid At Ramp | | | $5,460.00 | |
| Kerr 2021 Spring Final Fund | | | $405.00 | |
| 2021 CATT Championship/Phantom Fund | | | $75.00 | |
| 2021 Kerr Spring Final Fund Total | | | $1,725.00 | |
| 2021 CATT Championship/Phantom Total | | | $2,335.00 | |