JOSHUA PARRISH WINS AFT D72 AT OCONEE
Print This Post
Joshua Parrish of Rincon, Ga was able to secure the win at Lake Oconee on October 13, 2018, for the AFT D72 tournament.  Joshua said he caught his best four keepers using a Pop-R and shaky head on docks, using his Kissel Krafts custom built fishing rods.  His total weight of 9.77-pounds put him in first place to take home $600 cash and a trophy.
Roger White of Newnan, Ga came in a very close second place with a total scale weight of 9.73 pounds to win $360 cash and a trophy.  Roger used a black worm to land a 5.22-lb kicker!
Tim Greene of Loganville, Ga followed closely with 4 keepers totaling 9.59-pounds to take home third place awards of $123 cash and a trophy.  Tim anchored his sack with a 4.21-lb largemouth.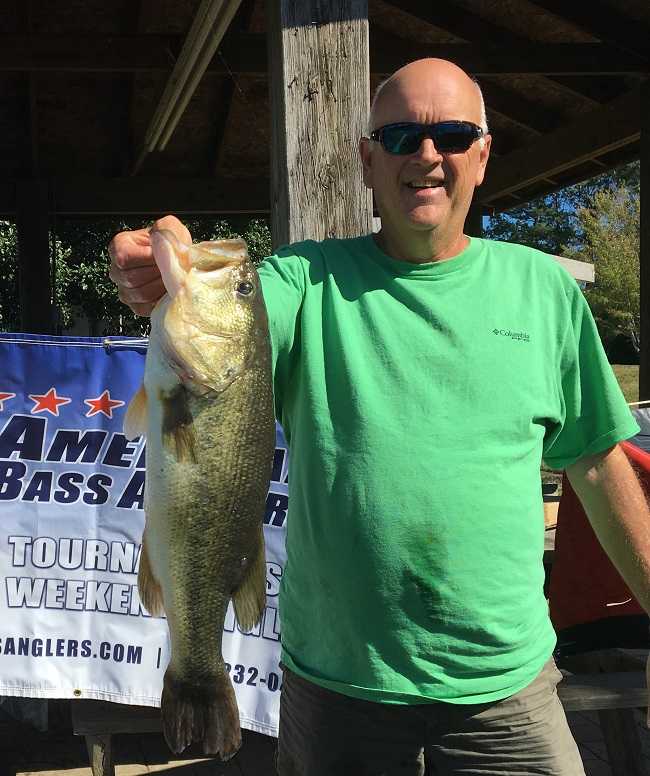 Derek Johnson of Lumber City, Ga won the Big Bass trophy and $125 cash with a very nice 5.91-pounder. Derek also finished in fourth place to win an additional $94. Derek is currently in the lead for the "$100 Extra Cash for Big Bass of the 2019 Season".
Congratulations to the Top Ten:
| | | |
| --- | --- | --- |
| 1st | Joshua Parrish | 9.77 pounds |
| 2nd | Roger White | 9.73 pounds |
| 3rd | Tim Greene | 9.59 pounds |
| 4th | Derek Johnson | 9.04pounds |
| 5th | Jimmy Little | 8.71 pounds |
| 6th | Danny Taylor | 8.62 pounds |
| 7th | Robert Barker | 8.33 pounds |
| 8th | Sam Dyal | 6.63 pounds |
| 9th | Aaron Batson | 6.21 pounds |
| 10th | Oliver Brooks | 5.75 pounds |
The 24 anglers enjoyed cooler temperatures which started in the 50's at blast off and rose to the high 70's for weigh in at 3 o'clock.  Hurricane Michael brought several inches of much-needed rain to Lake Oconee earlier in the week, and the water temperature was around 78 degrees.
After the awards of trophies and cash payouts, there were drawings for the anglers present.   A $50 gift card to Sugar Creek Marina was won by Joshua George, and a crisp $50 bill was won by Robert Barker. Danny Taylor and Lance Collins assisted with the tournament by checking boats and weighing fish.
The next tournament for D72 will be November 10, 2018, on Lake Oconee going out of Sugar Creek Marina.
Please contact Director Benny Howell at 770-365-4795 for more information.
The American Fishing Tour offers low cost, close to home bass tournaments that are designed for the weekend angler. All ABA anglers fish for money and points. The points advance the angler to their divisional championship and the top 500 anglers in the US are invited to the American Fishing Tour National Championship. For more information on American Bass Anglers please visit www.americanbassanglers.com or call (256)232-0406.
American Bass Anglers, Inc. is supported by Triton Boats, Mercury Outboards, GEICO, Berkley, Abu Garcia, T-H Marine,  Maui Jim, Power Pole, Garmin, Optima Batteries and SiriusXM Marine Weather. American Bass Anglers, Inc. can be contacted at (256) 232-0406 or by visiting americanbassanglers.com