We had a great year on the Cooper River! Total payback for the Spring & Fall Cooper River Trails was over $24,000.00! Add in the Cooper River Phantom Outdoors Invitational and all total CATT paid back over $43,000.00 on the Cooper River in 2021! Thanks to Ferric Jennings for all his hard work!
Use PHANTOMCATT15 at checkout and earn 15% off your next Phantom Outdoors Gear order! Tap on the Phantom Outdoors logo to begin shopping!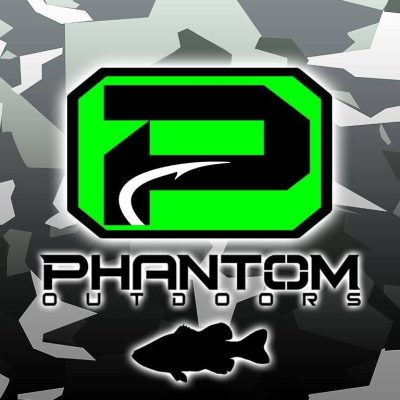 Justin Harvey & Jonathan Brindle weighed in 5 bass at 15.54 lbs taking 1st lace and $1,825.00! Congrats guys!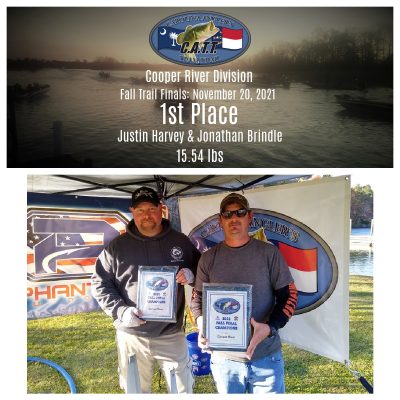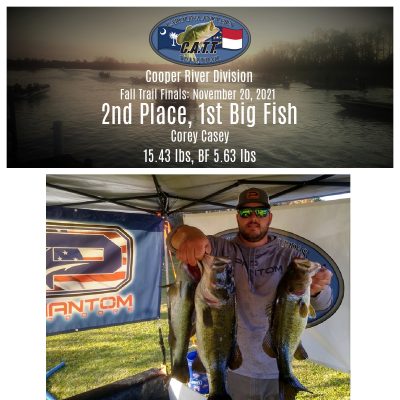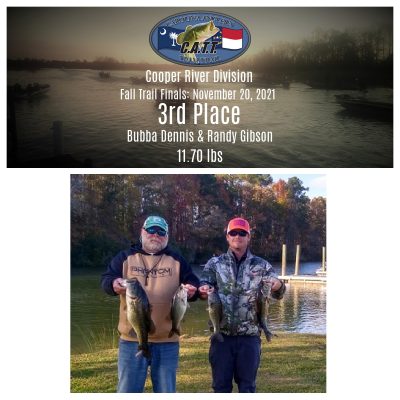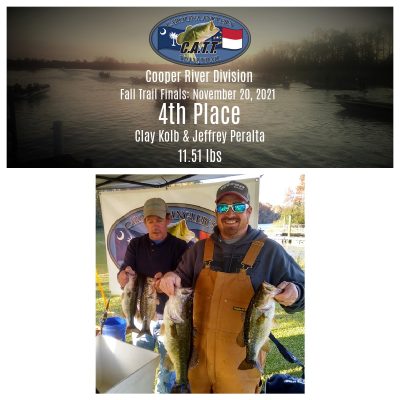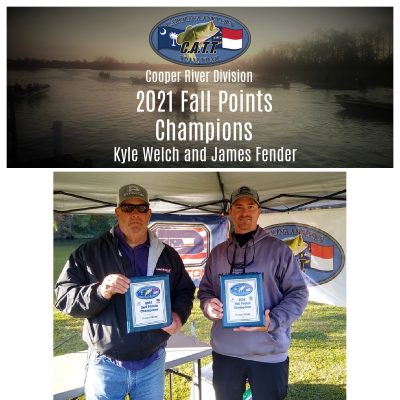 | | | | |
| --- | --- | --- | --- |
| Team | BF | Weight | Winnings |
| Justin Harvey Jonathan Brindle | 0.00 | 15.54 | $1,825.00 |
| Corey Casey | 5.63 | 15.43 | $1,047.00 |
| Randy Gibson Bubba Dennis | 0.00 | 11.70 | $500.00 |
| Clay Kolb Jeffrey Peralta | 5.40 | 11.51 | $263.00 |
| John Campbell | 0.00 | 9.92 | |
| Michael Ard Jeff Parsons | 0.00 | 9.32 | |
| Cody Wilson John Corriveau | 0.00 | 8.43 | |
| James Fender Kyle Welch | 0.00 | 7.92 | |
| Brian Surowiec Walter Cumbee | 0.00 | 7.89 | |
| Will Smith Bill Holmes | 0.00 | 7.85 | |
| Casey Leach Charlene Leach | 0.00 | 7.84 | |
| Matt Baker Charlie Baker | 0.00 | 7.83 | |
| James Skelton | 0.00 | 7.79 | |
| Andy Rutledge | 0.00 | 6.64 | |
| Ron Sonya Terwilliger | 0.00 | 6.52 | |
| Glenn Varner Edwin Varner | 0.00 | 6.01 | |
| David Driggers | 0.00 | 5.38 | |
| David Murdaugh Sr. | 0.00 | 5.23 | |
| Chance Powell Layne Powell | 0.00 | 5.19 | |
| Darrel Knies | 0.00 | 3.68 | |
| Carlos Canales Willie Weatherford | 0.00 | 2.03 | |
| Total Entrys | | | $2,400.00 |
| Cooper River Fall Final Fund | | | $630.00 |
| Total Paid At Ramp | | | $3,635.00 |
| Total Paid Fall Cooper River | | | $11,205.00 |
| Grand Total Paid 2021 Cooper River | | | $24,595.00 |