Next Lake Wateree Open is this coming Saturday June 19th at Clearwater Cove Marina!
Mack Kitchens & Chad Gainey weighed in a limit at 18.28 lbs good enough for 1st Place and $1,215.00!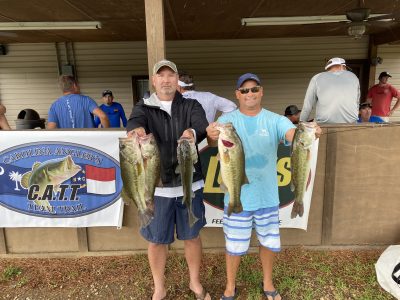 2nd Place went to Fisher Rogers & Brandon Bowers with 16.23 lbs! BF broke the tie!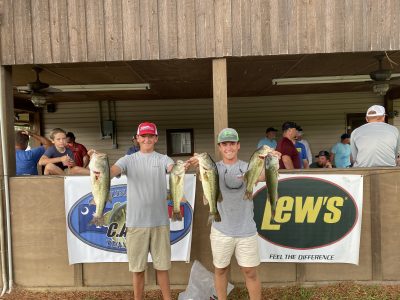 Jacob & Jeff Norris 3rd with 16.23 lbs!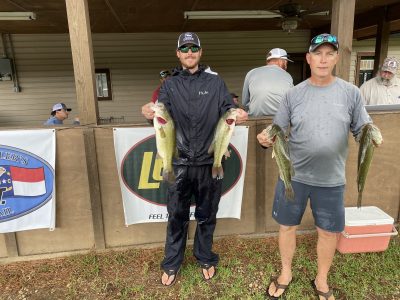 | | | | | |
| --- | --- | --- | --- | --- |
| Team | BF | Weight | Winnings | Points |
| Chad Gainey & Mack Kitchens | 4.94 | 18.28 | $1,215.00 | 110 |
| Fisher Rogers & Brandon Bowers | 4.49 | 16.23 | $380.00 | 109 |
| Jeff Norris & Jacob Norris | 4.02 | 16.23 | $160.00 | 108 |
| Ed Bornett & Jamie Glasscock | 3.83 | 14.74 | $120.00 | 107 |
| Dalton Haven & Hunter Haven | 4.04 | 14.42 | | 106 |
| Paul Wells & Greg Sigmon | 3.22 | 13.38 | | 105 |
| Shane Cantley & Michael Richardson | 3.54 | 13.10 | | 104 |
| Walt Almond & Seth Almond | 3.60 | 12.68 | | 103 |
| Sam Hopkins & Gabe Hopkins | 3.55 | 11.85 | | 102 |
| Allan Fletcher & Tanner Fletcher | 3.62 | 11.57 | | 101 |
| Mike King & Trent Griffin | 3.35 | 11.53 | | 100 |
| Butch Williams & Max Price | 2.96 | 10.57 | | 99 |
| Craig Haven | 2.78 | 9.56 | | 98 |
| Blake Johnson & Carson Coats | 0.00 | 6.51 | | 97 |
| David Weatherford & Brian Kickery | 2.78 | 5.75 | | 96 |
| Pat Whaley | 0.00 | 0.00 | | 86 |
| Justin Cromer & Matt Ross | 0.00 | 0.00 | | 86 |
| Scott Floyd & Greg Corvin | 0.00 | 0.00 | | 86 |
| Steve Phillips & Freddie Faulkenberry | 0.00 | 0.00 | | 86 |
| Mark Healon & Ella Healon | 0.00 | 0.00 | | 86 |
| Robbie English & Scott Williams | 0.00 | 0.00 | | 86 |
| | | | | |
| 2021 Wateree Open Points | | | $800.00 | |
| 2021 Wateree Open Final | | | $1,330.00 | |