Print This Post
Matt Henry of Milledgeville, Ga took the First Place trophy and $1,550 cash for winning the two-day divisional championship for D72 at the Bass Pro Shops Fishing Tour held June 6 & 7, 2020 at lakes Sinclair and Oconee.   Matt's two day total weight
was 36.58 pounds.   He was in the lead after Day 1 with 21.54 pounds, anchored by a 5.08 pounder.   He brought in 15.04 pounds on Day 2, anchored by a 4.31 pounder.   Matt said he caught fish on top water both days, and also used shaky head with Reelsnot line conditioner and attractant.
There were 39 anglers competing in the hot weather for payouts totaling $3,822.  Grant Kelly had an impressive 35.71 pounds
to take the second place trophy and $992 cash.   Grant anchored his sack on Day 2 with a 5.68 pounder which won him
additional cash of $390 for the optional Big Bass pot.
Scott Jeffers brought a 6.77 lunker to the scale on Day 1, which won the trophy for Big Bass and cash of $390.  Scott finished
in third place to take home another trophy and additional winnings of $458 with his total two day weight of 26.37 pounds.
David Lowery secured the Angler of the Year position for D72 with his total weight of 26.13 pounds for this two day tournament.
Director Benny Howell awarded him a special prize of $250 cash for AOY, in addition to his fourth place earnings of $346.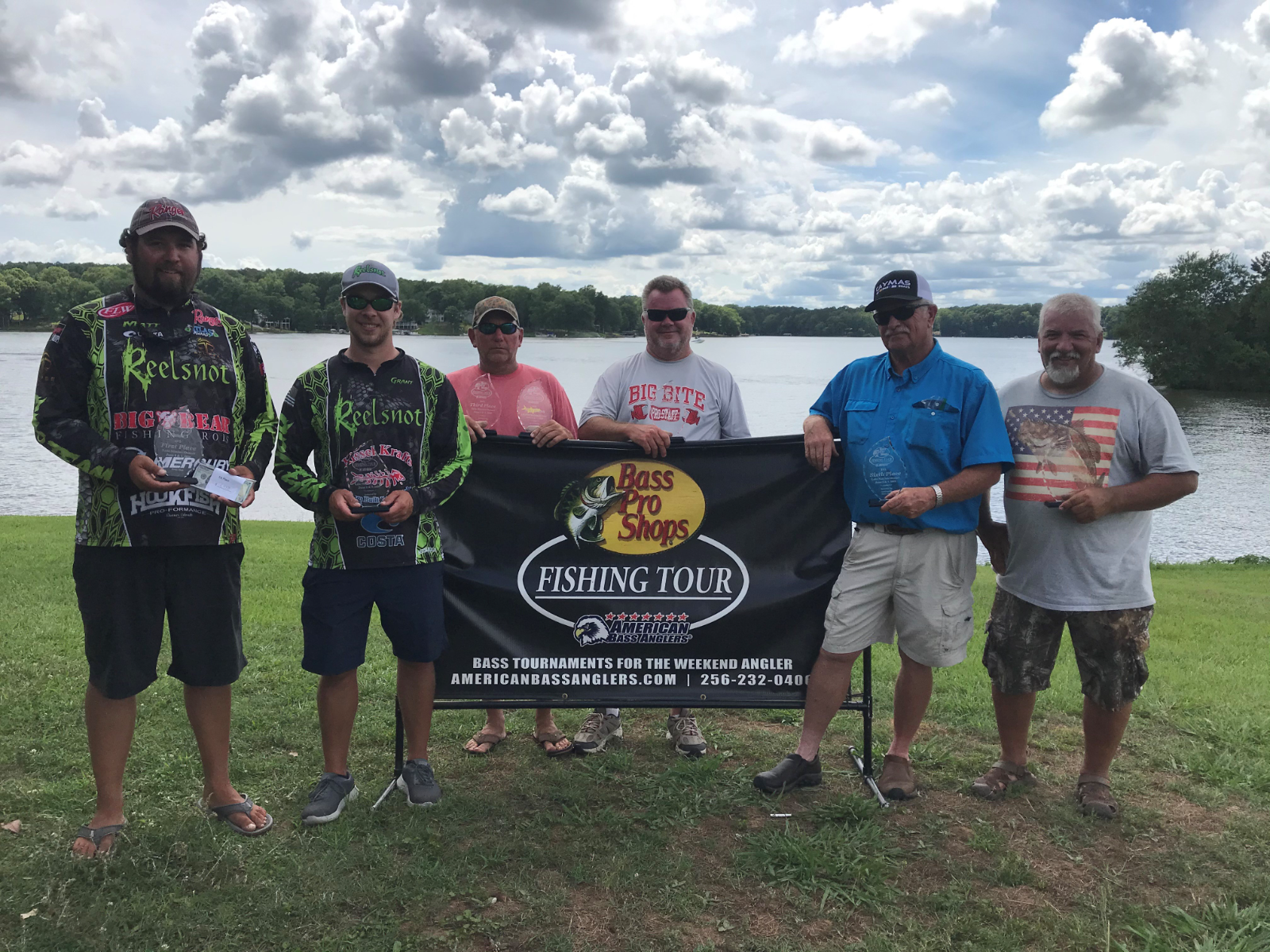 Congratulations to the Top Ten:
1 – Matt Henry            36.58 pounds
2 – Grant Kelly            35.71 pounds
3 – Scott Jeffers           26.37 pounds
4 – David Lowery         26.13 pounds
5 – Lance Collins         23.27 pounds
6 – Dave Lawson         20.76 pounds
7 – Barry Collins         18.81 pounds
8 – Aaron Batson         18.76 pounds
9 – Niles Murray          18.62 pounds
10 – Steve Dobbs         18.59 pounds
Thanks to Assistant Director Danny Taylor for his work at each tournament to keep everything running smoothly.  A couple of special awards were given by Director Benny Howell at the conclusion of the tournament.  Jerry Jones was awarded $100 cash for fishing all 15 tournaments for the season.  Aaron Batson was awarded $100 cash for Big Bass of theseason, which was a 7.98 pounder caught February 29 on Lake Sinclair.
Numbers were drawn by Laney, a young daughter of a fisherman, for draw prizes.    A homemade wooden American flag with a largemouth bass painted on it was won by Dave Holland.    Three $50 bills were won by Bob Clark, Jerry Jones, and Aaron Batson.
We want to thank all the anglers that competed this season in D72.   Our average for the season is 49 anglers, which means the top 4 point holders in D72 will be able to compete for the AOY boat at the Nationals in October!    Congratulations toDavid Lowery, Lance Collins, Grant Kelly, and Aaron Batson.
We should begin the new season in September for D72 on lakes Oconee and Sinclair.
If you need information, please contact Director Benny Howell at 770-365-4795.
The points champion from each division will compete in the annual American Bass Anglers (ABA) Bass Pro Shops Fishing Tour (BPSFT) Angler of The Year (AOY) Final Round at the BPSFT National Championship.
In addition, the top 500 anglers from the various divisions will earn the right to compete in the three-day ABA, BPSFT National Championship tournament.
The Bass Pro Shops Fishing Tour offers low cost, close to home bass tournaments that are designed for the weekend angler.
All anglers fish for both money and points. The points advance the angler to their divisional championship and the top 500 anglers in the U.S. are invited to the Bass Pro Shops Fishing Tour (BPSFT) National Championship.
American Bass Anglers is sponsored by: Bass Pro Shops, Triton Boats, Mercury Marine, Nitro Boats, Tracker Boats, MotorGuide, Garmin, T-H Marine, Abu Garcia, Berkley, Engel Coolers, Lucas Oil, Optima Batteries, Maui Jim, Monster Energy, and Power-Pole.
Mailing address: American Bass Anglers, Inc, PO Box 475, Athens, AL 35612 PH (256) 232-0406.