Next Yadkin CATT is at High Rock out of Southmont Aug 27th!
Maurice Freeze and Chad Poteat: 1st and 1st side pot with 18.79 also 2nd big fish with a 4.53 pounder!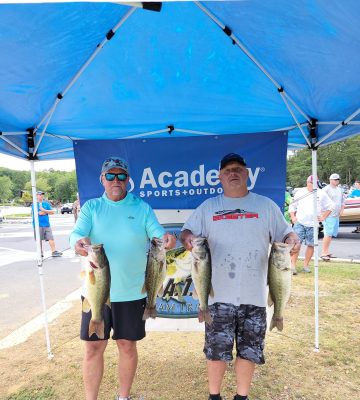 Jeremy Talbert and Tod Haynes: 2nd and 2nd side pot with 15.70 lbs!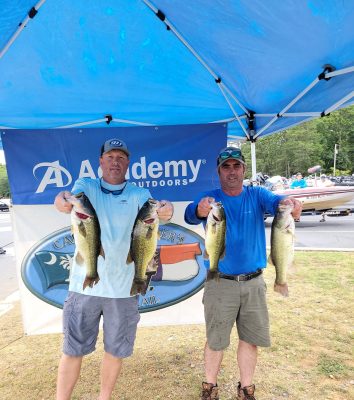 George Lambeth and Herby Young: 3rd and 3rd side pot with 13.76 lbs!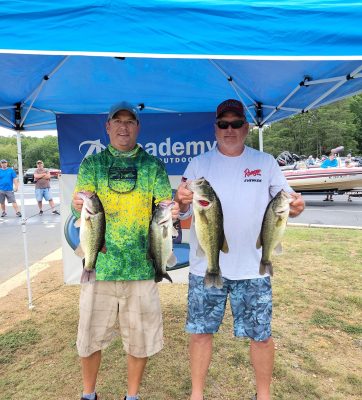 Matt Stanley and CJ Johnston: 4th with 13.32 lbs!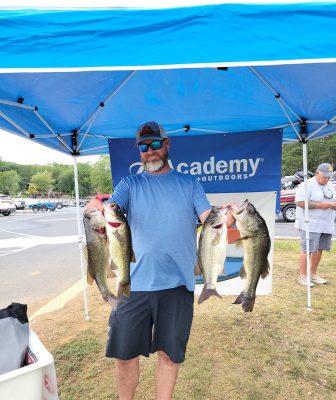 Brandon Williams and Mark Laxton: 5th with 11.99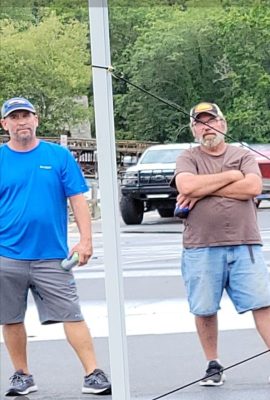 Zach " Big Fish " Scelsi with his Academy Sports gift card. A 4.67lb lunker gave him the Academy BF honors for today!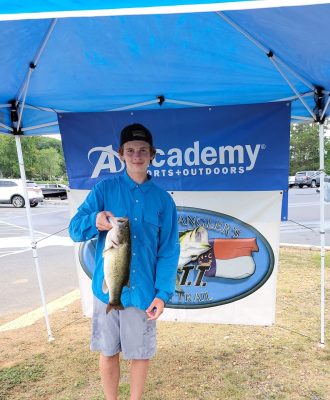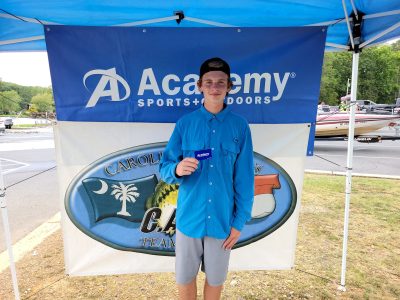 John Kistler and Rusty Melton won the Smiths baits prize pack sponsored by Marty Smith with 10.87 lbs!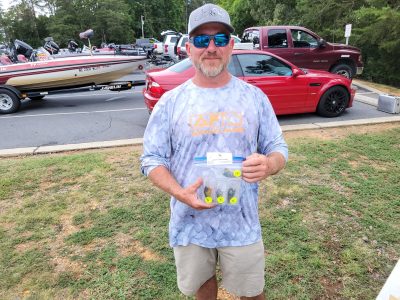 | | | | | |
| --- | --- | --- | --- | --- |
| Team | BF | Weight | Winnings | Points |
| Maurice Freeze – Chad Poteat | 4.53 | 18.79 | $993.00 | 110 |
| Tod Haynes – Jeremy Talbert | 3.77 | 15.70 | $405.00 | 109 |
| George Lambeth – Herby Young | 4.27 | 13.76 | $252.00 | 108 |
| Matt Stanley – CJ Johnson | 0.00 | 13.32 | $110.00 | 107 |
| Brandon Williams – Mark Laxton | 0.00 | 11.99 | $100.00 | 106 |
| John Kistler – Rusty Melton | 0.00 | 10.87 | | 105 |
| Calvin McCaskill – Derek Crumbley | 0.00 | 10.48 | | 104 |
| Robin Collins – Ronnioe White | 0.00 | 9.43 | | 103 |
| Steve Sink – Jason Riggs | 0.00 | 8.08 | | 102 |
| RM Parker – Corey Gibson | 0.00 | 7.84 | | 101 |
| David Hunt – Darrell Crumbley | 3.20 | 7.70 | | 100 |
| Zach Scelsi – Kris Scelis | 4.67 | 7.42 | $175.00 | 99 |
| Tanner Werth – Taylor Werth | 0.00 | 5.55 | | 98 |
| Micheal Swearingen – Alan Shinn | 0.00 | 4.99 | | 97 |
| Marty Smith – Mitch Frederick | 2.89 | 4.46 | | 96 |
| Mike Allen – Thomas Furr | 0.00 | 3.44 | | 95 |
| Cody Lambeth- Chris Walls | 0.00 | 3.35 | | 94 |
| Lance Isenhour | 0.00 | 1.95 | | 93 |
| Chris Passmoore – Wes Woodall | 0.00 | 1.86 | | 92 |
| Hunter Harwood – Scott Harwood | 0.00 | 1.85 | | 91 |
| Todd Butler – Jeffrey Furr | 0.00 | 0.00 | | 81 |
| Jerry Bono – Billy Marshall | 0.00 | 0.00 | | 81 |
| Josh Griffin | 0.00 | 0.00 | | 81 |
| Mark Mohler – Graeme Bosch | 0.00 | 0.00 | | 81 |
| Blake Hedrick | 0.00 | 0.00 | | 81 |
| Total Entrys | | | $2,000.00 | |
| BONUS $ | | | $525.00 | |
| Total Paid At Ramp | | | $2,035.00 | |
| 2022 Yadkin Fall Final Fund | | | $390.00 | |
| 2022 CATT Championship Fund | | | $50.00 | |
| 2022 Yadkin Fall Final Fund Total | | | $810.00 | |