Next up is the 2022 CATT Old North Spring Final June 4th at Jordon Lake launching from Farrington Point! We have 62 eligible to enter! You can view the Old North Points by scrolling all the way down to the bottom on the Old North Division page!
2022 Old North Spring Final – $140 Entry $150 at Ramp
Optional $50 Side Pot
Old North Spring Final $8,000.00 1st Place GUARANTEED!
To be eligible a team had to enter 3 – 2022 Old North Spring Qualifiers!
You can fish the Old North Spring Final with your partner, solo or with a sub your team used in an Old North Spring Qualifier.
NO NEW SUBS AT THE OLD NORTH SPRING FINAL.
Mike Marchant & Bradley McLaurin take 1st Place at Falls with 5 bass weighing 25.18 lbs! 1st Place $2,000 PLUS 2nd BF at 6.82 lbs $130.00 PLUS 1st Side Pot $480.00! They received a total of $2,640.00!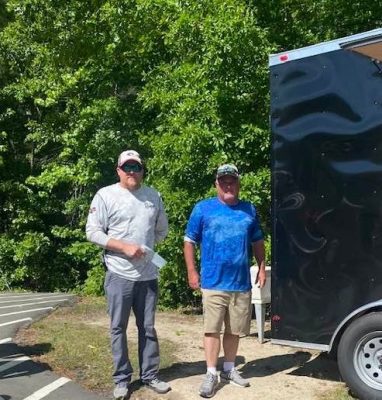 Brian Benish & Travis Watson claimed 2nd Place with 5 bass weighing 22.68 lbs and they earned $910.00!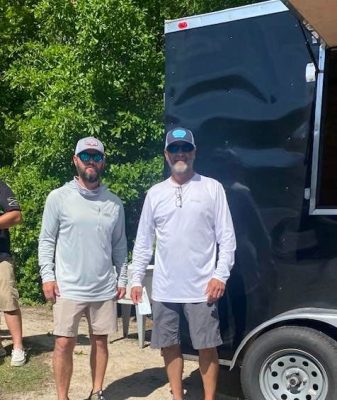 Ricky Petty & Michael Cooke collected $1,165.00 for 3rd Place with 5 bass weighing 22.46 lbs!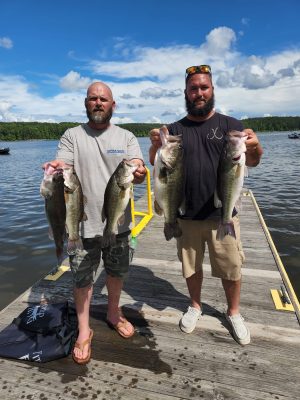 CATT Championship May 21-22! For more info visit the Championship page under Divisions!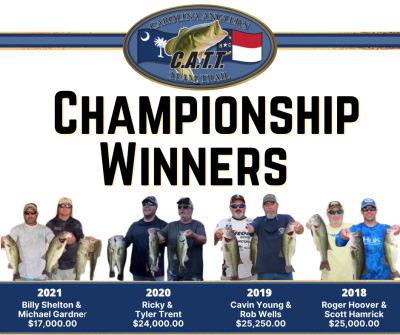 | | | | | |
| --- | --- | --- | --- | --- |
| Team | BF | Weight | Winnings | Points |
| Mike Marchant- Bradley McLaurin | 6.82 | 25.18 | $2,640.00 | 110 |
| Brian Benish – Travis Watson | 5.75 | 22.68 | $910.00 | 109 |
| Ricky Petty – Michael Cooke | 7.85 | 22.46 | $1,165.00 | 108 |
| Jamie Fajardo – Josh Hooks | 0.00 | 21.07 | $530.00 | 107 |
| Doug Stallings- Seth Ellis | 0.00 | 20.10 | $300.00 | 106 |
| Clay Ausley- Dustin Morgan | 0.00 | 17.78 | $225.00 | 105 |
| Derek Humble – Neil Humble | 0.00 | 16.50 | $180.00 | 104 |
| Andy Williams – Hunter Williams | 5.10 | 15.26 | $140.00 | 103 |
| Todd Sumner – Rich Z | 0.00 | 15.24 | | 102 |
| Paul Owens- Tyler Faggart | 0.00 | 15.14 | | 101 |
| Ben Cannon – Chad Craven | 0.00 | 14.49 | | 100 |
| Roby Wyatt- Mike Prytula | 5.85 | 14.46 | | 99 |
| Todd Massey – Bo Adams | 0.00 | 14.09 | | 98 |
| Johnathon Rhew – Mike Rhew | 0.00 | 14.01 | | 97 |
| David Farmer – Matt Deese | 0.00 | 13.16 | | 96 |
| Dan Glosson- Chris Glosson | 0.00 | 12.73 | | 95 |
| Mike Cole- Vincent Nettles | 0.00 | 12.62 | | 94 |
| Johnny Anton – Bryce Mcclenney | 0.00 | 12.58 | | 93 |
| Matt Fuhr- Adam Daniel | 0.00 | 11.95 | | 92 |
| Johnathan Halloway – Britton Oquinn | 0.00 | 11.39 | | 91 |
| Brandon Tyler- David Lanaville | 0.00 | 11.24 | | 90 |
| Justin Rhew- Roger Clary | 0.00 | 11.06 | | 89 |
| Rick Sossaman- Steve Upchurch | 0.00 | 9.78 | | 88 |
| Hunter Petty – Jordan Oakley | 0.00 | 9.65 | | 87 |
| Jeff Brown – Trey Hanning | 0.00 | 9.26 | | 86 |
| David Hall – Chris Waggoner | 0.00 | 9.09 | | 85 |
| Terry Amen- Casey Johnson | 0.00 | 8.82 | | 84 |
| Mike Powers- Seth Mycko | 0.00 | 8.79 | | 83 |
| Alec Lower – Richard Lower | 0.00 | 8.53 | | 82 |
| Matthew Jones – Sonny Tindal | 0.00 | 8.09 | | 81 |
| Chris Sorrel – Dustin Hess | 0.00 | 6.87 | | 80 |
| Fulton Straughe – Michael Britt | 0.00 | 6.84 | | 79 |
| Jordan Young – Mark Young | 0.00 | 6.45 | | 78 |
| John Mcclelland – Eric Shell | 0.00 | 4.25 | | 77 |
| Dane Butlet- Derrick Wright | 0.00 | 0.00 | | 67 |
| Jeff Shaw – James Richmond | 0.00 | 0.00 | | 67 |
| Roy Blackwood- Tommy Blackwood | 0.00 | 0.00 | | 67 |
| Timmy Blair- Jermey Wright | 0.00 | 0.00 | | 67 |
| Lynn Fox- Seth Ballard | 0.00 | 0.00 | | 67 |
| Tim Goad- Mark Williams | 0.00 | 0.00 | | 67 |
| Jonny Wilder – Mike Harris | 0.00 | 0.00 | | 67 |
| Scott Smith – Dennis Reedy | 0.00 | 0.00 | | 67 |
| Chad Fara – Steven Lasher | 0.00 | 0.00 | | 67 |
| Dale Dalaney- Mike Salguro | 0.00 | 0.00 | | 67 |
| Total Entrys | | | $6,020.00 | |
| BONUS $ | | | $950.00 | |
| Total Paid At Ramp | | | $6,090.00 | |
| Old North 2022 Spring Final Fund | | | $880.00 | |
| 2022 CATT Championship Fund | | | $50.00 | |
| 2022 Old North Spring Final Fund Total | | | $6,740.00 | |