Moody Wins $2400 in Georgia Event on Lake Oconee
ATHENS, Ala. – Sam Moody of Albany, GA won the Bass Pro Shops Open Series Georgia Division tournament, held June 13th on Lake Oconee. Running out of Sugar Creek Marina in Buckhead, GA the Sam caught five bass weighing 15.87 pounds including a 5.98 kicker. For the Boater Division victory, Moody took home a check for $2400 for his win.
"I was fishing the south end of the lake today. I caught a few on top-water in the morning and the rest of the day I threw a Carolina-rig on points the rest of the day." Moody said.
In second for the boaters, Scott Hayes of Newnan, GA landed a five-bass tournament limit going 15.59 pounds which included a big bass that weighed 6.11 pounds.
"I caught my fish flipping docks all day. I caught a few fish in the morning but in the last 1 ½ hours, I caught that big bass and a few better fish." Hayes said.
Brian Jamison of Greensboro, GA took third for the boaters with five bass going 14.34 pounds.
"I also caught my fish flipping in dirty water. It was a grind all day." Jamison said.
Finishing fourth, Justin Lanier of Macon, GA landed a five-bass limit for 14.23 pounds. Grant Kelly of Milledgeville, GA rounded out the top five boaters with five bass at 13.11 pounds.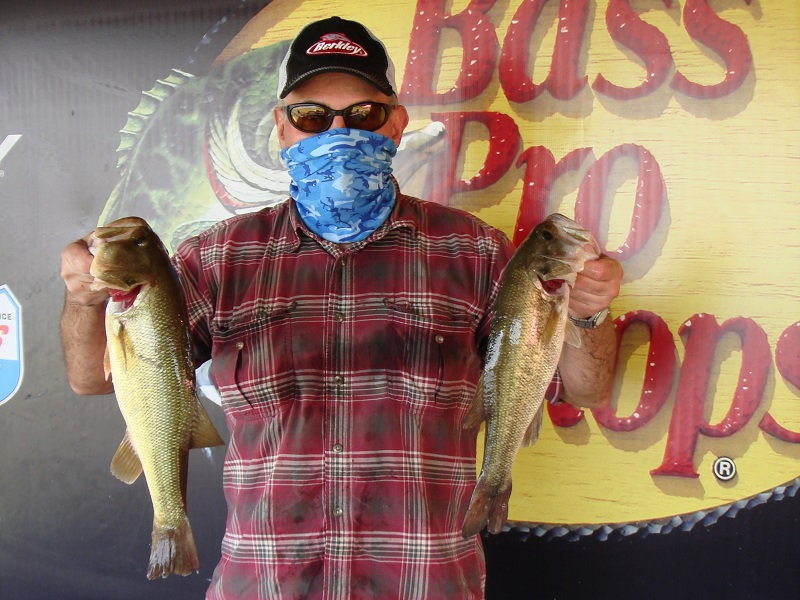 In the Co-Angler Division, Sam Naib of Atlanta, GA won with three bass going 7.53 pounds. He pocketed a check for $700 for his win.
"I caught my fish on a Strike King Menace bug, a Roboworm, and Rapala Clacking Crank. " Naib said.
Taking second for the co-anglers, Jeffrey Payne of Danville, GA brought in three bass weighing 7.23 pounds which also included the big bass for the co-anglers that weighed 3.53 pounds. Payne collected a check for $105 for the big bass award.
"I caught my fish on a shakey-head today fishing around docks." Payne said.
Eldred Lewis of Tuscaloosa, AL placed third among the co-anglers with three bass going 6.13 pounds.
"I also caught my fish on a shakey-head fishing the mid-lake area."  Lewis said.
In fourth place among the co-anglers, Robert Enke of Columbus, GA brought in three bass for 5.19 pounds. James Murphy of Phenix City, AL finished in fifth place with three bass for 4.96 pounds.
Slated for September 12th, 2020, the next tournament will be on Lake Sinclair out of the Dennis Station Ramp in Eatonton, GA. At the end of the season, the best anglers from across the nation advance the 2021 Ray Scott Championship to be held at Lake Chickamauga in April, 2021.
For more information on this tournament, call Billy Benedetti, tournament manager, at 256-230-5632 or ABA at 256-232-0406. On line, see www.americanbassanglers.com
About the American Bass Anglers – American Bass Anglers is committed to providing low cost, close to home tournaments for the weekend angler while offering an upward path for individual angler progression.  For more information about American Bass Anglers and all their bass tournament trails visit www.americanbassanglers.com.
American Bass Anglers is sponsored by: Bass Pro Shops, Triton Boats, Nitro Boats, Tracker Boats, Mercury Marine, MotorGuide, Monster Energy Drinks, Garmin, T-H Marine, Abu Garcia, Berkley, Engel Coolers, Maui Jim and Power-Pole.