Print This Post
Nelson Walker took the win at Santee Cooper Saturday with 5 bass weighing 20.08 lbs worth $500.00!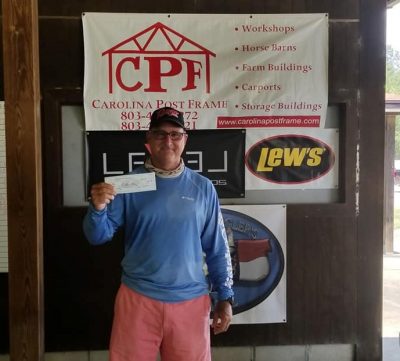 2nd went to Marc Deschanes & Brandon Riley with 18.66 lbs. They took the BONUS $ for a total of $635.00!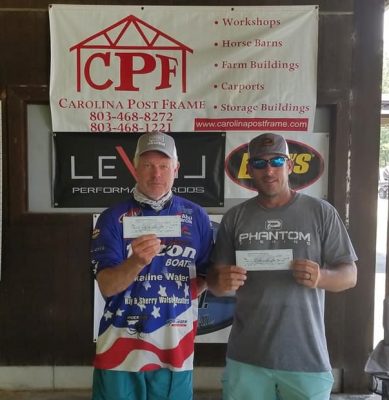 Next Santee CATT is July 7 and is a Gold!
| | | | | |
| --- | --- | --- | --- | --- |
| | Big | Total | Total | |
| 20 Teams | Fish | Weight | Winnings | Points |
| Nelson Walker | 5.49 | 20.08 | $500.00 | 110 |
| Marc Deschanes – Brandon Riley  BONUS $ | 4.83 | 18.66 | $635.00 | 109 |
| Bunn Tyson-Thad Driggers | 0.00 | 17.59 | $125.00 | 108 |
| Craig Matthews-Grayson Cook  2nd BF | 5.68 | 16.17 | $160.00 | 107 |
| David Benenhaley-Mike Cox  1st BF | 5.73 | 14.90 | $140.00 | 106 |
| Ed & Eddie Paul | 0.00 | 12.45 | | 105 |
| Brad Swartz-Michael Maxfield | 0.00 | 12.24 | | 104 |
| Johnny Player – Braden Castle | 5.52 | 12.15 | | 103 |
| Cole Drummond-Danny Shanz | 3.05 | 10.55 | | 102 |
| Mario & Reid Colangelo | 4.63 | 8.18 | | 101 |
| Steve Borton – Justin Wood | 0.00 | 7.57 | | 100 |
| Steven Robinson – Isaac Johnson | 5.37 | 5.37 | | 99 |
| Brandon Evans | 0.00 | 0.00 | | 98 |
| Jamie Partee – Donnie McCord | 0.00 | 0.00 | | 98 |
| Don P. – Bobby Gibbs | 0.00 | 0.00 | | 98 |
| Curt Causey – Robbie Haroldson | 0.00 | 0.00 | | 98 |
| Emmett McCauley – Brandon Haley | 0.00 | 0.00 | | 98 |
| Jimmy & Kyle Austin | 0.00 | 0.00 | | 98 |
| John Gardenhire | 0.00 | 0.00 | | 98 |
| Tim Hilton-Bucky Clarke | 0.00 | 0.00 | | 98 |
| Total Entrys | | | $1,600.00 | |
| BONUS $ | | | $360.00 | |
| Total Paid At Ramp | | | $1,560.00 | |
| Santee Cooper 2018 Summer Final Fund | | | $300.00 | |
| 2019 CATT Championship Fund | | | $50.00 | |
| | | | | |
| 2018 Santee Cooper Summer Final Fund Total | | | $600.00 | |
| 2019 CATT Championship Fund Total | | | $350.00 | |