Tournament Results Cooper River Mar 9, 2019 Randall & Ryan Drew Cash In With 20.17 lbs!
Next Cooper River CATT is March 23rd out of Cypress Gardens!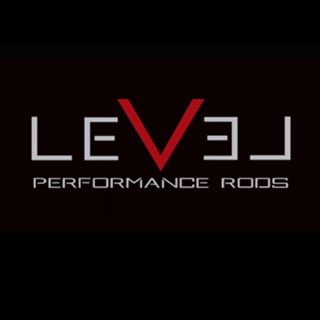 Randall & Ryan Drew brought in 20.17 lb s with a 7.23 lb kicker to take 1st Place and $1,015.00!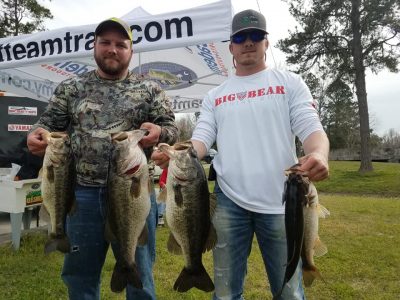 Kyle Welch & Wayne Clifton finished 2nd with 14.20 lbs!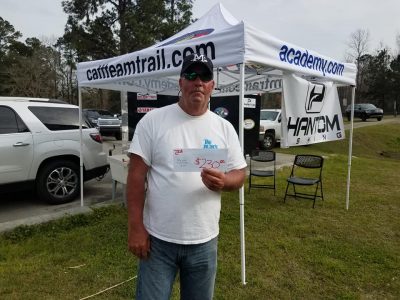 Hunter Hackworth took 3rd with 13.30 lks!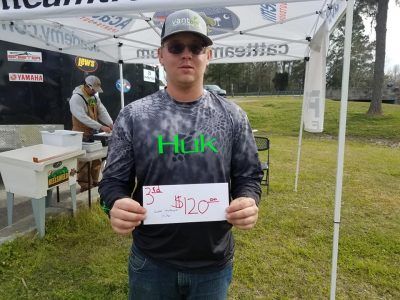 Big
Total
Total
23 Teams
Fish
Weight
Winnings
Points
Randall Drew – Ryan Drew
7.23
20.17
$1,015.00
110
Kyle Welch – Wayne Clifton
0.00
14.20
$230.00
109
Hunter Hackworth
0.00
13.30
$120.00
108
Bill Lawshe – Jeremy Hewitt
0.00
12.40
$75.00
107
Bubba Dennis – Randy Gibson
0.00
9.89
106
John Campbell – Grace Campbell
0.00
9.84
105
Buckey Black – Carl Harrington
0.00
9.55
104
Matt Baker Andrew – BakerAndrew
0.00
9.03
103
Bryan Miller – Donald Boyne
0.00
8.75
102
Gene Youngs
0.00
8.54
101
Dave McConnell – Dylan Mcconnell
0.00
7.48
100
James Roy Jr Robison – William Gregory
0.00
6.96
99
Justin Lord – Billy Johnson
0.00
6.77
98
Griffin Crane
0.00
6.01
97
Bruce Wheeler – Heath Hunter
0.00
5.95
96
Johnny Brinson – James White
0.00
5.86
95
Travis Gatlin – Grant Powell
0.00
5.42
94
Casey Leach – Charlene Leach
0.00
5.22
93
Gabriel Hornet Pearson – Joseph Scott
0.00
1.48
92
Chase Marshall – Brett Thacker
0.00
0.00
91
Tim Tyson
0.00
0.00
91
Christopher Thomas
0.00
0.00
91
Andy Rutledge
0.00
0.00
91
Total Entrys
$1,150.00
BONUS $
$425.00
Total Paid At Ramp
$1,440.00
Cooper River 2019 Spring Final Fund
$95.00
2019 CATT Championship Fund
$10.00
Cooper River 2019 Spring Final Fund Total
$205.00
2019 CATT Championship Fund
$3,500.00