Next Santee Cooper Spring Qualifier is April 8 at John C Land! Fishing is very good at Santee right now! We had 14 of the 36 teams weigh in over 20 lbs!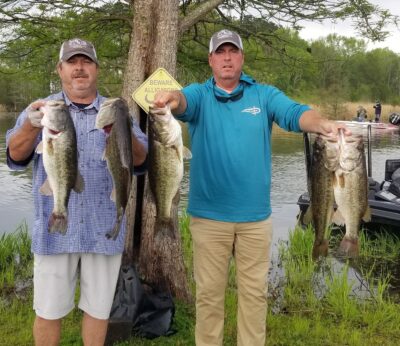 Freddie Gibbs & Clark Gibbs brought in a bag weigh 30.54 lbs with the Academy BF at 7.77 lbs to take 1st Place and $2,552.00!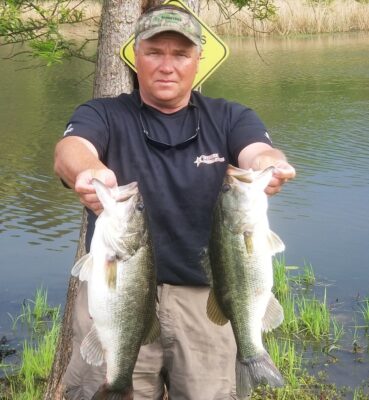 Mike Watson & Craig Chambers were 2nd with 26.01 lbs!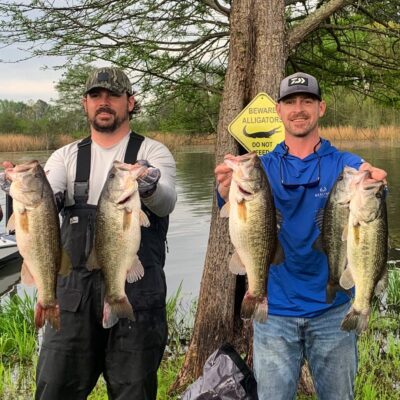 Trez Wienges & Wesley Bilton with 23.75 lbs to take 3rd Place!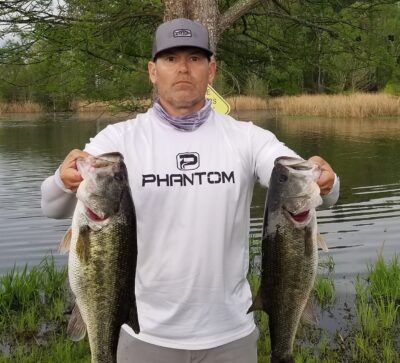 Rusty Bullard 3rd with 23.45 lbs!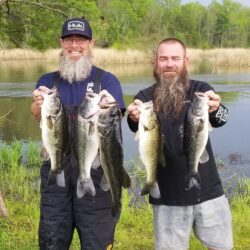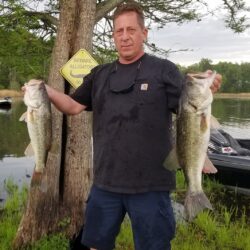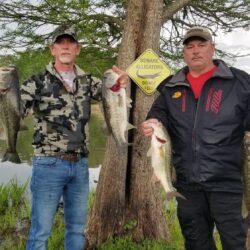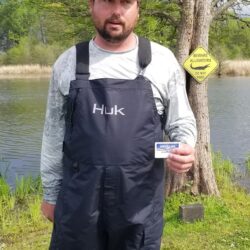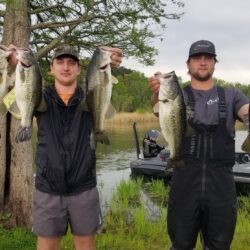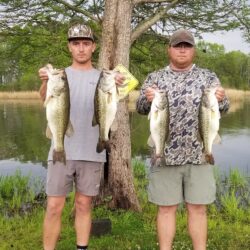 | | | | | |
| --- | --- | --- | --- | --- |
| Team | BF | Weight | Winnings | Points |
| FREDDIE-CLARK GIBBS | 7.77 | 30.54 | $2,552.00 | 110 |
| MIKE WATSON-CRAIG MCFADDEN | 6.96 | 26.01 | $710.00 | 109 |
| WESLEY BILTON-TREZ WIENGES | 5.60 | 23.75 | $410.00 | 108 |
| RUSTY BULLARD | 7.03 | 23.45 | $310.00 | 107 |
| JOHN JOHNSON-DAVID MALAN | 0.00 | 23.45 | $225.00 | 106 |
| BRIAN SCOTT-BRAD BEATSON | 7.14 | 21.58 | $155.00 | 105 |
| WILL TIMMONS-HUNTER VINCENT | 5.73 | 21.39 | $125.00 | 104 |
| ANDREW BULL-WILLIAM DIXON | 5.73 | 20.91 | | 103 |
| BRADFORD-DWIGHT BEAVERS | 0.00 | 20.91 | | 102 |
| CARTER LEGGETT-CODA WESTBROOK | 7.20 | 20.87 | | 101 |
| GARY ELSEY | 7.49 | 20.81 | $108.00 | 100 |
| KEN LAWHON-BILL JOHNSON | 5.61 | 20.50 | | 99 |
| ALEX WATSON-TORY MCCALLUM | 0.00 | 20.43 | | 98 |
| PAUL GEDDINGS-RICKY IRICK | 5.63 | 20.04 | | 97 |
| JERRY MONTJOY-RAY DELOACH | 6.46 | 18.33 | | 96 |
| BRYAN COOK-STEVE HARMON | 5.33 | 18.11 | | 95 |
| ED BURNETT-JAMIE GLASSCOCK | 5.57 | 17.52 | | 94 |
| JUSTIN CROMER-MARK BARNES | 5.59 | 17.52 | | 93 |
| ED-EDDIE PAUL | 5.85 | 17.21 | | 92 |
| CHRISTOPHER BARFIELD-DAVID ARDIS | 0.00 | 17.15 | | 91 |
| MARK-MICHAEL HUTSON | 0.00 | 16.73 | | 90 |
| BENNETT LAWSHE-JEREMY HEWITT | 0.00 | 16.63 | | 89 |
| WADE GROOMS | 0.00 | 16.16 | | 88 |
| ERIC-DARRELL GLENN | 0.00 | 14.26 | | 87 |
| HUNTER HOFFMEYER-THOMAS HOFFMEYER | 0.00 | 13.72 | | 86 |
| HORACE SCOTT-HORACE LEE SCOTT JR. | 0.00 | 13.57 | | 85 |
| MICHAEL-MILES MAXFIELD | 4.06 | 12.72 | | 84 |
| KEVIN BROCK | 0.00 | 11.99 | | 83 |
| BUGZY TERRY-COLLIN CRIBB | 0.00 | 10.30 | | 82 |
| MARIO-REID COLANGELO | 0.00 | 9.29 | | 81 |
| JOHN WILLOCKS-KEVIN ALFORD | 5.34 | 8.04 | | 80 |
| MACK ALTMAN-RANDALL MILLER | 0.00 | 0.00 | | 70 |
| SCOTT-BRANDON SPITTLE | 0.00 | 0.00 | | 70 |
| MIKE KING-TRENT GRIFFIN | 0.00 | 0.00 | | 70 |
| GREGORY BOWEN-DUSTIN HARDY | 0.00 | 0.00 | | 70 |
| DAVE MURDOCK-STEVE BORTON | 0.00 | 0.00 | | 70 |
| Total Entrys | | | $4,320.00 | |
| BONUS $ | | | $800.00 | |
| Total Paid At Ramp | | | $4,595.00 | |
| 2023 Santee Cooper Spring Final Total | | | $425.00 | |
| CATT | | | $50.00 | |
| 2023 CATT Championship/Phantom Fund | | | $75.00 | |
| 2023 Santee Cooper Spring Final Total | | | $1,640.00 | |