Next Old North Qualifier is April 8th at Falls Lake launching from Ledge Rock!
Old North Spring Final $8,000 1st Place GUARANTEED!
Only enter 4 Old North Spring Qualifiers to be eligible to enter the Old North Spring Final
2023 Old North Point Winners Fish 2024 Old North Spring Qualifiers Free!
The 2023 CATT Academy Championship will take place on Kerr Lake May 20-21, 2023 and we are guaranteeing $10,000.00 to 1st Place! 1st Place in 2022 was $29,000.00!
Nutbush Ramp Kerr Lake State Park – 115 Jack Wade Farm Road, Henderson, NC Tap on the link to view more info!
2023 CATT Academy Championship – Carolina Anglers Team Trail (cattteamtrail.com)
The 2023 CATT Academy Championship On Kerr Lake is hosted bt Vance County Tourism!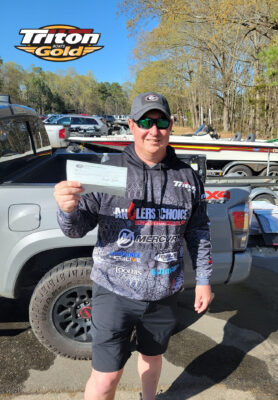 Bo Adams & Brain Fritts cashed in Saturday on Jordan Lake! They weighed in a 5 bass limit at 23.91 lbs taking 1st place worth$3,140.00! Add in the Triton Gold Bonus of $8,000 and they took home $11,140.00!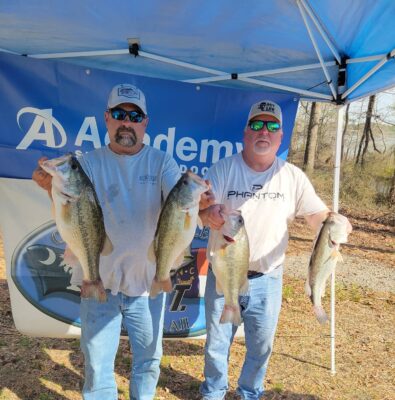 Billy Bledsoe & Brian McDonald claimed 2nd with 5 bass weighing 23.75 lbs and they took home $1,700.00!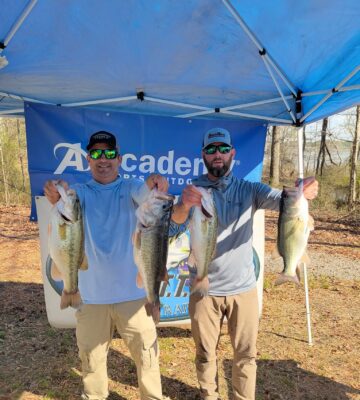 Brian Benish & Ashley Ivery with a limit weighing 22.38 lbs good enough for 3rd and $1,060.00!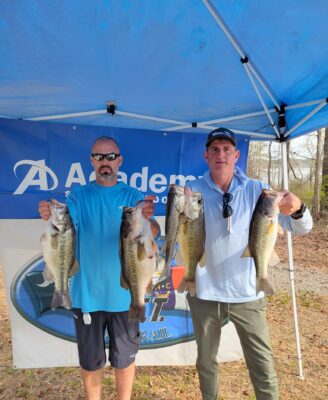 Scott Woodsen & Todd Staker 4th with 2085.00 lbs and the 2nd BF at 7.77 lbs!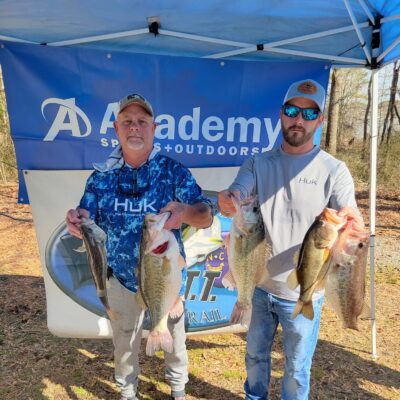 Chuck & Charles Stewart 5th Place with 20.20 lbs!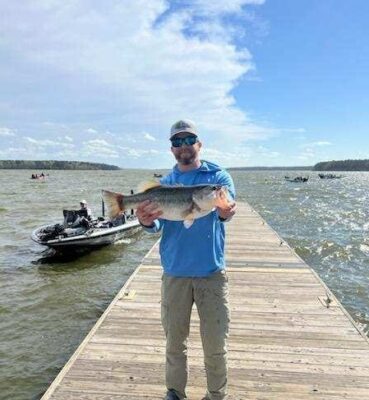 DJ Myslinski & Dean Myslinski with the Academy BF at 7.83 lbs!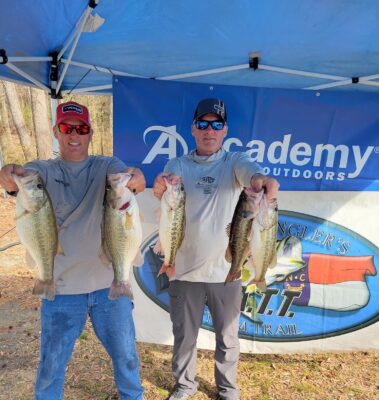 Rick Dunstan & Mike Farrell with a nice sack!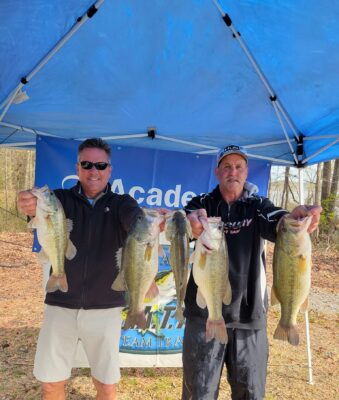 Rick Sossoman & Steve Upchurch showing off their catch!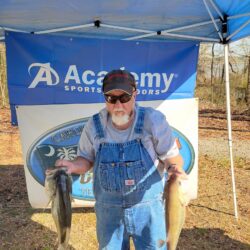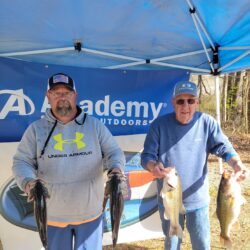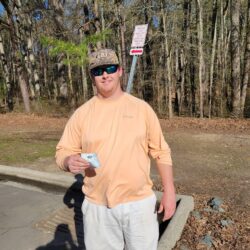 Team
BF
Weight
Winnings
Points
Bo Adams – Brian Fritts
5.62
23.91
$11,140.00
110
Brian McDonald – Billy Bledsoe
0.00
23.75
$1,700.00
109
Brian Benish – Ashley Ivery
7.73
22.38
$1,060.00
108
Scott Woodson – Todd Staker
7.77
20.85
$777.00
107
Charles Stewart – Chuck Stewart
7.05
20.20
$400.00
106
Roby Wyatt – Mike Prytula
0.00
19.55
$300.00
105
Dennis Reedy – Scott Smith
0.00
18.97
$225.00
104
David Farmer – Matt Deese
0.00
18.26
$200.00
103
Rick Sossoman – Steve Upchurch
5.00
17.81
$150.00
102
Mark Houser – Bobby Houser
0.00
17.75
$130.00
101
Matt Dean – Daniel Salinger
0.00
17.61
$120.00
100
Mike Farrell – Rick Dunstan
5.97
17.49
99
Jacob Moore – Kyler Kociela
5.75
17.21
98
Stephen Lasher – Chad Fore
0.00
17.11
97
Britten Oquinn – Josh Whitford
6.20
16.97
96
Jonathan Holloway – Brian West
0.00
16.82
95
Dennis Allen – Keith Allen
0.00
16.40
94
David Hall- Dustin Hall
5.27
15.29
93
Brett Winborn – Ricky Parker
0.00
15.11
92
Derick Wright – Dane Butler
6.90
15.10
91
Josh Hooks – Tyler Trent
0.00
15.06
90
Manny Lenau – Roy Lenau
0.00
14.35
89
Michael Britt – Rob Barton
0.00
14.07
88
Larry Hipps – Dean Larson
0.00
13.75
87
Greg Lahr – Jackson Lahr
0.00
13.31
86
Mike Maull
0.00
12.79
85
Jonathan Phillips – Tony Fofi
0.00
12.67
84
Justin Rhew – Roger Clary
0.00
11.73
83
DJ Myslinski- Dean Myslinski
7.83
11.38
$413.00
82
Clay Ausely- Ken McNeil
0.00
11.21
81
Bud Whitt – Spencer Moody
0.00
10.37
80
Billy West – Curtis Vaughn
0.00
10.37
79
Ben Cannon – Chad Craven
5.18
10.35
78
Lucas Lobaugh – Jeremy Moody
0.00
10.00
77
James Wall – Michael Alverson
0.00
9.98
76
Thomas Sheffer – Craig Leff
0.00
9.52
75
Dale Delaney Jr – Mike Salguero
0.00
9.40
74
Burke Hutchson
0.00
8.99
73
Mark Williams – Tim Goad
0.00
8.19
72
Gary Johnson – Chris Inscoe
0.00
8.15
71
Rick Zerbala – Todd Sumner
0.00
8.10
70
Alec Lower – Richard Lower
0.00
7.94
69
Jeff Beasley – Park Beasley
5.96
7.64
68
Eric Schell – Todd Smith
0.00
7.47
67
Mike & Jonathan Rhew
0.00
6.75
66
Douglas Phillips
0.00
6.48
68
James Richmond – Tyler Richmond
0.00
4.96
64
Travis Watson – Shannon Stewart
0.00
4.83
63
Jerry Marshburn – Chuck Byrd
0.00
4.81
62
Ronnie Britt – Dillon Britt
4.16
4.16
61
John McClelland – Eric Schell
0.00
0.00
51
Mike Marchant – Bradley McLaurin
4.90
0.00
51
Johnny Howard – William Howard
0.00
0.00
51
Justin McBrayer – Joshua Ellis
0.00
0.00
51
Preston Jacobs – Adam Bessette
0.00
0.00
51
Matthew Jones – Sonny Tindal
0.00
0.00
51
Chris Mote – Jeff Brown
0.00
0.00
51
Andy Williams – Hunter Williams
0.00
0.00
51
Tony Stanley – Chase Stanley
0.00
0.00
51
Chris McDuffie
0.00
0.00
51
Total Entrys
$8,400.00
BONUS $
$2,200.00
Total Paid At Ramp
$8,415.00
Old North 2023 Spring Final Fund
$1,100.00
CATT
$50.00
2023 CATT Championship Fund
$50.00
2023 Old North Spring Final Fund Total
$2,100.00