Arm yourself with a mix of new models and patterns from the Ever Green war chest.
Cypress, CA (April 14, 2023) – Southern anglers are already plying the backs of creek channels and shallow flooded timber for bait-chasing bass. Soon, northern bassers will likewise be chucking shallow cranks for prespawn bass. To that, Ever Green has your spring cranking covered – from prespawn into the early summer transition.Here's a foursome of Ever Green baits that should find a place in your tackle tray.
EVER GREEN CH-1A floating crankbait, the diminutive 2 ¼-inch, 7/16-ounce Ever Green CH-1 dives just below the water surface to bring aggressive reaction bites from bass feeding near or on the water's surface. It features a rattle room at the end of its body filled with both tungsten and stainless-steel balls, allowing remarkable casting distance to cover wide, watery expanses, especially flats and open water.The secret behind the bait is its quick response upon retrieving and a powerful action whether fished fast or slow. Due to the circuit board design and fixed weight at a low center of gravity, the CH-1 responds quickly upon contact with the water. The action and the rattle attract fish from an extensive area. Even at low speed, the CH-1 takes firm hold of the water with action and during high-speed retrieval it does not break the water.
A mixture of tungsten and stainless-steel, the weight transfer system offers a complex, low-pitched sound that is appealing to big bass on waters around the globe. It also produces a unique and powerful high-pitched wobble that has proven irresistible.The CH-1's wide grip and wide action helps avoid cover. Even after contact with wood or vegetation it recovers quickly and keys in on the strike zone. FEATURES: Floating crankbait Weight: 7/16 ounce (12.5 grams) Length: 2 ¼ inches (58mm) Diving curve: 0-1 feet Hook size: Front #5; Rear: #6 MSRP $16.99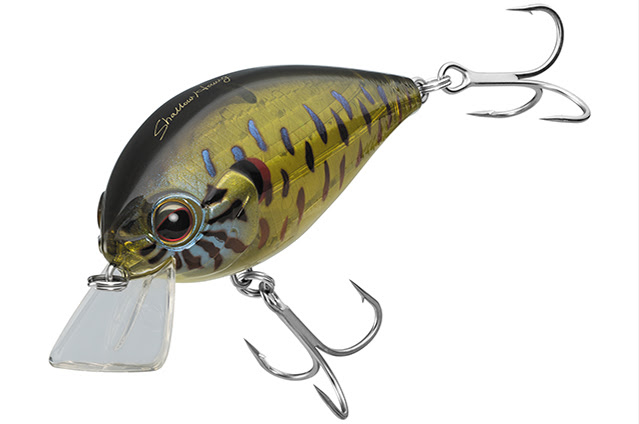 EVER GREEN SH-3Development of the Ever Green SH-3 was initiated by bass pros Brett Hite and Justin Kerr, professional staff for Ever Green US. The SH-3 has undergone rigorous testing in various conditions and waters in both Japan and the U.S. The result is a highly refined shallow-diving crankbait that produces powerful water movement.Its highly buoyant, fat body and square lip produce an action response on par with wood crankbaits, while its characteristic super-wide wobble action makes a strong appeal to big bass. Ever Green's SH-3 is free from the problems typical of shallow-diving crankbaits, such as lack of distance or difficulty casting. The tungsten weight transfer system promises incredible distance; its body density commands presence and yet offers superior accuracy with less effort when casting. The SH-3 represents a dramatic increase in cover cranking precision and efficiency.The SH-3 is versatile and performs in variety of situations—from expansive, shallow flats to bluff banks and reeds, to cut grass and other vegetation, as well as slowly maneuvered through wood and rock. It simply excels at drawing reaction bites.
FEATURES: Nine additional colors added to the SH Series Floating crankbait Diving Depth: 2- to 3-feet Length: 2 ¾-inches (69mm) Weight: 11/16-ounces (19.0 grams) Hook size: Front #3; Rear: #3 MSRP $16.99
EVER GREEN WH-8Bass fans who enjoy raking the bottom with crankbaits in that magic six- to eight-foot depth are often found transitioning around the change of seasons have long appreciated the ability of Ever Green's WH series crankbaits to get the job done. The big bad brother of the famous WH-5, these lures float at rest but dive fast to ensure your baits are both seen and heard as they scrape the bottom and deflect off boulders, rocks, logs, and other structure with nary a snag.Now, Ever Green is reintroducing 8 updated crawfish patterns to the line. Featuring natural dark brown hues on top that fade to a yellowish midsection and off-white belly, this pattern enjoyed success in its original introduction and has been brought back at request of both the angling public and Daiwa pro staffers.The new WH-8 crankbaits now come in eight different patterns, including Bleeding Green Craw, Cajun Craw, Natural Green Craw, Brown Chartreuse Craw, Molting Blue Craw, Fire Tiger Craw, and Natural Brown Craw. All colors are highly saturated to provide a combination of crawfish or shad shades and shape against the bottom as the lure ticks off structure, bursts through weeds and kicks up puffs of sand and mud.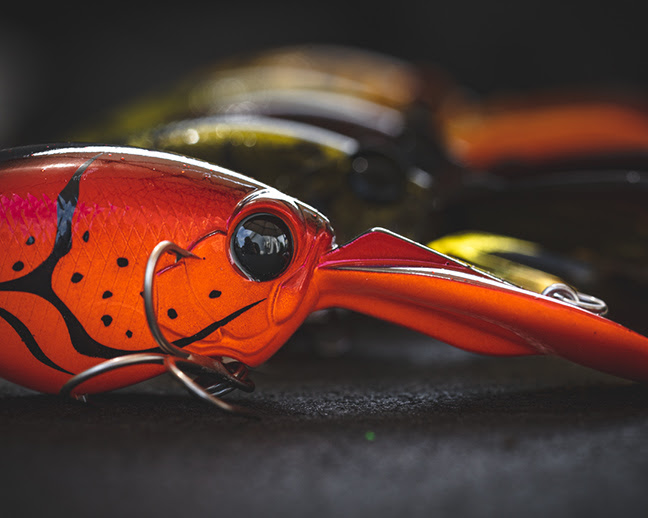 The WH-8 is a powerhouse selection bass sharpies need to carry. It measures 2-1/3 inches long, weighs 9/16-ounces, dives six- to eight-feet deep and quickly explores waters that are hard to reach with active, natural-looking lures. Pick up a few and try them on your next crankbait excursion.FEATURES: Available in eight color patterns to mimic both crayfish and shad Floats at rest and quickly dives 6 to 8 feet deep Long, sharp-angled lip discourages snagging Tight-wiggling action triggers instant response Super sharp size 5 (front) and size 4 (rear) hooks penetrate deep and hold fast MSRP $18.99
EVER GREEN CRThese badass crankbaits always come to play, are infinitely dependable, and make for the ideal core lineup in any bass fishing battalion. And now, the veteran baits come sporting three new uniforms. The five-size series – each geared for a specific depth range – act like a lipless crankbait to quickly suss-out an extensive area for active fish. Known for their superior casting range, CR-Series baits remain surprisingly light for comfortable reeling all day. The CR's also possess a well-defined swimming action with unrivaled balance. Anatomically, you'll appreciate their dead-ringer shad profile, accurate eyeballs, scale and gill patterns, dastardly sharp hooks, and durable diving bills. New colors include Champion Shad, Chart Shad, and Ghost Wakasagi complement the existing palette of Diamond Shad, Ayu, Blue Back Chart, Fire Craw, Olive Crawdad, Queen Shad, Pre-Spawn Dynamite, Hologram Wakasagi, Pumpkinseed, Cold Shad, Oki Gold, Oki Chart, Skeleton Wakasagi, and Half Mirror Shad. Let's take a deeper dive into the individual models.
CR-6Skillful at dodging of obstacles, especially treacherous grass, preventing bite reduction often caused by grass entanglement. Even under tough conditions when water quality declines in the spring and fall (due to turnover, etc.), the CR-6 performs consistently with a forcefulness that induces reaction bites. With its super-long casting and superb obstruction-avoiding capabilities, the CR-6 is an ingenious force that moves effortlessly in shallow expanses and complex shallow covers. FLOATING DIVES: 4- to 6-feet LENGTH: 2 1/4-inch (58mm) WEIGHT: 7/16-ounce (13.2g) HOOKS: #6 MSRP $15.99
CR-8Reliable and easy to use, the CR-8 is a no-nonsense crankbait that promises steady results. Using the tungsten weight transfer system as its main weight, the CR-8 casts tremendous distances, even against headwinds, with low-orbit thanks to a body and lip designed for maximum reduction of air resistance. At the same time, the CR-8 offers supreme accuracy for near- to medium-distance casting. A low-gravity fixed sub-weight system solves the recovery problem commonly experienced in conventional models employing a weight transfer system. The hexagonal cross-section of the CR-8 creates color variations and heightens its flashing effect, too. FLOATING DIVES: 5- to 8-feet LENGTH: 2 ¼-inch (58mm) WEIGHT: ½-ounce (13.7g) HOOKS: #6 MSRP $15.99
CR-10The CR-10, like all members of the CR-Series, boasts remarkable casting distances. The crankbait's ability to go against the wind puts it at a decisive advantage, especially on big lakes, making long-distance traces easier. Also, despite its compact design, the CR-10 easily reaches depths of 10 feet, attracts schools of fish, and stimulates bites with its natural, high-pitch rolling and vivid wobbling action. The CR-10 is resistant to grass hang-ups and allows anglers to cast and reel all day long comfortably. FLOATING DEPTH: 8- to 10-feet LENGTH: 2 ½-inch (64mm) WEIGHT: 9/16-ounce (16.5g) HOOKS: #6 MSRP $16.99
CR-13The CR-13 boasts the greatest castability in the series, delivering powerful distance — an absolute must for deep crankbaits — and maintains its balance through crosswinds and headwinds. Designed toperform as a 13-foot diver, the CR-13 summons strikes, bringing the unseeable world deep beneath the surface right back to the angler's hands. With surprisingly light drag and resistance, the CR-13 adaptsto any rod and allows for comfortable fishing all day long. In addition to tremendous distance, the CR-13 also achieves steady and consistent action with a light tugging sensation. FLOATING DEPTH: 10-to 13-feet LENGTH: 2 ¾-inches (68mm) WEIGHT: ¾-ounce (21.0g) HOOKS: #4 MSRP $16.99
CR-16The CR-16 casts superbly while its light retrieval resistance is hard to come by in a deep crankbait. It can search deeper than 13-feet on the cast (maximum depth: 16-feet), and even deeper than 25-feet when long lining. The CR-16's irregular, secondary action draws strikes while knocking the bottom, as well as at mid-level depths. The CR-16 raises the level of deep cranking — whether in big lakes, reservoirs, or rivers. FLOATING DEPTH: 14- to 16-feet LENGTH: 3-inches (75mm) WEIGHT: 15/16-ounce (26.0g) HOOKS: #6 MSRP $17.99
For Daiwa's latest color catalog and/or information on Daiwa dealers in your area, call Daiwa's Customer Service Department at 562-375-6800 or e-mail inquiries to: CSR@Daiwa.com. The URL for Daiwa's web site is daiwa.us