Our next team tournament will be May 13 on Pasquotank River.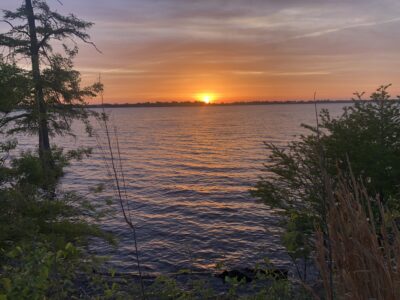 The third tournament of the year in the CATT Tidewater Division started out With a beautiful sunrise and a slight breeze. Shortly thereafter I would have to say that the sound got angry my friends! We had a quite a few teams push the limits of there equipment and stamina by taking on the rough conditions. Many of those teams chose to not make the run back.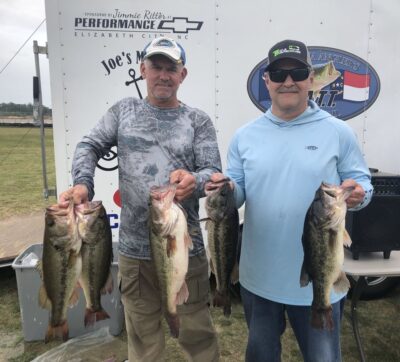 The Team of Darren Saunders and Dave Parker took a risk running out this morning but made that payoff in a big way with a 23.49lb bag that took first place and a $2250 payday.
The team of Michael Evans and Brian Meadows kept it close with 22.52lbs and a $800 check for there efforts. The following teams rounded out the $ winners.
3rd Jeff Hayden/Derek Hayden 20.19 lbs and 1st big Fish 8.87lbs.
4th Gary Debrito/Derek Goodman 19.00 lbs
5th Nathan Welch/Ethan Welch 18.85lbs
6th Bubba Banks/Tommy Banks 18.75lbs
7th Brian Richardson 17.81lbs
8th Jobie Walker/Chris Napier 17.28 lbs
Josh Powell had the second big fish weighing 7.11 lbs.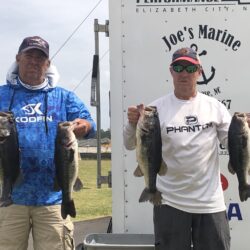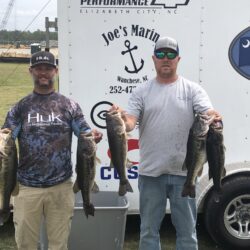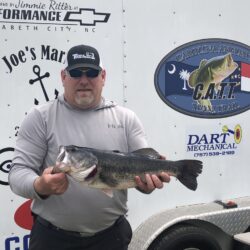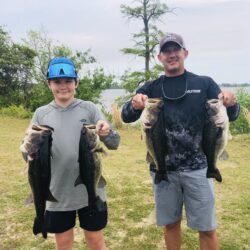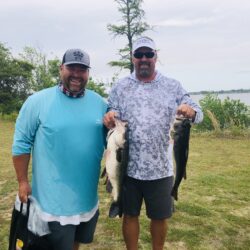 | | | | | |
| --- | --- | --- | --- | --- |
| Team | BF | Weight | Winnings | Points |
| Darren Saunders/ Dave Parker | 6.67 | 23.49 | $2,250.00 | 110 |
| Michael Evans/ Brian Meadows | 6.39 | 22.52 | $800.00 | 109 |
| Jeff Hayden/ Derek Hayden | 8.87 | 20.19 | $787.00 | 108 |
| Gary Debrito/ Derek Goodman | 6.01 | 19.00 | $350.00 | 107 |
| Nathan Welch/ Ethan Welch | 6.30 | 18.85 | $280.00 | 106 |
| Bubba Banks/ Tommy Banks | 5.36 | 18.75 | $200.00 | 105 |
| Brian Richardson | 6.06 | 17.81 | $150.00 | 104 |
| Jobie Walker/ Chris Napier | 7.04 | 17.28 | $120.00 | 103 |
| Randy Broughman/ Ryan Broughman | 4.65 | 16.93 | | 102 |
| Jim Dick/ Greg Dick | 4.78 | 15.75 | | 101 |
| Brian Jackson/ Billy Saunders | 6.69 | 15.21 | | 100 |
| Ronnie Ketchum/ Benny Hendricks | 5.00 | 15.15 | | 99 |
| Russell Gammon | 0.00 | 14.52 | | 98 |
| Scott Rock/Josh Powell | 7.11 | 14.17 | $123.00 | 97 |
| Ray Cobb/ Mark Moretz | 0.00 | 14.10 | | 96 |
| Quintin Chappell/ Chris Turner | 0.00 | 13.74 | | 95 |
| Rick Plemons/ Chris Pike | 0.00 | 13.56 | | 94 |
| William Chappell/ Mike Winthe | 6.68 | 13.10 | | 93 |
| David Shaffer/ Scott Shaffer | 0.00 | 13.09 | | 92 |
| Brian Cooper/ Heath Parker | 0.00 | 12.81 | | 91 |
| Nick Meek/ Kyle Verkullen | 0.00 | 12.66 | | 90 |
| Jordan Sanderlin/ Andrew George | 0.00 | 12.59 | | 89 |
| Wayne Hayes/ Andy Morath | 0.00 | 12.20 | | 88 |
| Lloyd Sanderlin/ John Sanderlin | 5.18 | 11.87 | | 87 |
| Alan Meads/ Chris Meads | 0.00 | 11.65 | | 86 |
| Eugene Foushee/Aaron Herschberger | 0.00 | 10.80 | | 85 |
| Douglas Hewitt/William Heighter | 0.00 | 10.76 | | 84 |
| Al Biagioni | 0.00 | 10.43 | | 83 |
| Steve Brickhouse/James Williams | 0.00 | 10.24 | | 82 |
| Bob Clarkson/Mark Ingram | 0.00 | 10.18 | | 81 |
| Bob Gomez/Eddie Tipton | 0.00 | 10.17 | | 80 |
| Chris Banks/ Zachery Meads | 0.00 | 8.19 | | 79 |
| Matt Anderson | 0.00 | 7.61 | | 78 |
| Keith Jennings | 0.00 | 4.75 | | 77 |
| Kirk Nixon/ Trent Nixon | 0.00 | 0.00 | | 67 |
| Kenneth Moore/Joseph Eure | 0.00 | 0.00 | | 67 |
| ShawnDunlap/ Ken Kipler | 0.00 | 0.00 | | 67 |
| Tommy Houlroyd | 0.00 | 0.00 | | 67 |
| Michael Kellett | 0.00 | 0.00 | | 67 |
| Brent Thomas/ Ethan Thomas | 0.00 | 0.00 | | 67 |
| Hunter Holloman/Bryan Hendricks | 0.00 | 0.00 | | 67 |
| Total Entrys | | | $4,920.00 | |
| BONUS $ | | | $650.00 | |
| Total Paid At Ramp | | | $5,060.00 | |
| CATT | | | $50.00 | |
| 2023 Tidewater Final Fund | | | $385.00 | |
| 2023 CATT Championship Fund | | | $75.00 | |
| 2023 Tidewater Final Fund Total | | | $1,185.00 | |