The 2021 Academy CATT  Championship will take place on Kerr Lake May 22-23, 2021 and we are guaranteeing $10,000.00 to 1st Place!
Nutbush Ramp Kerr Lake State Park – 115 Jack Wade Farm Road, Henderson, NC
Either NC & VA License are valid. You do not need both.
**2018 & 2019 1st Place Winners Have Taken Home $25,000.00! 2020 Winners took home $24,000.00!
A team or solo angler must fish 2 CATT events to Qualify! You may fish the Championship solo or with your partner or alternate partner your team used in any CATT event.
You can get in your 2 events by fishing any CATT Fall 2020 and CATT Spring 2021! Any CATT event after June 1st 2020 will count!
Tap on the link for info!
Mark your calendar! June 26 Chowan River, NC Bayside Marina in Edenton! Phantom Outdoors Invitational $5,000.00 1st Place! You don't have to qualify for this tournament! Just be there! Here's the link to the Phantom Series info!
Next up for the Old North is May 8th at Jordan Lake!
Brian McDonald & Billy Bledsoe win Falls Lake with 21.53 lbs! They take home $7,679.00 with Skeeter Real Money added in!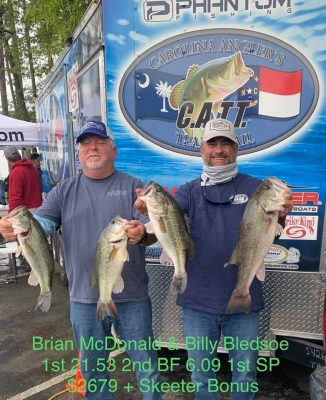 Jamie Fajardo & Josh Hooks take 2nd with 20.73 lbs worth $1,521.00!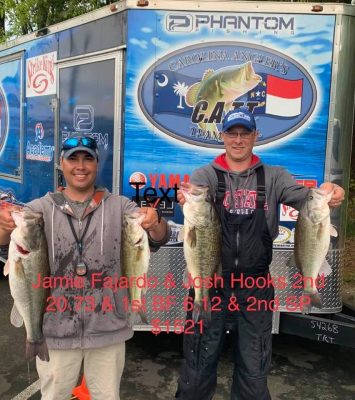 Derek Wright & Dane Butler 3rd with 19.26 lbs!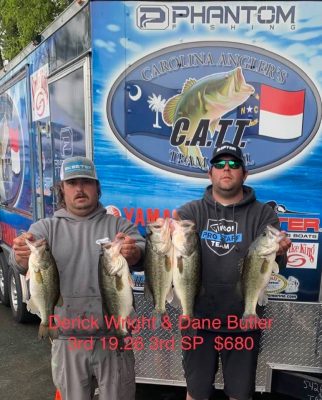 4th David Farmer & Matt Deese 19.11 lbs!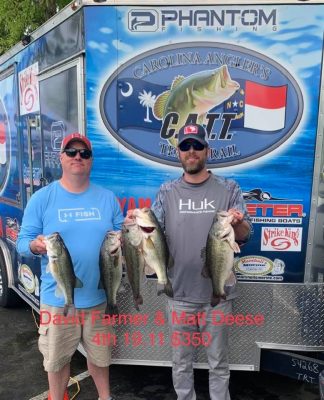 5th Doug Stallings & Seth Ellis 17.40 lbs!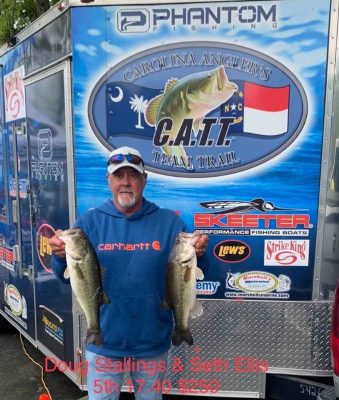 | | | | | |
| --- | --- | --- | --- | --- |
| Teams | BF | Weight | Winnings | Points |
| Billy Bledsoe / Brian McDonald | 6.09 | 21.53 | $7,679.00 | 110 |
| Josh Hooks / Jamie Fajardo | 6.12 | 20.73 | $1,521.00 | 109 |
| Dane Butler / Derick Wright | 4.40 | 19.26 | $680.00 | 108 |
| David Farmer / Matt Deese | 4.52 | 19.11 | $350.00 | 107 |
| Doug Stallings / Seth Ellis | 0.00 | 17.40 | $250.00 | 106 |
| Calton Hall / Jason Suggs | 5.51 | 16.50 | $200.00 | 105 |
| Will Howard / Bruce McLenney | 5.56 | 16.41 | | 104 |
| John McClelland /  Eric Schell | 5.16 | 16.24 | | 103 |
| Jeff Shaw / James Richmond | 5.16 | 15.67 | | 102 |
| Justin Rhew / Roger Clary | 5.67 | 14.33 | | 101 |
| Jonathan Holloway / Brian West | 5.03 | 13.55 | | 100 |
| Rich Z / Jamie Olive | 0.00 | 13.35 | | 99 |
| Johnny Wilder / Mike Harris | 5.84 | 12.65 | | 98 |
| Jeff Brown / Ron Johnson | 3.62 | 12.25 | | 97 |
| Dennis Allen / Dalton Ivy | 0.00 | 12.07 | | 96 |
| Scott Dunn / Stewart Adams | 3.48 | 11.90 | | 95 |
| Walt Warner / Will Petty | 0.00 | 11.55 | | 94 |
| Owen Pinhollow / Randy Goss (Sub) | 0.00 | 10.03 | | 93 |
| Alec & Richard Lower | 0.00 | 9.82 | | 92 |
| Sale Delarey / Michael Salqvero | 0.00 | 6.56 | | 91 |
| Tim Goad / Mark Williams | 5.97 | 5.97 | | 90 |
| Jordan & Mark Young | 4.12 | 5.73 | | 89 |
| Gary Johnson / Chris Inscoe | 0.00 | 4.59 | | 88 |
| David Newell | 4.50 | 4.50 | | 87 |
| Brandon Taylor / David Pearce | 0.00 | 3.33 | | 86 |
| Dj  &  Dean Myslinski | 2.46 | 2.46 | | 85 |
| Terry Amen / Casey Johnson | 0.00 | 0.00 | | 75 |
| Brad McLaurin / Mike Marchant | 0.00 | 0.00 | | 75 |
| Michael Corbishley / Bryson Peed | 0.00 | 0.00 | | 75 |
| Johnny & William Howard | 0.00 | 0.00 | | 75 |
| Robert Barton / Michael Britt | 0.00 | 0.00 | | 75 |
| Keith Allen / Ahsley Ivy | 0.00 | 0.00 | | 75 |
| Matthew Jones / Sonny Tindal | 0.00 | 0.00 | | 75 |
| Jessie Wise / Jonathan Phillips | 0.00 | 0.00 | | 75 |
| Matt Harrison / Adam Boone | 0.00 | 0.00 | | 75 |
| Jeremy Moody / Tobey Lawson | 0.00 | 0.00 | | 75 |
| Total Entrys | | | $5,760.00 | |
| BONUS $ | | | $1,200.00 | |
| Total Paid At Ramp | | | $5,680.00 | |
| Old North 2021 Spring Final Fund | | | $600.00 | |
| 2021 CATT Championship Fund | | | $100.00 | |
| 2021 Old North Spring Final Fund Total | | | $3,070.00 | |
| 2021 CATT Championship Fund Total | | | $2,575.00 | |