Marty Warren of Elon, North Carolina won the American Bass Anglers Ram Truck Open Series Virginia division tournament held 4/22/2017 held on Kerr Lake.
Print This Post
Running out of Nutbush Park in Henderson North Carolina, Marty caught five bass weighing 19.71 pounds including a big bass that weighed 7.04 pounds. For the Boater Division victory, Warren took home a check for $5,000.
"I caught my fish today flipping plastics. I was fishing bushes and docks," stated Warren.
In second for the boaters, Chase Johnson of Four Oaks, North Carolina landed a five bass tournament limit weighing 16.42 pounds. He collected $700 for the effort. "I probably caught 10-15 fish today. I was catching fish that were bedding and cruising," said Johnson.
Shawn Hammack of Gasburg, Virginia took third for the boaters with five bass weighing 15.83 pounds. His limit earned him $500. "I caught probably 10-12 fish today. They were mostly bed fish. I got lucky on a couple of good ones and the others were just keepers," said Hammack.
Finishing fourth, Tyler Trent of Nathalie, Virginia landed a five bass limit weighing 15.29 pounds. Trent also pocketed an additional $460 from the big fish pot with a bass weighing 3.91 pounds.
Bowman Gray of Lake Waccamaw North Carolina rounded out the top five with five bass weighing 14.44 pounds.
In the Co-Angler Division, Tim Gardner of Goldsboro, North Carolina won with three bass weighing 7.57 pounds. He sealed his victory with a 3.99 pound kicker to pocket a check for $600.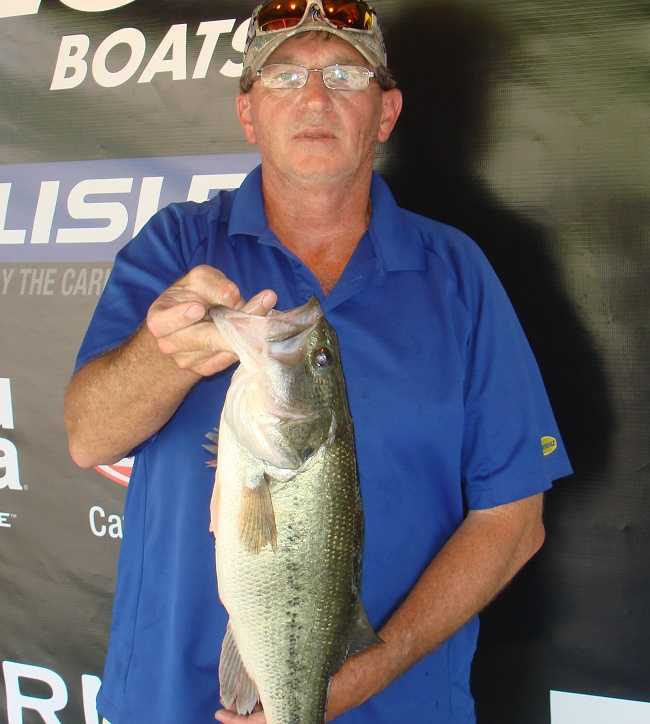 "It was a pretty slow day. I caught four fish culling one time. My fish came off a shakey head using a trickworm," said Gardner.
Taking second for the co-anglers, Randy Ruffin from Norfolk, Virginia brought in a three-bass division limit weighing 6.89 pounds. Randy anchored his catch with a 3.50 pound bass. He collected $300 for his catch. "I had a blast today said Ruffin. I caught 7 or 8 fish on a shakey head with a bait my boater gave me," said Ruffin.
Ernest McIntyre Jr. of Fayetteville, North Carolina placed third among the co anglers with three bass weighing 6.83 pounds. He earned $225 for his catch. "I caught my fish today on a texas rigged 4 inch worm on a small weight," said McIntyre.
In fourth place among the co-anglers, David Lanaville of Goldsboro, North Carolina weighed in three bass weighing 6.81 pounds.
Tom O'Neal finished in fifth place with three bass at 6.08 pounds.
Slated for May 13th 2017 the next divisional tournament will be held on Lake Gaston out of Americamps in Bracey Virginia. At the end of the season, the best anglers from across the nation advance the 2018 Ray Scott Championship, slated for the Red River in Shreveport-Bossier Louisiana in April 2018.
For more information on this tournament, call Rodney Michael, tournament manager, at 256-497-096