Print This Post
Timmy Squires & Seth Rabon brought in 5 bass weighing 13.14 lbs good enough for 1st Place! Add the 1st BF at 4.48 lbs plus the side pot they took home $1,228.00!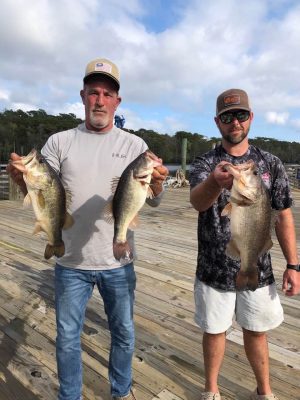 2nd Place with 12.62 lbs Adam Lewis & Jacob Barfield!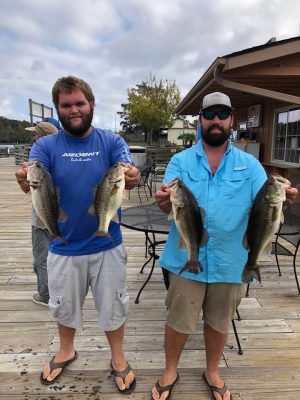 3rd was Kyle Johnson with 10.47 lbs!
4th Place went to Ricky Wood & Connor Cartrell 10.46 lbs!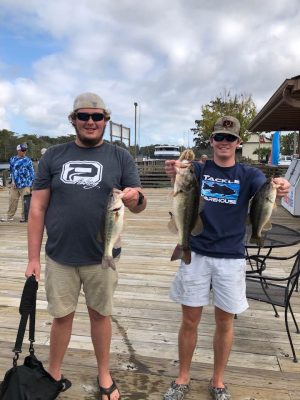 29 Teams
BF
Weight
Winnings
Points
Timmy Squirers and Seth Rabon
4.48
13.14
$1,228.00
110
Adam Lewis & guest Jacob Barfield
3.50
12.62
$360.00
109
Kyle Johnson
2.54
10.47
$250.00
108
Rickey Wood & Connor Cartmell
3.96
10.46
$130.00
107
Robbie Boyd & Ryan Thompson
4.37
10.23
$187.00
106
Glenn Cribb & JR Barfield
4.00
9.36
105
Avery & Ritchie  Williams
3.62
9.21
104
Kevin Alford & Will Prosser
2.13
9.06
103
Andrew Vereen & Jordan Weaver
0.00
8.67
102
Charles Fryer & Danny Rabon
2.09
8.58
101
Brad Suggs & Chad Williams
2.42
8.46
100
Corey Singleton & Jesse Hopkins
0.00
8.30
99
Rickey & Karen Bellamy
1.85
7.68
98
Freddy Mincey & Jamon Carroll guest
2.44
7.63
97
Chris Jones & Ed Owens
0.00
7.63
96
Kevin Heniford & Jesse Long
2.19
7.49
95
Don McLaud & Shawn Tackett
1.72
7.19
94
Noah Jones & Logan Odom
0.00
6.93
93
Tommy & Thomas Collins
0.00
6.38
92
Robby Byrum & Eric Cox
2.82
6.00
91
James Wade & George Porter
0.00
5.48
90
William Kimbrell & Deam Wrobel
0.00
3.10
89
Kevin & Ashton Wade
0.00
2.09
88
Danny York
0.00
0.00
87
Darren Cook & Peter Horne
0.00
0.00
87
Johnny Johnson & Wesley Howell
0.00
0.00
87
Ron Terwilliger
0.00
0.00
87
Daniel Cosby & Kendall Utter
0.00
0.00
87
Casey Warren & Jim Parrot
0.00
0.00
87
Total Entrys
$2,320.00
BONUS $
$425.00
Total Paid At Ramp
$2,155.00
2020 Waccamaw River Fall Final Fund
$490.00
2020 CATT Championship/Phantom Fund
$50.00
2020 Waccamaw River Final Fund Total
$850.00
2020 CATT Championship/Phantom Fund Total
$4,750.00