Scrounging Up Bass
Offering bass a presentation that they're not unaccustomed to seeing day in and day out is an excellent way to increase your catch, and fishing plastics on a Scrounger head is a sure shot way to do this. Rig a 3.6" Hammer Shad on one of these bad boys and you're definitely in for a treat. The Hammer Shad/Scrounger combination offers a unique action in a downsized presentation that can produce when other moving baits won't, especially in pressured waters.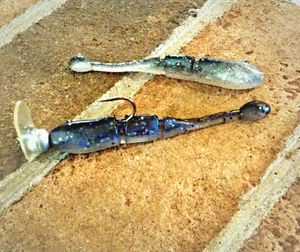 Here's the best way to describe the action of the Scrounger; put your arm straight out in front of you with your thumb pointing straight up at the ceiling (imagine your thumb would be the hook). Now take your hand, rotate it counter clockwise 90 degrees, then back up to center, then 90 degrees clockwise, then back to center. Do that about 5 times per second and you'll get the visual. Because of this unique action, laminate colors like Money, Slam Shad, Perch Fry, Smoking Minnow and Tasty Tilapia are perfect for the back of a Scrounger because the contrasting colors add a tantalizing element of flash to every rotation. What you end up with is a perfectly sleek 4" baitfish presentation that combines flash, wiggle and a pulsating" thump" that's unlike any crankbait or swimbait out there.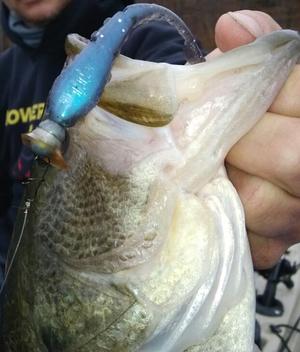 This combo can be fished shallow, deep, around all kinds of cover and in current and it's excellent for all species of bass (and a multitude of other species too!). It's extremely effective in any water temps 50 degrees or above but will also put them in the boat in water temps as low as 45. A 6'6" to 7' med action spinning rod with a fast tip rigged with 10 or 12 lb Fluoro is all you'll need to toss this set up and bury the Scrounger hook into a basses mouth. As far as retrieves go, a standard "chuck and wind" retrieve is very effective. But getting creative with different retrieve speeds, or adding quick snaps with your rod tip or brief pauses during your retrieve will help you dial into what the bass are responding best to.
So if you're looking to add a simple yet deadly technique to your box of skills, rig a 3.6" JP Hammer Shad on the back of a ¼ oz Scrounger Head and start bending that rod!