Make Your Own Maps & Fish Them With Military Precision
Fish Uncharted Waters with New Humminbird® LakeMaster® Technologies
The integration of sonar, GPS and digital mapping is an untouchable trifecta of technologies that help anglers catch more fish. And today there are a lot of "good" units on the market that will do just that.
Yet, American-made fishing electronics manufacturer Humminbird has never been a company to settle for 'good.' With an engineering staff comprised of serious anglers, the team is dedicated to developing real-world problem solutions.
The history of the company's patented technologies speaks for itself: from Side Imaging in 2005 to the more recent introductions of 360 imaging and the ONIX Cross Touch platform, Humminbird is on a track to make fishing electronics more powerful, customizable and easy to use.
Now combine that with the seamless integration of Humminbird LakeMaster and Minn Kota products like iPilot Link and it comes as no surprise that more anglers are upgrading their gear to take advantage of the complete fishing system approach.
And at the core of this system is a powerful digital mapping platform that represents what may very well be the most accurate, most easy-to-use cartography in the fishing world.
Within this complete fishing system, one of the most significant R&D decisions has been to develop new technologies that allow anglers to map their own waters, while keeping that data private. Along those lines, the company now offers an entire suite of digital GPS mapping products that complete changes how anglers interact with maps.
At this time, the Humminbird LakeMaster cartography suite comprises four revolutionary new products: AutoChart, AutoChart PRO, AutoChart LIVE and SmartStrike.
Pro bass angler and U.S. Army Sergeant Major Jamey Caldwell says Humminbird's cartography suite gives him the power to 'fish with military-like precision.' Image courtesy of Jamey Caldwell
On-the-water Special Ops
As a sergeant major in the U.S. Army, Special Operations, pro bass angler Jamey Caldwell has a high level of professional experience with maps, satellite data and radar. That said, high-tech fishing electronics – especially cartography – are right in Caldwell's wheelhouse. So much so, he's earned a reputation as one of the most technologically-savvy anglers in the country, and is frequently featured in Bassmaster and BASS Times for his knowledge on the subject. Not coincidentally, Caldwell is one of the earliest adopters of the revolutionary new Humminbird LakeMaster cartography suite. "It's definitely helped me fish my A game," says Caldwell.
In 2009, Caldwell took top honors in the FLW/BFL on Kerr Reservoir in North Carolina, with only two days of pre-fishing. Prior to the event, Caldwell pre-fished 'virtually' using digital maps while deployed in Iraq. Last year, he finished 4th on the Bass Pro Shops Northern Open by doing much of his pre-fishing with LakeMaster mapping in his home office.
"There is no comparison when you put LakeMaster charts up to the competition, and I've tried everything. From my experience in the military, I know what makes a good map. And between Humminbird's LakeMaster digital GPS cards, Contour Elite software, and now AutoChart, AutoChart PRO, AutoChart LIVE and SmartStrike, what you have is the most exhaustive digital GPS mapping technologies for anglers in the world. It allows me to fish with military-like precision." 
Caldwell also equates Humminbird's LakeMaster technologies to being in the boat with a personal fishing guide. "You can do a ton of your pre-fishing before you even hit the water. So, you go out with all your data on an SD card with your waypoints marked and eliminate searching from the equation. Because the system works so well, it allows me to concentrate more on fishing, less on boat control. That means I can focus 100% on what my bait is doing. That's what makes the best guys out there the very best."
Caldwell is currently utilizing AutoChart, AutoChart PRO and AutoChart Live in his pre-fishing stratagem. "It has completely changed the way I fish. There is little searching on the water after I've mapped my spots with AutoChart. Come tournament time, I have a comprehensive gameplan in my head and on my Humminbird. That's huge."
The assorted search criteria that was selected yielded the following lake areas highlighted in bright pink.  Simply touch the screen to mark waypoints, press go to and fish the same pattern across the lake.
AutoChart & AutoChart PRO
AutoChart is a software program that lets you map your waters with accuracy and details never before possible. In a nutshell, AutoChart literally fills the void for anglers whose waters have not been mapped and may never be mapped. From the guy who wants to map his farm pond to Canadian fishing guides to top-level touring pros, anglers now have the ability to survey their own waters and keep it to themselves. That includes private, public and hard-to-reach waters far off the radar of government surveys and commercially available paper maps and digital GPS charts, including lakes, reservoirs, ponds, rivers, even off-shore locations. The program, which comprises a DVD and Zero Lines Map card, is available for a one-time purchase price, no subscription or pay-by-the-lake fees.  
For touring pros like Caldwell, AutoChart represents a competitive edge. "I usually start with a seasonal outline. For example, right now I begin with a post-spawn/summer pattern, so I'm on deeper locations like main lake points. With AutoChart, I map those areas during my practice. I simply have my unit recording while I'm fishing. That allows me to find the spot-on-the-spot, like where a secondary underwater point sticks off to the side, or a creek channel hits a road bed. Gives me a really detailed image of structure. Then I go back and Side Image the areas I mapped and find the fish."
Caldwell praises AutoChart's simplicity: "The fact that it's three simple steps that doesn't require any uploading to a server or Cloud is huge, especially during a time when data is being gathered. You can do it all on your own and have that fine detail without any wait. Plus, I get to keep the data myself. All the data is crunched on my own PC. And it takes only a couple minutes."
With AutoChart and AutoChart PRO, maps are created on your own computer from the data collected on the Zero Lines Map Card in your Humminbird unit in three simple steps: 1) Record your tracks onto the  Zero Lines Map Card by engaging the Sonar Recording feature on Humminbird sonar units; 2) Convert your survey into a map by placing the SD Card into PC and running software; 3) Export your map onto the Zero Lines Map Card to display in your Humminbird unit.
A few passes with AutoChart Live provided additional detail that existing maps didn't show – all the way to 1-foot increments. The new data can be overlayed from 0-100% opacity over the original chart.
Then, once finished creating your own custom map, AutoChart and AutoChart PRO maps allow use of LakeMaster's three patented features of Shallow Water Highlight, Depth Highlight and Water Level Offset on your map. Combine your map with Minn Kota iPilot Link and you can set your trolling motor to follow your custom contours and never even have to touch the motor.  Just cast, catch and repeat. You can also offset with your boat. This is really helpful keeping the boat away from spooky fish all the while placing casts that are right in the strike zone.
While the AutoChart software and Zero Lines Map Card allow you to create high-definition contour maps and make use of three key patented features, AutoChart PRO does all of that and offers additional data, including Bottom Hardness mapping, indicating various levels of bottom composition – and for users with SI-enabled Humminbird units, will overlay Side Imaging Mosaic data onto maps for the ultimate in coverage. Changes in bottom contour are revealed on the map to create a more holistic view of the lake bottom, including structural elements like rock, wood, etc.
"Bottom Hardness mapping is huge for finding fish. I can't begin to tell you how many times tournaments have come down to who finds the best hard bottom areas like shell beds or those hard-to-soft transition areas. Like where a creek channel swings through. So, instead of using a transmission-type bait like a football head jig or Carolina rig to feel bottom, I can now see it on my screen," says Caldwell
He continues: "And Side Imaging Mosaic is going to bring a new level of precision to maps that's been missing – actual overlay of structural elements like brush, rock piles, stumps, etc., right on my map."
By choosing 'Map Option' in the main drop down menu, anglers can further customize their map and use LakeMaster's patented Water Level Offset, Depth Highlight, and Shallow Water Highlight features. With AutoChart Live, anglers can also follow their new map contours via Minn Kota iPilot Link, an industry first.
SmartStrike
For ONIX and ION users, it gets even better in the way of SmartStrike, another SD card based cartography product from Humminbird LakeMaster, currently available for nine different North American regions, including Dakotas/Nebraska, Great Lakes, Great Plains, Midsouth States, Southeast States, Western States, Wisconsin and Woods/Rainy. The full capabilities of SmartStrike can be used on any HD LakeMaster maps in these regional software packages.
Whether you're a tournament angler or a weekend warrior, we all wish we had more time on the water. Now imagine a software program on your ONIX or ION unit that actually helped you locate and pattern fish by entering a few key details on the screen. That's exactly what SmartStrike does.
Based on search parameters like fish species, season, time of day, weather conditions, etc., SmartStrike highlights areas of high-definition Humminbird LakeMaster waters where fish are likely to be located, minimizing time-consuming searches. It will also "Find Similar Areas," which means it'll match areas where you catch fish with other areas like it on the map. This all amounts to minimal guesswork, searching or wasted casting, thus maximizing your time on the water to fish.
Caldwell: "The best thing about SmartStrike is I can start my day off by doing a search and running areas that SmartStrike recommends for all the parameters I put in. Then I start narrowing down and figuring out a pattern. Once I find a pattern I simply hit 'find similar areas.' It's a huge time saver. Definitely enhances my ability to pattern fish, allowing me to do it quicker than ever before."
Build your own custom search based on whatever criteria you choose. Or click on any location on a lake, select Find Similar Areas, and millions of data points are searched to return other areas like the one you selected. The SmartStrike engine searches depth ranges, aspect, type of structure, proximity to major types of lake structure, and more to quickly reveal your results.
AutoChart LIVE
 
But that's not the end of the awesome new functionality for Humminbird ONIX and ION users. Via AutoChart Live, anglers can now produce live, on-the-fly digital mapping, no PC required.
It is now possible to create high-definition 1-foot increment maps on your sonar screen while you're fishing. And since data collection happens seamlessly, users can watch the map be made or turn off the map overlay to keep the screen focused on the fishing/navigation at hand. That way you can choose to watch the map appear or keep on with your fishing.
Additionally, if you're an angler who fishes with friends and shares information, you have the option of trading data with anyone else who has a Zero Lines Map Card, allowing others access to maps from other areas or other bodies of water.
"With AutoChart Live on the ONIX, it gets even easier – maps are created right in front of your eyes. It's become a game-changer in the way I hunt for fish," says Caldwell.
Currently, the AutoChart Live software upgrade allows users to sample the product with 8 hours of data recording time for free. Once the storage space is filled, users can either delete the data and restart or purchase a Zero Line Map Card ($119), which allows up to 29 years of around the clock mapping.
AutoChart Live's 8 hour demo functionality is available as a software update free of charge from www.humminbird.com for ONIX and ION users. 
No matter what waters you fish, Humminbird has a cartography ideally suited for your pursuit.
(Article originally appeared in the July 2014 issue of Fishing Tackle Retailer. Written by Jim Edlund)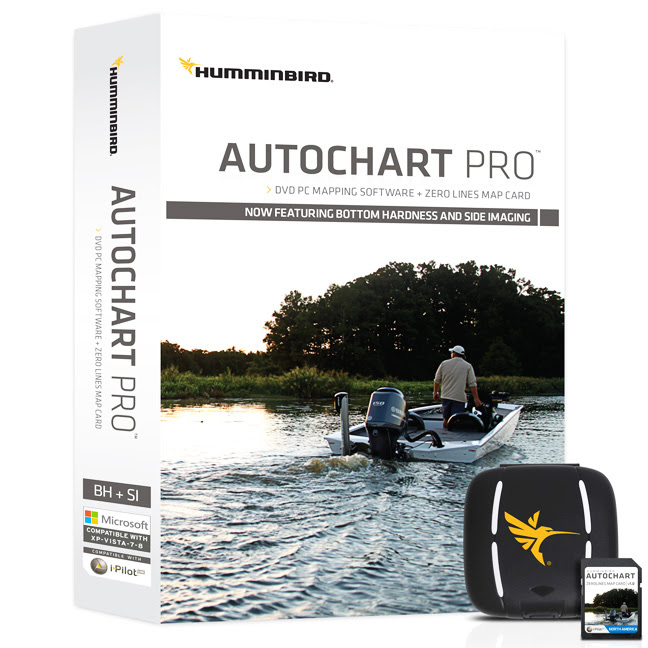 For more information visit humminbird.com, contact Humminbird, 678 Humminbird Lane, Eufaula, AL 36027, or call 800-633-1468.
About Johnson Outdoors Marine Electronics, Inc.
Johnson Outdoors Marine Electronics, Inc. is a wholly owned subsidiary of Johnson Outdoors  and consists of the Humminbird®, Minn Kota® and Cannon® brands. Humminbird® is a leading global innovator and manufacturer of marine electronics products including fishfinders, multifunction displays, autopilots, ice flashers, and premium cartography products. Minn Kota® is the world's leading manufacturer of electric trolling motors, as well as offers a complete line of shallow water anchors, battery chargers and marine accessories. Cannon® is the leader in controlled-depth fishing and includes a full line of downrigger products and accessories.
MEDIA CONTACTS:
Jim Edlund
Traditions Media, LLC
Cory Schmidt
Traditions Media, LLC