Gagliardi Talks $500K FLW Win, Humminbird® 360 Imaging®
Bass pro Anthony Gagliardi wins Forrest Wood Cup with a little help from Humminbird®
Word has traveled far and wide about Anthony "Gags" Gagliardi's FLW Championship win on South Carolina's Lake Murray. With a mere ounce separating his three-day 51-2 weight from second place finisher Scott Canterbury's 51-1 – and only 11 ounces separating the top 5 contenders – it was a legendary, nail-biting finish.
Photo courtesy of FLW Outdoors
At the end of the day, a $440,000 ounce, more valuable than the world's most precious metal. Gagliardi took home a cool half-million; second place, $60K.
But the story that hasn't been told is how Gagliardi used a complement of state-of-the-art fishing electronics technologies to climb the leaderboard.
"I've been using Humminbird Side Imaging since it first came out. In 2006 I won an FLW tournament on Lake Murray with SI and took home $200,000. That's when I realized how imaging technologies could make a huge difference," says Gagliardi. 
Although he's still using Side Imaging day-in, day-out, Gagliardi went into the recent Forrest Wood Cup with a new trick up his sleeve.
"I've been fishing with Humminbird 360 all year, but really started 'getting it' on Pickwick back in June. Since, I've been using it almost non-stop. It was a big part of this win." 
With two Humminbird Side Imaging units at the console – one set to 2D sonar and LakeMaster mapping, the other dedicated to Side- and Down Imaging – and a third large screen Humminbird unit on the deck with 360 Imaging via his Minn Kota 112 Fortrex, Gagliardi took to the water with all three units "talking" to each other via a 5-port Ethernet switch. 
Photo curtesy of FLW Outdoors
"During pre-fishing I spent some time looking for brush with Side Imaging and marking waypoints but the biggest difference in my game was using 360 to really pinpoint them from the deck. I can tell you that I got more bites because of it."
For deeper brush piles, like those on Lake Murray, Gagliardi says standard procedure is to mark them with Side Imaging and/or idle over the top with 2D sonar.
"But bass can get spooked, even in the deeper water. And even if I mark it with SI, once I get on the trolling motor, they can be hard to cast through once you've turned the boat around or drifted off the area. With 360, it's jump up on the deck, approach the cover without spooking the fish, and then start fishing. You know exactly where the waypoint is compared to where you are with 360's distance rings. Made me way more efficient. My boat control has never been better," says Gagliardi.
On Day One, Gagliardi started on a shallow, tapering grass point where he intercepted schooling bass. By 8:15 am he had caught his five fish – including a 3.5 pounder. "I culled up a little bit in the afternoon by running the fish on the lower end of the lake. That's where 360 really played a part. I could see right where the bait was in relation to the boat, as well as the deeper brush piles. For example, I could look down at the 360 screen and see the bait along the right side of the boat so I didn't even waste time casting outside that area."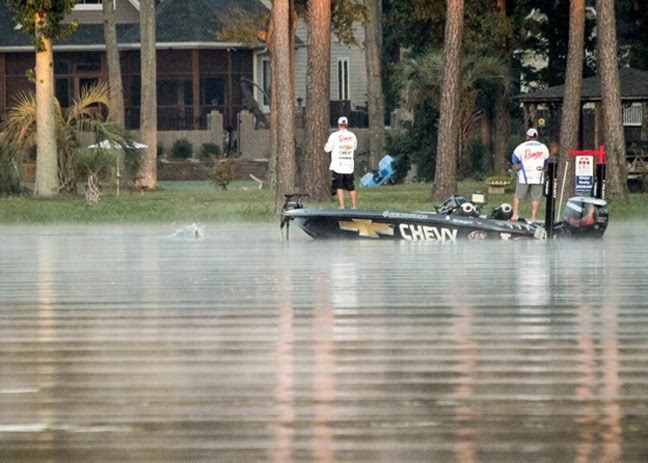 Photo courtesy of FLW Outdoors
Gagliardi moved up the river on Day Two and fished brush almost exclusively. "360 was super critical for hitting these small brushy spots in shallow water. I think my range was set to 50 or 60 feet and with the distance rings set to 12 feet I knew exactly what distance cast I needed to hit that waypoint. I could pull up on one without a hard line-up. I knew right where to cast based on what I saw on the 360 screen."
On Day 3, Gagliardi says he fished a combination of shallow and deep water. "Cool thing was I could flat-out see schooling bass on 360 when I was out in deeper water. The big advantage is you could see which direction they were moving."
Humbled and still in shock from the win, Gagliardi sums up the win: "I had high hopes that 360 would be big for this event, and it definitely was. My experience has been that it's as invaluable for fishing shallow as fishing deep. If you see a stump or something – anything you're fishing under the water – even looking under a dock – it's going to help anglers find better cover and fish. I look forward to learning it even better."
Gagliardi and fellow Humminbird pros were using a LakeMaster HD 1-foot contour map during the event. "I wish I had the map earlier. Got it the last day of practice and man, that's a really, really good map. Best one I've ever seen of the lake," says Gagliardi.
"We couldn't be more happier and proud of Anthony for his Forrest Wood Cup win on Lake Murray – and also the rest of the Humminbird/Minn Kota Team. We had an excellent showing in the Top 10 the final day, including Brent Ehrler (3rd) and Matt Herren (6th). These guys are all at the top of the game! Just shows that our current innovations are helping anglers on every level become more successful. Whether it's finding fish with Humminbird 360 and LakeMaster mapping to staying on those fish with Minn Kota's new 12' Talons and 112 thrust Fortrex motors, it's a system that's hard to beat," says Humminbird/Minn Kota Pro Staff Coordinator Tim Price.