Next Yadkin Fall event is this coming weekend August 29th at High Rock Launching from Tamarac Marina! Scroll all the way down on the Yadkin Division page to view points!
Check this out!
2021 PHANTOM OUTDOORS INVITATIONAL CLASSIC

The 2021 PHANTOM OUTDOORS Invitational Classic will take place on Lake Hartwell Nov 5-6 and we are guaranteeing $10,000.00 to 1st Place!
Green Pond Landing & Event Center – 470 Green Pond Rd, Anderson, SC 29625
A team or solo angler must fish 2 CATT events to Qualify! You may fish the Invitational solo or with your partner or alternate partner your team used in any CATT event.
You can get in your 2 events by fishing any CATT Fall 2020,  CATT Spring 2021, CATT Summer 2021 & CATT Fall 2021!
Go to the Division page and tap on 2021 Phantom Outdoor Invitational Classic!
We're off to great start on the Yadkin Fall Trail with 26 teams entering the 1st Qualifier! John Kistler & Rusty Melton started off with a bang weighing in 5 bass at 14.65 lbs to take the win! They Also weighed in the Academy BF at 6.99 lbs and took home a total of $1,170.00!
Hunter and Scott Harwood took 2nd with 13.89 lbs and weighed in the Strike King/Lews 2nd BF at 4.26 lbs! They took home $533.00!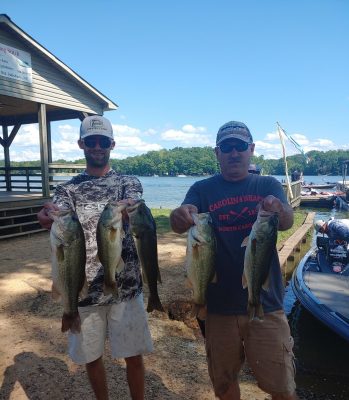 Jack Vanderford & Lucas Hedrick claimed 3rd with 13.34 lbs worth $272.00!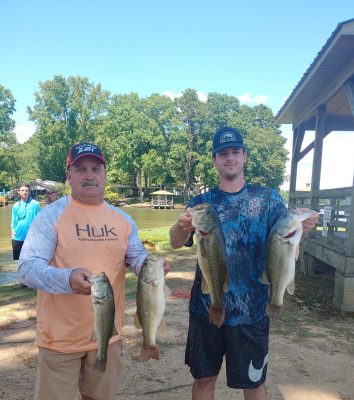 4th went to Alan Thompson and Michael Coley with 12.83 lbs!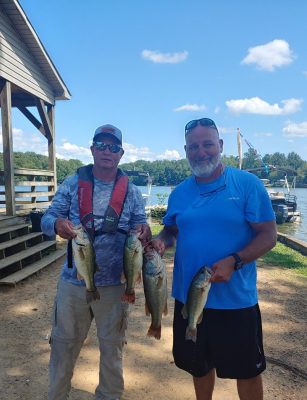 Brandon Shaver & Brandon Gibson finished 5th with 11.73 lbs!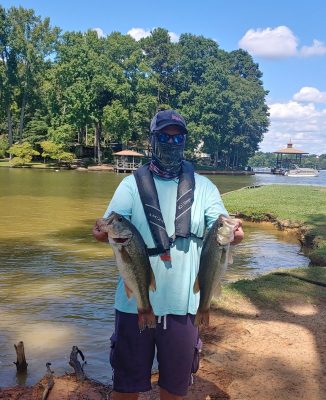 | | | | | |
| --- | --- | --- | --- | --- |
| Team | BF | Weight | Winnings | Points |
| John Kistler – Rusty Melton  | 6.99 | 14.65 | $1,170.00 | 110 |
| Hunter Harwood – Scott Harwood  | 4.26 | 13.89 | $533.00 | 109 |
| Lucas Hedrick – Jack Vanderford | 4.00 | 13.34 | $272.00 | 108 |
| Alan Thompson – Michael Coley | 4.11 | 12.83 | $110.00 | 107 |
| Brandon Shaver – Brandon Gibson | 3.93 | 11.73 | $100.00 | 106 |
| Todd Haynes – Jeremy Talbert | 0.00 | 10.68 | | 105 |
| Joel Ketchum – Sam Cole | 0.00 | 10.17 | | 104 |
| Chris Brown – Wayne Ingram | 3.49 | 8.12 | | 103 |
| Chad Kindley – Jonathan Craven | 0.00 | 7.38 | | 102 |
| Robbie Walser – Mack Lowe | 0.00 | 6.21 | | 101 |
| Ricky Roten – Stephen Cannon | 3.32 | 5.65 | | 100 |
| Noah Beck – Roy Beck | 0.00 | 5.56 | | 99 |
| RM Parker – Corey Gibson | 0.00 | 5.29 | | 98 |
| Kris Scelsi – Zackery Scelsi | 0.00 | 0.00 | | 97 |
| David Lloyd – Randy Bell | 0.00 | 0.00 | | 96 |
| Jeffrey Emmons – Mike Walker | 0.00 | 0.00 | | 95 |
| Ladd Wicker – Landon Wicker | 0.00 | 0.00 | | 94 |
| Elliot White | 0.00 | 0.00 | | 93 |
| Thomas Ludwick – Tom File | 0.00 | 0.00 | | 92 |
| Hunter Gatewood | 0.00 | 0.00 | | 91 |
| Deric Briles – Dustin King | 0.00 | 0.00 | | 90 |
| Micah Speights – Chad Coley | 0.00 | 0.00 | | 89 |
| Dewayne Hughes – Chuck Hughes | 0.00 | 0.00 | | 88 |
| Byron Brush – Byron Brush SR | 0.00 | 0.00 | | 78 |
| Keith Davis – Lynn Davis | 0.00 | 0.00 | | 78 |
| Frank Lineman – Kerri Ann Lineman | 0.00 | 0.00 | | 78 |
| Total Entrys | | | $2,080.00 | |
| BONUS $ | | | $625.00 | |
| Total Paid At Ramp | | | $2,185.00 | |
| Yadkin FALL 2021 Final Fund | | | $420.00 | |
| 2022 CATT Championship Fund | | | $50.00 | |
| 2021 Yadkin FALL Final Fund Total | | | $420.00 | |
| 2022 CATT Championship Fund Total | | | $0.00 | |