Keep in mind guys if you entered any CATT after June 1st, 2022 will count toward 2023 CATT Academy Championship Qualification on Kerr Lake May 20-21!
Houston Cash & Chase Davis win the 2022 CATT Roanoke Rapids Spring Final with 5 bass weighing 23.18 lbs worth $2,230.00!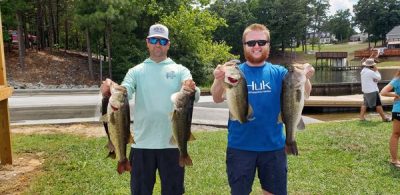 Jesse Medlin & Cory Byrum finished 2nd with 19.84 lbs and took home $1,250.00!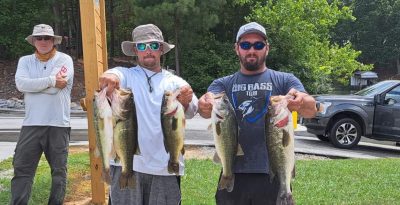 | | | | |
| --- | --- | --- | --- |
| Team | BF | Weight | Winnings |
| Houston Cash – Chase Davis | 5.40 | 23.18 | $2,230.00 |
| Cory Byrum – Jesse Medlin | 5.16 | 19.84 | $1,250.00 |
| Justin Miles – Ales Barnes | 0.00 | 18.46 | |
| Robby Butler – Michael Midgett | 4.20 | 17.73 | |
| Shane Doughtie – Evan White | 0.00 | 17.16 | |
| Dennis Bradley – Allen Mitchell | 0.00 | 16.80 | |
| Cdennis Bennett – Dracen Bennett | 0.00 | 13.52 | |
| Thomas Webb – Dan Garner | 0.00 | 12.62 | |
| Michael Hobbs – Larry Hobbs | 0.00 | 12.26 | |
| Scott Golden – Danny Smith | 0.00 | 11.92 | |
| Brandon Hardy | 0.00 | 11.40 | |
| Jake Murdock – John Murdock | 0.00 | 8.78 | |
| Bryan Edwards – Kent Edwards | 0.00 | 8.32 | |
| Matt Bradley | 0.00 | 0.00 | |
| | | | |
| Grand Total Paid Roanoke Rapids 2022 | | | $11,785.00 |