In the Oklahoma heat, Trent Palmer moves to the top heading into Showdown Saturday looking to become the first back-to-back NPFL Champion.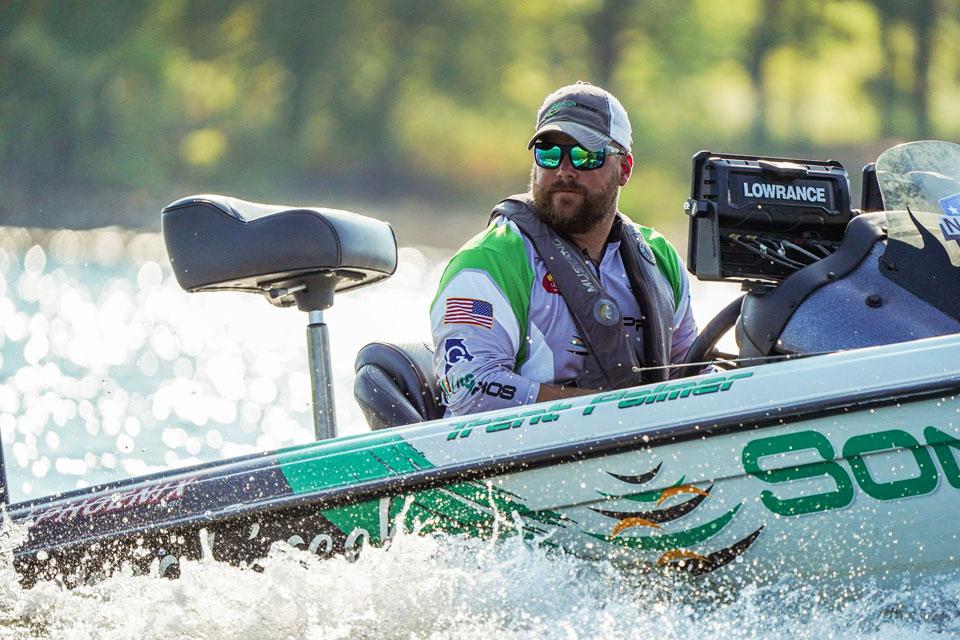 Story by Justin Brouillard | Photos by Tanner Lyons & Ben Kennedy
After a slower day two, Trent Palmer added 13 pounds, 10 ounces to his day one weight of 14 pounds, 11 ounces. His total weight of 28 pounds, 5 ounces was enough to take over the lead at Lake Eufaula giving him a 2-pound, 4-ounce lead over second place with just one day remaining.
Palmer has been focusing his efforts on water he did not fish in practice. With changing conditions, the Georgia pro has been spending a portion of each day practicing while capitalizing on schooling fish on offshore brush piles.
"I split my day today, 50-50 on stuff from day one and new stuff," said Palmer. "At 1 PM, I put the rods down and idled for a couple of hours looking for new groups of fish and less pressured areas."
Palmer noted his main areas, which he was sharing with his roommates, day one leader Mike Corbishley and Patrick Walters, had more pressure from other anglers on day two.
"There was a lot of pressure from boats that were not around yesterday, but I was able to slow down and catch some key fish behind guys," he added. "I am covering as much water as possible, looking at them on my electronics and rotating through different baits until I can get them to bite."
Will Harkins
Will Harkins followed his day one weight of 13 pounds, 15 ounces with 12 pounds on day two. His two-day weight of 25 pounds, 15-ounces has him sitting in second place going into the final day in Oklahoma.
Harkins, like the other top anglers, has been focusing his efforts on brush piles and noted more pressure on his areas than on day one. He is weeding through several small fish and is looking forward to Showdown Saturday and catching as many bass as he can.
"I wanted a shot at the AOY going into Lanier this week," said Harkins. "I did what I needed to do and I am looking forward to the final day out here tomorrow."
Marc Schilling
Marc Schilling added 12 pounds, 13 ounces to his day one weight of 13 pounds to head into showdown Saturday in third place with a total weight of 25 pounds, 13 ounces. Like the other anglers in the top five, Schilling has been following the hot bite which has switched from shallow to deep over the last few days.
"I was catching fish shallow but the bite got tough so I had to change it up today," said Schilling. "I was targeting schooling fish and watching them on forward-facing sonar. I caught a ton of fish and my hands hurt. Tomorrow it's more of the same and I am looking forward to getting out there."
Brandon Perkins
One of the top anglers focusing specifically on docks, Brandon Perkins added 9 pounds, 11 ounces on day two to sit in fourth place at Eufaula with a two-day total of 25 pounds, 9 ounces. Perkins returned to his day one area and struggled to get anything going at all despite several quality bites on day one.
"I stuck with it today but it was super tough," said Perkins. "I had to swap to some finesse tactics and seemed fairly confident there were some quality fish still in the area."
Perkins is well within striking distance to earn his second victory of the season but knows how tough the conditions are making it. With a decent understanding of Oklahoma bass, his plan is to swing for the fences with a Yamamoto Yama Craw rigged on a Buckeye Jig, and lock the Rockohl rod in his hand all day long.
"I am going to fish how I am comfortable tomorrow with nothing to lose," he added. "It's been a good week thus far and we have one more day."
Louis Fernandes
With a two-day total of 25 pounds 9 ounces, Louis Fernandes remains consistent and sits in fifth place with one day remaining. Fernades started on day one with 11 pounds, 9 ounces, and added 13 pounds on day two to slide up to the fifth-place spot.
Fernandes is admittingly not doing anything too crazy and is looking at bass on Live Scope and targeting individual fish with a dropshot. Like the others, he is moving between schools of bass and taking advantage of feeding windows to catch his limits.
The rest of the best:
Ron Johnson 24-7
Stephanie Hemphill-Pellerin 24-1
Patrick Walters 23-13
Mike Corbishley 23-11
Jason Wilson 23-2