NORSK Lithium Joins Forces with Traditions Media
Forward-thinking lithium battery designer aligns with communications and content veterans
New Hope, Minn. (May 4, 2023) – A growing player in the boating/marine electronics power supply scene, Norsk Lithium, is proud to announce the addition of fishing industry PR company Traditions Media to its team, effective May 1, 2023."As fishing, boating, and outdoor recreation continues to grow across the nation, we look for every opportunity to communicate our message," says Norsk Lithium CMO, James Holst. "I've been in the fishing industry over the past three decades rubbing elbows with Traditions Media, at times working with many of the same manufacturers like Rapala, Humminbird, and Minn Kota."Holst continues: "Over the years, I've watched how Traditions Media has helped both established and new brands increase and sustain visibility in the marketplace through creative story-telling, leveraging pro staff and end-user testimonials and educational content, as well as disseminating that content widely throughout the digital, print, radio, TV, and ever-changing social media space.""Joining forces with Traditions Media is a big step in educating anglers about the benefits of utilizing lithium batteries in boats to efficiently provide power to trolling motors and today's sophisticated fish-finding electronics, including tricked-out fishing kayaks and ice fishing rigs. And that doesn't even touch on the vast applications for our unique design, chemistry, and technologies outside the fishing and hunting space," says Holst."We feel the Norsk Lithium story is unique in the lithium battery market, so we sought out the best agency to craft, deliver, and distribute that narrative. I've known Noel Vick and the Traditions Media team for many years and admired their work. I'm looking forward to the opportunity to work together."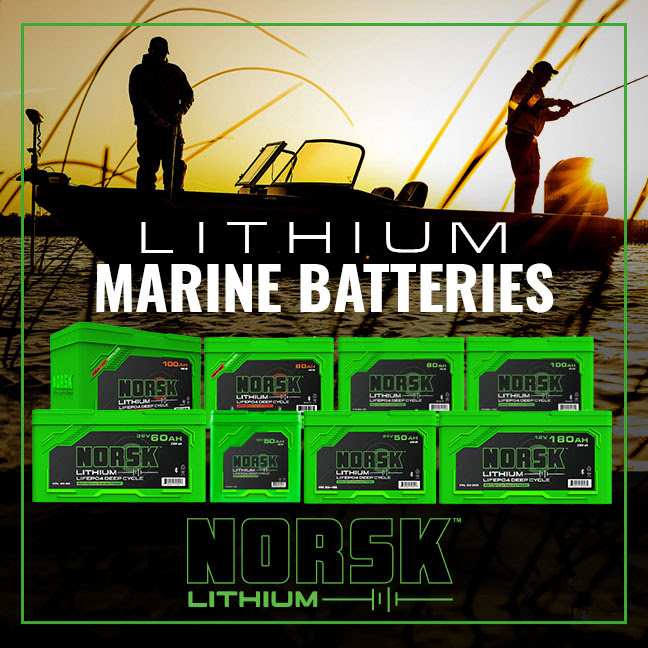 ABOUT NORSK LITHIUMComposed of a product development team borne of the aerospace industry, the minds behind Norsk Lithium are used to mission-critical design tasks, and having to adapt to ever-changing lithium chemistries, technologies, and constantly-improving power output/charging capabilities. This background and perspective has led Norsk Lithium down the path to offer what the company believes are the best, fail-proof, problem-solving lithium batteries in the marine electronics, boating, and fishing market. "We've listened very closely to bass, walleye, and muskie tournament pros, big water anglers, guides, ice anglers, kayak anglers, and average, weekend fishermen. We've heard the frustrations end-users have had with lithium batteries over the past few years, which has turned countless anglers in the direction of Norsk Lithium products.""I can't divulge too much before ICAST, but we are one of the few lithium battery companies that offers an internally-heated core design that allows cold-water anglers problem-free charging and operation in sub-zero conditions—whether that's early- and late-season walleye, bass, and muskie tournaments or annual family and buddy trips to destinations like the far northern Canadian hard water destinations; open-water winter walleye fishing on the Mississippi River; springtime Rainy River, Missouri River, Illinois River, and Detroit River walleye runs; and some pretty cold conditions south of the Mason-Dixon line for bass anglers fall through spring, too."
Holst continues: "We also offer the customer the ability to monitor complete battery systems with their smartphone—for example, the battery groupings behind an entire 36-volt trolling motor set-up—via our Norsk Guardian™ smartphone app." The Norsk guardian app monitors multi-battery setups, in real time, where other apps are limited to monitoring a single battery at a time. This makes the Norsk Guardian™ app comprehensive and useful, whereas other apps fail to provide the angler with the information they need to accurately and confidently monitor their battery systems.
Best-In-Class Customer Service & Proprietary Case Beyond the app, the Norsk Lithium customer support team is on standby to notify end-users of potential issues or voltage fluctuations even before the angler ever receives a text message from his/her Norsk Guardian app. In the event of an issue with a Norsk Lithium product, Norsk batteries are designed with a unique, proprietary case design that address three main longevity issues that plague other batteries.First, given that vibrations can kill electronics, Norsk Lithium's case design addresses how vibrations are handled.Secondly, the case design provides ample spacing between cells to improve the handling of heat build-up that occurs during charging and periods of rapid discharge. Like vibrations, heat can kill electronics.Additionally, proper cell spacing ensures optionally-heated NORSK Lithium batteries can gently and efficiently warm the cells.Most batteries cram their cells into a bundle, and wrap them in tape with little to no airflow around the cells to allow heat to flow between cells to warm them.The proprietary case design also allows a NORSK-certified technician to service, repair, or upgrade a Norsk Lithium battery quickly and easily.
Eco-friendly DesignThe significant investments made by Norsk Lithium into their proprietary case design reflect the company's commitment to ensure Norsk Lithium batteries provide many years of reliable service and keep as many batteries as possible out of landfills. Currently, when a competitor's battery has an issue with a small internal component such as a temperature probe, BMS module, or wiring connections, that battery cannot be serviced. That's not the case with a NORSK Lithium battery; components can be serviced quickly, thus allowing the battery to be put back into service versus disposed of in a landfill. Anglers and boaters should also know that Norsk Lithium offers a 10-year limited warranty—and the ability to upgrade existing Norsk Lithium batteries as new, more powerful technologies emerge.
Looking Forward to FloridaThe Norsk Lithium team couldn't be more excited for ICAST 2023 in Orlando, Florida, July 11-14. Besides a large booth space staffed with company product experts and pro anglers spanning the U.S., Norsk Lithium will also showcase their products at ICAST's pre-show "On The Water" event between 10 AM and 2 PM at the OCCC North Building Ponds. "On The Water" attendees will have the opportunity to spend time in Norsk Lithium-powered watercraft and learn more about Norsk's contemporary battery solutions for starting motors, sophisticated fish-finding rigging layouts (including forward-facing sonar), and trolling motor power.Catering to their growing presence in the kayak fishing market, Norsk Lithium will also provide attendees with the opportunity to operate a decked-out fishing kayak rigged stem-to-stern with Norsk Lithium products. "We'll be unveiling a host of new products that represent what we think are the best lithium battery designs to date—no-fail power to suit everyone from the touring bass or walleye angler with four 15-inch graphs on the bow and three units at the console, to the father-of-four who just wants his pontoon to power up on weekends away from work and school."Noel Vick, co-founder of Minnesota- and Texas-based Traditions Media, LLC, says the company was a bit reluctant to seek out partnerships in the lithium arena given the issues Holst mentioned above. "Personally, my gut feeling was that lithium battery technology just isn't quite there yet when it comes to fishing and boating on a serious level," states Vick. "Part of our success over the years has been keeping an ear to the ground, and we heard a lot of the same criticisms James Holst mentioned from anglers we trust."
"But after meeting with Norsk Lithium and learning more about their investments, mission, engineering, and upcoming products, I've changed my tune. Traditions Media has always been fortunate to work with category leaders whether we're talking rods, reels, tackle, or soft goods, and we think Norsk Lithium will be no exception in the ever-growing field of lithium power sources for marine applications and beyond." Vick continues: "2023 marks Traditions Media's 15th year as an agency and we couldn't be happier to work with James Holst and the rest of the Norsk Lithium team. We're anxious to get out on the water with them and help convey their problem-solutions to end-users, retailers, dealers, and the entire industry.""Although Traditions is especially strong in the Midwest, we also have the ability to help Norsk reach bass and saltwater anglers, industry insiders, and influencers across the globe, " says Vick. Vick concludes: "The timing couldn't be more ideal. With fishing industry veteran James Holst taking the Norsk reigns as Chief Marketing Officer, followed by his longtime team of web and video wizards—many of whom helped grow In-Depth Outdoors in both the digital and TV space over the past 30 years—we're looking forward to some really exciting product launches and content generation. Stay tuned."