Next Tidewater CATT Qualifier is May 27th on the Chowan River out of Shoups Ramp Rt 13!
The 2023 CATT Academy Championship on Kerr Lake is May 20-21! $10,000 GUARANTEED to 1st Place but your winnings can be a lot more! 2020 Winners took home $24,000.00! 2021 Winners took home $17,00.00! 2022 Winners took home $29,000.00! Tap on the link to view details! Only had to enter 2 CATT events since June 2022 to be eligible!
2023 CATT Academy Championship – Carolina Anglers Team Trail (cattteamtrail.com)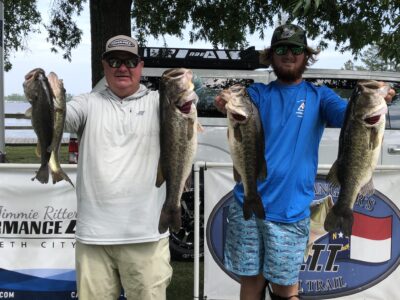 Ryan Broughman/Randy Broughman took 1st Place with 5 bass weighing 23.70 lbs worth $2,255.00!
Our fourth tournament of the year went down on the Pasquotank river today with 44 teams vying for a win on a river that has definitely been giving up some big fish this year! The weather definitely cooperated today with marginal winds that allowed teams to stretch out the outboards if they needed to. Well the river didn't let us down today as 15 fish over 6lbs crossed the scales today Including two 8lbers led by a 8.29lb river monster caught by the team of Chris Banks/Zack Meads. The father son team of Randy Broughman and Ryan Broughman were able to put together a big old bag of river bass weighing 23.70 lbs anchored by a 7.45lb big fish to take home a victory and a $2255 payday. The team of Josh Powell and Eric Rountree made things interesting with a 21.30 lb limit for 2nd place that Included a 6.96 lb kicker. The following teams made up the the teams in the money.
3. Jeff Stoop/Mike Henson 20.61 lbs
4. Michael Evans/Brian Meadows 20.45 lbs
5. Mike Scott/JP Scott 18.86lbs
6. Nick Meek/Kyle Verkullen 18.56 lbs
7. Chris Banks/Zack Meads 18.10 lbs
8. Eugene Foushee/Brandon Johnson 18.06 lbs
Our last qualifier of the year will be May 27th on Chowan river out of Shoups landing.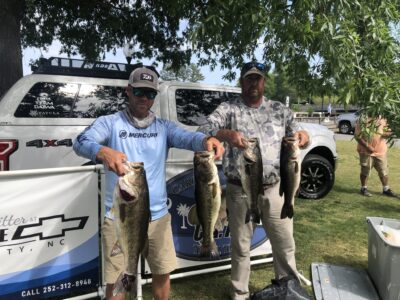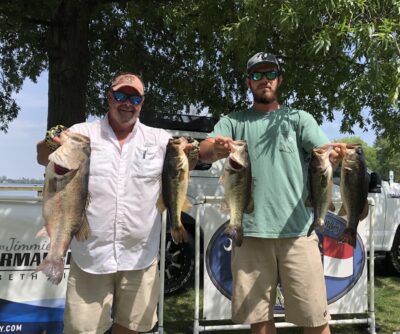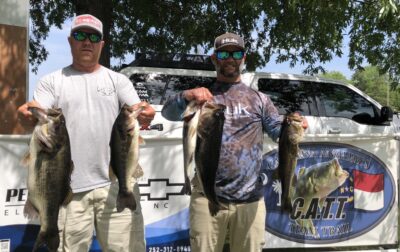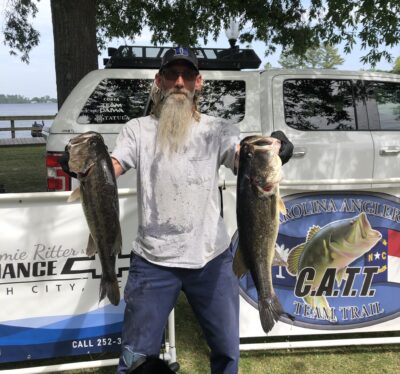 | | | | | |
| --- | --- | --- | --- | --- |
| Team | BF | Weight | Winnings | Points |
| Ryan Broughman/Randy Broughman | 7.45 | 23.70 | $2,255.00 | 110 |
| Josh Powell/ Eric Rountree | 6.96 | 21.30 | $825.00 | 109 |
| Jeff Stoop/ Mike Henson | 7.76 | 20.61 | $525.00 | 108 |
| Michael Evans/ Brian Meadows | 7.46 | 20.45 | $400.00 | 107 |
| Mike Scott/ JP Scott | 6.41 | 18.86 | $300.00 | 106 |
| Nick Meek/ Kyle Verkullen | 6.30 | 18.56 | $225.00 | 105 |
| Chris Banks/ Zachary Meads | 8.29 | 18.10 | $488.00 | 104 |
| Eugene Fouschee/ Brandon Johnson | 6.73 | 18.06 | $140.00 | 103 |
| Bubba Banks/Tommy Banks | 7.41 | 17.87 | | 102 |
| Bobby Dunlow/ Dawson Dunlow | 5.87 | 17.66 | | 101 |
| David Buchanan/ Brian Richardson | 6.73 | 16.47 | | 100 |
| Alan Meads/Chris Meads | 6.22 | 15.27 | | 99 |
| Kirk Nixon/ Trent Nixon | 0.00 | 15.23 | | 98 |
| Jeff Freeman/ Rodney White | 8.21 | 14.77 | $132.00 | 97 |
| Chris Pike/ Rick Plemons | 6.06 | 14.68 | | 96 |
| Tommy Houlroyd/ Don Porter | 0.00 | 14.21 | | 95 |
| Darren Saunders/ Dave Parker | 0.00 | 13.98 | | 94 |
| Scott Rock/ Jaden Rock | 7.25 | 13.76 | | 93 |
| Brandon Overton/Jason Tripp | 0.00 | 13.31 | | 92 |
| Gary Debrito/Derek Goodman | 0.00 | 12.47 | | 91 |
| Brian Jackson/ Billy Saunders | 4.86 | 12.42 | | 90 |
| Brent Thomas/ Ethan Thomas | 0.00 | 12.20 | | 89 |
| Wayne Hayes/ Andy Morath | 5.29 | 12.06 | | 88 |
| David Shaffer/ Scott Shaffer | 0.00 | 11.51 | | 87 |
| Jordan Sanderlin/ Andrew George | 0.00 | 11.36 | | 86 |
| Jim Dick/ Greg Dick | 0.00 | 10.86 | | 85 |
| Mark Moretz/ Ray Cobb | 0.00 | 10.56 | | 84 |
| Bob Clarkson/ Mark Ingram | 0.00 | 10.00 | | 83 |
| Jeff Hayden/ Derek Hayden | 0.00 | 9.36 | | 82 |
| Kenneth Moore/ Joseph Eure | 0.00 | 9.27 | | 81 |
| Michael Hoggard/David Freeman | 0.00 | 8.62 | | 80 |
| Steve Brickhouse/James Williams | 5.76 | 8.12 | | 79 |
| Mike Wenthe/ William Chappel | 0.00 | 6.88 | | 78 |
| Ronnie Ketchum/ Benny Hendricks | 0.00 | 6.56 | | 77 |
| Bob Gomez/ Eddie Tipton | 0.00 | 6.48 | | 76 |
| Al Biagioni/ John LaRock | 0.00 | 6.44 | | 75 |
| Quintin Chappell/ Chris Turner | 0.00 | 5.31 | | 74 |
| Matt Anderson | 0.00 | 4.62 | | 73 |
| Mike Knapp/ Ben Knapp | 0.00 | 4.13 | | 72 |
| Tony Baker/ Edwin Johanees | 0.00 | 3.46 | | 71 |
| Keith Jennings/ Hickman | 0.00 | 0.00 | | 61 |
| Douglas Hewitt/William Heighter | 0.00 | 0.00 | | 61 |
| Hunter Holloman/Bryan Hendricks | 0.00 | 0.00 | | 61 |
| Stephen Caldwell/ Avery White | 0.00 | 0.00 | | 61 |
| Total Entrys | | | $5,280.00 | |
| BONUS $ | | | $575.00 | |
| Total Paid At Ramp | | | $5,290.00 | |
| CATT | | | $50.00 | |
| 2023 Tidewater Final Fund | | | $465.00 | |
| 2023 CATT Championship Fund | | | $50.00 | |
| 2023 Tidewater Final Fund Total | | | $1,650.00 | |