Next CATT East Qualifier is this coming Saturday and is the last Fall Qualifier! You only have to enter 1 Qualifier to be able to fish the Final!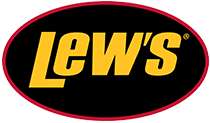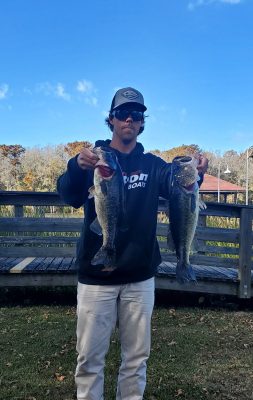 1st Kevin Jones Tyler Jones 15.54 lbs $550. Big fish 4.73 lbs $168. Side pot $350.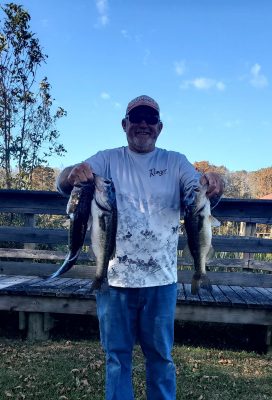 2nd JA Williford Mike Layton 12.11 lbs. $300. Side pot $150.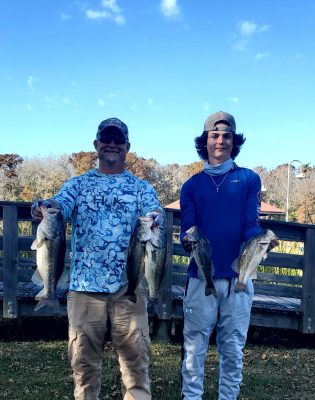 3rd Jason Smith Jacob Smith 11.95 lbs. 2nd big fish 3.84 lb $72
4th Dennis Boykin Jim Hipkiss 11.74 lbs $120 not pictured.
| | | | | |
| --- | --- | --- | --- | --- |
| Team | BF | Weight | Winnings | Points |
| Kevin Jones – Tyler Jones | 4.73 | 15.54 | $1,068.00 | 110 |
| JA Williford – Mike Layton | 0.00 | 12.11 | $450.00 | 109 |
| Jason Smith – Jacob Smith | 3.84 | 11.95 | $272.00 | 108 |
| Dennis Boykin – Jim Hughes | 3.55 | 11.74 | $120.00 | 107 |
| Clayton Boyette – Brian Stalls | 3.11 | 10.53 | | 106 |
| Charles Anderson – Adam Haithcock | 0.00 | 10.40 | | 105 |
| Larry Thomas – Will James | 3.13 | 9.65 | | 104 |
| Billy Clark – Tommy Hughes | 0.00 | 9.65 | | 103 |
| Charles Weathersbee | 0.00 | 8.27 | | 102 |
| Brandon Johnson – Wilbur johnson | 0.00 | 7.92 | | 101 |
| Donald Luther & Mike Kannan | 3.64 | 6.02 | | 100 |
| Jerry Hardy – Larry Revel | 0.00 | 5.80 | | 99 |
| Tracey King – Jackson King | 0.00 | 5.05 | | 98 |
| Matthew Watkins – Avery Watkins | 0.00 | 3.74 | | 97 |
| Shawn Keene – Geoge Myers | 0.00 | 3.49 | | 96 |
| Matthew Langley – David Langley | 0.00 | 2.70 | | 95 |
| Craig Simpson – Phillip Flood | 0.00 | 0.00 | | 85 |
| Dickie Killinger – Ryan Killinger | 0.00 | 0.00 | | 85 |
| Wayne Stallings – Zeb West | 0.00 | 0.00 | | 85 |
| Danny Flynn – Brad Elks | 0.00 | 0.00 | | 85 |
| John Clark – Myriam Clark | 0.00 | 0.00 | | 85 |
| Derrick Whitmore | 0.00 | 0.00 | | 85 |
| Mike Hinson – Jeff Stoop | 0.00 | 0.00 | | 85 |
| Jason Pittman – Jeremy Hodge | 0.00 | 0.00 | | 85 |
| Total Entrys | | | $1,920.00 | |
| BONUS $ | | | $500.00 | |
| Total Paid At Ramp | | | $1,910.00 | |
| CATT | | | $50.00 | |
| East 2023 Fall Final Fund | | | $410.00 | |
| 2023 CATT Championship Fund | | | $50.00 | |
| 2023 East Spring Fall Fund Total | | | $1,190.00 | |