Next Lake Wylie Fall CATT is Nov 11 at Nivens!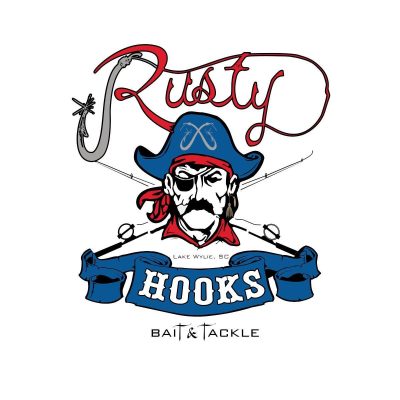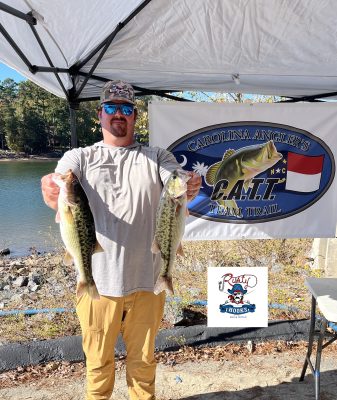 David Winters & Derek Lilley take the win at Lake Wylie with 5 bass weighing 12.22 lbs along with the BF at 3.26 lbs!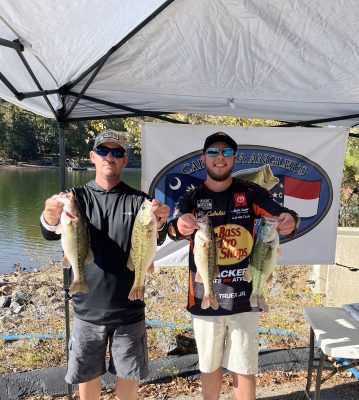 Michael Yochem & Taylor Garrett 2nd Place with 11.36 lbs!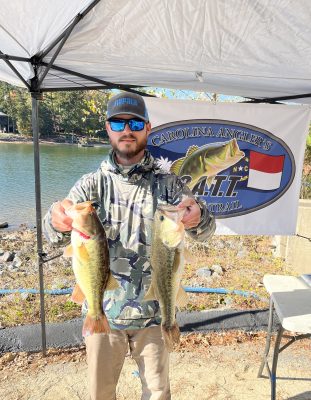 Stephen Sparrow with the 2nd BF at 2.97 lbs!
| | | | | |
| --- | --- | --- | --- | --- |
| Team | BF | Weight | Winnings | Points |
| David Winters/Derek Lilley | 3.26 | 12.22 | $873.00 | 110 |
| Michael Yochem/Taylor Garrett | 2.59 | 11.36 | $200.00 | 109 |
| Stephen Sparrow | 2.97 | 11.24 | $42.00 | 108 |
| Mike Swick/Ted Cline | 2.43 | 10.06 | | 107 |
| Glenn Sparrow/Chris Bumgardner | 2.04 | 9.93 | | 106 |
| Corey Stone/Nick Williams | 2.03 | 9.28 | | 105 |
| Mike Greene/Rick Rhom | 2.04 | 8.56 | | 104 |
| Mike Levans | 1.85 | 6.19 | | 103 |
| Art Harris | 0.00 | 0.00 | | 93 |
| Jay Adams Jr | 0.00 | 0.00 | | 93 |
| Graham Bosch/Mark Mohler | 0.00 | 0.00 | | 93 |
| Dave Calbert/Bill Carothers | 0.00 | 0.00 | | 93 |
| Kale Steele/Kayden Steele | 0.00 | 0.00 | | 93 |
| Josh Pressley | 0.00 | 0.00 | | 93 |
| Total Entrys | | | $1,120.00 | |
| BONUS $ | | | $325.00 | |
| Total Paid At Ramp | | | $1,115.00 | |
| Wylie 2023 Fall Final Fund | | | $230.00 | |
| CATT | | | $50.00 | |
| 2024 CATT Championship Fund | | | $50.00 | |
| 2023 Wylie Fall Final Fund Total | | | $230.00 | |