Guys we've had to move the Aug 5th Qualifier at Jordan Lake to Aug 12 at Jordan. Hope this works for all!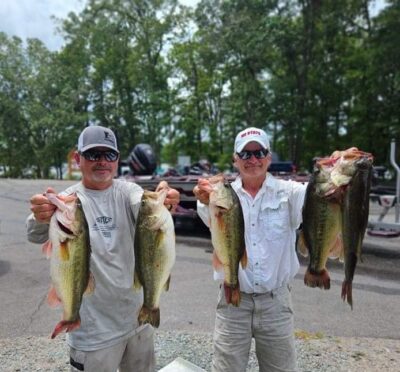 Clay Ausley & Ken McNeil took 1st Place with 5 bass weighing 20.44 lbs worth $1,200.00!
Rick Dunstan & Mike Ferrell took 2nd with a limit weighing 14.67 lbs and they earned $570.00!
| | | | | |
| --- | --- | --- | --- | --- |
| Team | BF | Weight | Winnings | Points |
| Clay Ausley Ken McNeil | 4.62 | 20.44 | $1,200.00 | 110 |
| Rick Dunstan Mike Ferrell | 5.98 | 14.67 | $570.00 | 109 |
| Michael Maull | 5.90 | 14.52 | | 108 |
| Jay Fogleman Doug Stallings | 6.20 | 12.08 | $36.00 | 107 |
| Thomas Sheffer Gavin Sheffer | 5.76 | 10.28 | | 106 |
| Damon Clark Nolan Clark | 0.00 | 10.26 | | 105 |
| Eric Schell Dustin Morgan | 5.20 | 9.08 | | 104 |
| Todd Sumner Rich Szczerbala | 6.60 | 8.96 | $86.00 | 103 |
| Douglas Phillips Randy Leonard | 0.00 | 6.96 | | 102 |
| Manny Lenau | 0.00 | 6.94 | | 101 |
| John McClelland Larry Godfrey | 0.00 | 4.70 | | 100 |
| Jason Gibson Quade Lukes | 0.00 | 4.14 | | 99 |
| Daniel Dix Andrew Steagall | 0.00 | 0.00 | | 89 |
| Total Entrys | | | $1,680.00 | |
| BONUS $ | | | $500.00 | |
| Total Paid At Ramp | | | $1,890.00 | |
| Old North 2023 Fall Final Fund | | | $190.00 | |
| CATT | | | $50.00 | |
| 2024 CATT Championship Fund | | | $50.00 | |
| 2024 Old North Fall Final Fund Total | | | $190.00 | |