Next up is the Yadkin Fall Final Nov 11 on High Rock Lake!
Chad Poteat & Maurice Freeze win the Yadkin Fall Points and receive $500.00!
RM Parker & Corey Gibson finish 2nd in the Points and will receive Free Entry at the Final!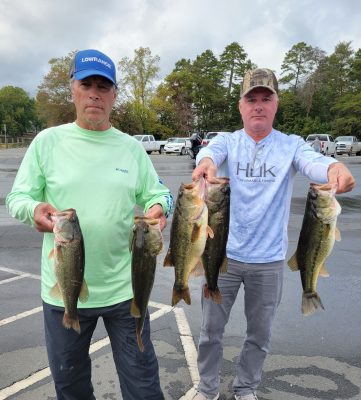 Ron Wolfarth & Shawn Knight weighed in 5 bass at 19.60 lbs taking 1st Place b& $922.00!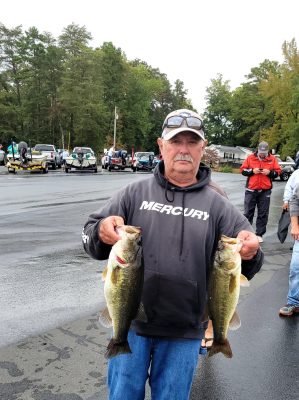 John Kistler & Rusty Melton 2nd with 15.81 lbs PLUS the BF at 4.83 lbs!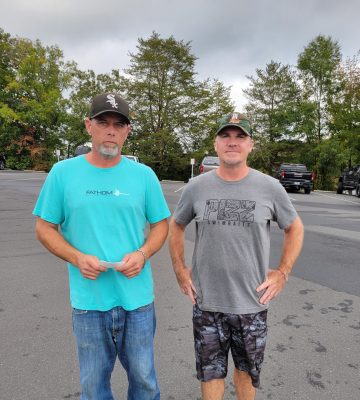 Derek Crumbley – Calvin McCaskill 3rd with 13.79 lbs!
RM Parker & Corey Gibson 4th 13.46 lbs!
| | | | | |
| --- | --- | --- | --- | --- |
| Team | BF | Weight | Winnings | Points |
| Shawn Knight – Ron Wolfarth | 4.75 | 19.60 | $922.00 | 110 |
| John Kistler – Rusty Melton | 4.83 | 15.81 | $573.00 | 109 |
| Derek Crumbley – Calvin McCaskill | 4.34 | 13.79 | $200.00 | 108 |
| RM Parker – Corey Gibson | 0.00 | 13.46 | $100.00 | 107 |
| Chad Coley – Micah Speights | 0.00 | 12.30 | | 106 |
| Zach Scelsi – Kris Scelis | 3.59 | 12.30 | | 105 |
| Dean Robertson – Danny Nifong | 0.00 | 11.93 | | 104 |
| Ronnie Smith – Jackie Reily | 4.03 | 11.90 | | 103 |
| Robin Collins – Ronnie White | 3.45 | 11.52 | | 102 |
| Austin Garland – Mike Smith | 0.00 | 11.37 | | 101 |
| Lee Williams – Gavin Williams | 0.00 | 10.94 | | 100 |
| Mark Mohler – Greham Bosch | 3.08 | 10.92 | | 99 |
| Mike Allen | 0.00 | 10.48 | | 98 |
| Jacob Bridges – Brad Younts | 0.00 | 10.11 | | 97 |
| Brendon Yeckley – Alston Presson | 0.00 | 9.38 | | 96 |
| Kevin Stowell Sr – Dakota Harvey | 0.00 | 8.82 | | 95 |
| Chad Poteat – Maurice Freeze | 0.00 | 5.24 | | 94 |
| Chris Passmore – Michael Gauldin | 0.00 | 3.57 | | 93 |
| Billy Marshall – Alan McKinney | 0.00 | 0.00 | | 83 |
| Duke Dennison – Bobby Cline | 0.00 | 0.00 | | 83 |
| Tony Stafford – Josh Stafford | 0.00 | 0.00 | | 83 |
| Alan Griffin | 0.00 | 0.00 | | 83 |
| Total Entrys | | | $1,760.00 | |
| BONUS $ | | | $475.00 | |
| Total Paid At Ramp | | | $1,795.00 | |
| CATT | | | $50.00 | |
| 2023 Yadkin Fall Final Fund | | | $340.00 | |
| 2023 CATT Championship Fund | | | $50.00 | |
| 2023 Yadkin Fall Final Fund Total | | | $1,930.00 | |